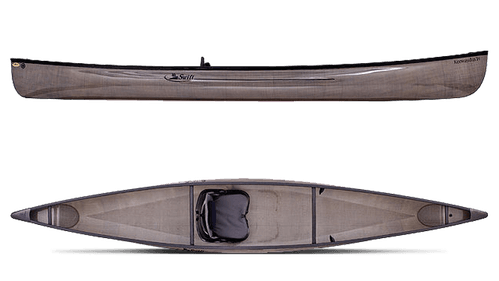 Keewaydin 14 Pack Options
Keewaydin 14 Pack Description
The practicality of Pack boats is key to their appeal, so when Swift was asked to design a performance driven Pack boat capable of extended trips, they invariably turned to David Yost's classic design style. With signature tumblehome, sharp entry lines, a deluxe high-back seat with lumbar support, adjustable foot braces, and an ultra-lightweight carbon seat base, the Keewaydin Pack 14 is a dynamic paddlecraft. For solo canoe trippers, kayak trippers, or those who need a multi-purpose boat for a variety of paddling scenarios, the Keewaydin Pack 14 has you covered.
Read and submit reviews for the Keewaydin 14 Pack.
Keewaydin 14 Pack Specs and Features
Structure: Folding
Seating Configuration: Solo
Ideal Paddler Size: Average Adult
Skill Level: Beginner, Intermediate, Advanced
Ideal Paddler Size: Average Adult
Skill Level: Beginner, Intermediate, Advanced
Additional Attributes
Deluxe High Back Seat with Lumbar Support
Carbon Kevlar Gunwales
Carbon Seat Base
Composite Handles, Thwarts & Decks
Carbon Decks
Adjustable Kayak Foot Braces
Read reviews for the Keewaydin 14 Pack by Swift Canoe & Kayak as submitted by your fellow paddlers. All of the reviews are created and written by paddlers like you, so be sure to submit your own review and be part of the community!
My Keewaydin 14 is a…
My Keewaydin 14 is a beautiful boat (green) and is a delight to paddle. As a senior paddler I appreciate the light weight and very comfortable seating. There is an expected amount of weather cocking for this type of boat in windy conditions. However it feels very secure in choppy water. I have used it primarily on smaller lakes/ponds and slow moving rivers and enjoyed the paddling experience thoroughly. Overall the boat has a nice balance of glide, maneuverability and tracking for a canoe. The dog loves it!
I have paddled a Keewaydin…
I have paddled a Keewaydin 14 extensively for three years now throughout the Adirondack Mountains, primarily on remote rivers and small lakes/ponds as well as just some straight away paddling for exercise on open stretch of the Hudson River. I am constantly transporting it on my SUV, portaging it and pulling it over or around beaver dams. At 5' 10" and 61 years old, I appreciate the light weight and portability this boat offers however it's performance on the water is also a strength. It is quite maneuverable on narrow, serpentine rivers but also is easy to get up to and maintain a cruising speed with little effort on more open water. The seat is very comfortable. Inspite of some lower back issues, I can paddle 4-6 hours between rest stops and that is normally for a bio break. Stability is good even in somewhat rough conditions however I do struggle with windcocking when the winds come up. Although I try to protect a sizable investment, I have bounced it off rocks, scraped more underwater obstructions than I care to think about and wacked a few trees when carrying it ( all of which make we flinch) but there is nothing more the cosmetic scrapes. I couldn't be more pleased with this boat and expect many more years of enjoyment.