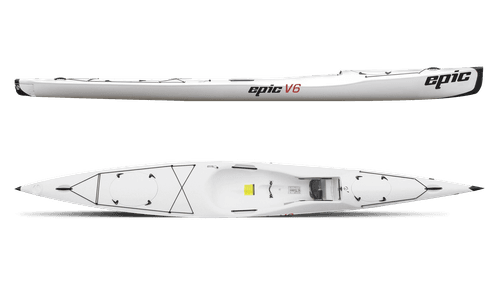 Epic V6 Surfski Options
Epic V6 Surfski Description
The Epic V6 is unique in its class. It has a surfski cockpit with the storage capacity of a touring kayak. Fast, yet extremely stable, this is a surfski/ touring kayak hybrid that almost every paddler should be able master very quickly. By blending speed, high stability and a performance oriented deck & outfitting, the V6 offers new levels of accessibility and opportunity. Touring kayakers looking to make the transition to high performance surfskis for racing in the Sea Kayak class, or looking for a simple, efficient boat with storage capacity for touring, fitness or the freedom of an open cockpit will be well rewarded with the V6.
Read and submit reviews for the Epic V6 Surfski.
Epic V6 Surfski Specs and Features
Structure: Rigid / Hard Shell
Cockpit Type: Sit on Top / Open Cockpit
Seating Configuration: Solo
Ideal Paddler Size: Average Adult, Larger Adult
Skill Level: Intermediate, Advanced
Ideal Paddler Size: Average Adult, Larger Adult
Skill Level: Intermediate, Advanced
Additional Attributes
Trackmaster Plus kick up rudder system
Fully adjustable foot brace
Bottle holder
Rear deck bungees
Bow, stern and side carrying handles
Read reviews for the Epic V6 Surfski by Epic Kayaks Inc. as submitted by your fellow paddlers. All of the reviews are created and written by paddlers like you, so be sure to submit your own review and be part of the community!
As a long time sea kayaker, I…
As a long time sea kayaker, I was interested in trying out something different. I had always been interested in surf skis and the Epic brand. I bought a used V6 as sort of a hybrid model to start out. I immediately loved it. It has great stability, good storage capacity, it's fast and it's comfortable for long paddles. There was no learning curve for me at all. This quickly became my daily boat -- and it still is. This is basically a fast SOT kayak with enough storage for overnight trips if you pack light and smartly. It's easy enough to outpace most sea kayaks and have the ease of a SOT. No need for rolling or difficult recovery techniques -- very simple to remount if you need to. I was also surprised at the comfort of the seating area even without a pad. You will get wet in this kayak, waves will come over the side, but it can handle it with ease. The bailer system works, but it can take a bit of time to drain it. That can make this a tough boat for colder seas, but in Florida, it's perfect. And, like any fiberglass boat, you need to be careful with handling, beach landings, etc -- but I think the boat is pretty durable. And, always watch out for the rudder system -- it isn't as durable as the rest of the boat IMO. To sum it up, if you are looking for a unique, fast SOT with decent storage capacity -- this is a great choice. Hard to find them on the used market, but it's worth checking.
We did the Everglades…
We did the Everglades Traverse (~100 miles from Everglades City to Flamingo last Feb. We spent the first 4 days traversing the islands and the last 2.5 days in the mangroves.
I used a new Epic V6 Tourer. I choose it because it's built for efficiency and self bails like a sit-on-top kayak. The boat was smooth and efficient and the rudder was excellent. Of course, there are some trade-offs. There is not enough back support for touring. I'm 150 lbs and pretty strong. I have no idea how anyone is expected to paddle in these for many hours. I used my life jacket for back support, which worked but raised my center of gravity and made the boat more tippy. If there was waves, I needed to be fully down in the cockpit anyway, so it all worked out. Not sure what I would have done if we had full days of big wind and waves. I also used a carbon fiber wing'd paddle, which is really nice, except it can drip a lot of water into the boat. I fixed that by making sweep-ish paddles and increasing the paddling frequency. Not very efficient by I didn't want to go faster than the other folks I was with anyway. They rented 17.5 ft boats that worked well, except for worrying about flipping in high waves...I don't see how someone rolls with 100 lbs of gear anyway.
One comment on the self bailing: I had a hard time getting it to bail crossing Oyster Bay. We had 20 kn headwinds with breaking waves. I couldn't paddle the boat fast enough for the water to flush out. So I kept the valve closed and bailed water every once in a while. This worked fine and I still like the design (it value worked fine in other conditions).
Last week I rented the V6…
Last week I rented the V6 Epic surf ski/SOT from Naples Kayak company in South Naples Florida. I was looking to experience a performance SOT, and something I wouldn't struggle to cartop. I never paddled a surf ski before and was a little hesitant when I first sat on the V6, but the secondary stability was realized in a few minutes. Over the week I paddled some 45 miles of mangroves, open water and the gulf.
She was fast and tracked as straight as an arrow, the skeg type rudder with its top of the foot peddle adjustment was ingenious. She was effortless to paddle even straight into a 15 knot breeze and chop. The light weight was amazing while other fellow SOT paddlers struggled to haul their boats on and off their cars, the V6 was a one arm carry and with ease to mount on the roof.
The only complaint I have was the minimal space I had to store anything, etc. Water bottle, chart or binoculars. I think Epic would do very well if they designed a true SOT, say 26 inches wide, staying with performance but adding a little stability. The kayak would appeal to many SOT enthusiasts, breaking there backs lugging 70 lbs and better.
Bought a V6 for my girlfriend…
Bought a V6 for my girlfriend to use for club sea trips. Have ended up very taken with the boat myself and often steal it away for paddles myself. Build quality appears to be excellent throughout,the seams and bulkheads are very neat, finish is excellent and all fittings appear to be well attached. The seat bucket is very comfortable and the footplate easily adjustable, however Epic doesn't really cater for shorter paddlers - at 5'6" with short legs I can only just touch the pedals and my girlfriend at 5'2" has to use a couple of pads behind her.
On the water the boat is easily edged, while having reassuringly solid secondary stability - you can get the side of the bucket under water before the boat shows any sign of going over.
The boat feels very easily driven, not sure of actual speeds but my girlfriend now outpaces most of the standard 16' sea kayaks even though her paddle fitness is a bit lacking...
With the rudder down the boat tracks really well. I'm not sure whether it's due to the construction of the rudder system on the Epics (with articulating hull section), but the rudder is fairly stiff. For touring this is perhaps better as the boat doesn't twitch around when driving with the feet as skis with more sensitive rudders can.
Rudder up and the boat becomes incredibly manouvreable, does take concentration to keep it running straight.
Hatches appear to be watertight and the 'cam' closing mechanism seems very solid. The hatches do have to be located just right for all the cams to close.
Weight is approx 16-17kg with nomex core in the hull. Makes it a lovely light boat but whether you'd want to go rockhopping in big conditions is perhaps a bit questionable!
Only real bugbear (hence the 9) with the boat is the setup and location of the rudder uphaul line and cleat. It's just behind the left hip which isn't a very ergonomic position to pull from. The cleat is also recessed in such a way that the rudder line does not re-cleat automatically - the line needs to be pushed down into the cleat for the teeth to bite. This turns the rudder raising into a two-handed operation - which could be a bit of a pain if facing a bumpy landing and wanting to keep one hand in control of the paddle at all times.
In conclusion this is a great boat if you are looking for a fast, capable ski/sit-on style boat. Stable enough for a beginner to paddle on flat water but with handling to reward the experienced paddler.