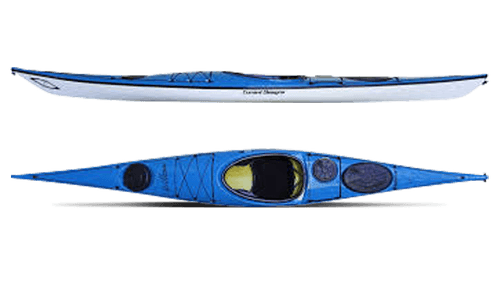 Willow Options
Willow Description
The Willow is designed for the smaller, lighter paddlers who want a quick, responsive kayak with an extra degree of stability. It's a fun paddling boat that is capable of making very graceful turns. Sleek and slender, there is more than just aesthetic beauty in it's curves. The Willow is an ideal choice for paddlers seeking to take their skills to the next level in a responsive, easy-to-handle day kayak.
Read and submit reviews for the Willow.
Willow Specs and Features
Structure: Rigid / Hard Shell
Cockpit Type: Sit Inside
Seating Configuration: Solo
Ideal Paddler Size: Smaller Adult/Child, Average Adult
Skill Level: Intermediate, Advanced
Ideal Paddler Size: Smaller Adult/Child, Average Adult
Skill Level: Intermediate, Advanced
Read reviews for the Willow by Current Designs Kayaks as submitted by your fellow paddlers. All of the reviews are created and written by paddlers like you, so be sure to submit your own review and be part of the community!
Overall pleased with this…
Overall pleased with this kayak, as more of an entry level sea kayak capable of growing with the paddler. Fiberglass is light and has been resilient, even withstanding some iceberg and fellow kayaker rammings by my 13 yr old, who uses this boat since I replaced with a Valley kayak. Tracks, turns, edges and rolls well. Minor complaints: hatch covers are sticky to get tight.
I bought my Willow (Kevlar)…
I bought my Willow (Kevlar) late last fall without paddling it. Crazy, I know, but I had paddled the similar but longer Cypress and loved it. I wanted a boat that was a bit shorter and a bit lighter. I'd done my homework and the Willow fit the bill. The first time I put it in the water I knew I'd made a good choice.
The boat fits me perfectly and is well behaved. I am not a complete beginner, but I am definitely a paddler still in early learning mode. In the Willow I feel safe but am able to challenge myself. I paddle on Lake Superior and feel safe when I'm in my boat. I don't paddle when the weather is too rough, but I've been out plenty of times in 2-3 foot waves.
The Willow is steady and reliable. With or without the skeg it tracks like a dream. It's only 41# and is easy for me to handle both on and off the water. I'm a 50 year old 5'4", 145# woman, My son who is 5'9" and 165 # loves my Willow. My daughter who is 5'0" and 120 # also loves my boat... You can imagine why I worry about someone deciding it's theirs instead of mine I guess we'd just have to get another....
I had a Wilderness Systems Tempest 165 before this and there is no comparison (for me). I would get numb legs and a sore back when I paddled the Tempest for more than about 15 minutes. This never happens with the Willow. I can go for hours and never feel fatigue due to ergonomics. Based on my experience (paddled about 20 different types of sea kayaks) I"m surprised that the Willow is not more popular. In fact, prior to buying I couldn't even find a review of the boat.
I whole heartedly give my Willow a "10" - based on my needs. I paddle Lake Superior and larger inland lakes in Northern Minnesota. I am usually only in my boat a few hours at a time, but I feel confident that I'd be comfortable in it for longer stretches.