Trip Overview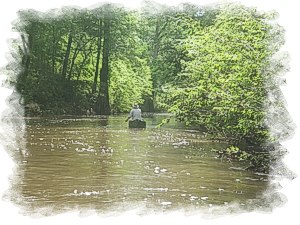 Another trip in South Carolina, this time on Turkey-Stevens Creek through the Sumter National Forest above Augusta, GA. The plan was to meet Wednesday, May 8, 2013 at Hamilton Branch State Park near Modoc, SC at noon. The drive down for me, Don Meece, from NC was about four and half hours and Wayne Charles from NC was there before me. After meeting Wayne, we called Paul Ferguson who was checking out our put ins and take outs. Paul finally met us at the park and after some discussion we decided to go ahead and river camp the whole trip.
We headed out for the shuttle at Stevens Creek Park, a public boat ramp. We loaded mine and Wayne's canoe and gear on Paul's van and headed for the put in on SC Hwy 283, leaving the other vehicles at the take out. The put in was on Turkey Creek and has a nice parking area a short carry to some steps below the bridge but then a slope down to the river. We were finally on the river by 4 pm, a little late for us but we needed to make time and since the days were longer we said, "Why not?"
We had plenty of water and the current was running fast. The gauge station is down river on Stevens Creek near Modoc on the SC Hwy 23 bridge:
http://waterdata.usgs.gov/sc/nwis/uv
The gauge read 2.5 ft with 350 cfs.
Turkey Creek is really a beautiful creek, typical piedmont creek with high banks but this creek had rocks, small class I rapids and the mountain laurel was blooming. Also noted was the presence of cypress trees which is a rarity for the piedmont.
After about four miles on this creek we passed under a old steel bridge then under Key Bridge, a foot bridge. Just past this bridge there appeared to be a set of steps which looked had not been used in year. This is described in the Paddling South Carolina guide copyrighted in 1986, so the book is old and I doubt this put in or take out on these steps had been used in years.
After 7.26 miles, we were lucky and found a small sandbar on river left where we could camp and even get up into the woods. Wayne and I opted to pitch our tents on the sandbar and Paul strung his hammock in the trees in the woods. After a good supper of Thai sweet and sour noodles with cut up summer sausage, we sat around the fire, telling tall tales and half- truths. That night a beaver kept slapping his tail on the water.
Next morning I cooked up side meat, with egg and cheese on English muffins and soon we were back on the river. After a total of 8 miles (All miles will be from the put in) we reached Stevens Creek. A little wider but still with high banks, cypress trees, small class I rapids.
From where Turkey Creek enters Stevens Creek, it is really nice down to the next bridge, Hwy 23 or Modoc Bridge and we reached it after 15.3 total miles. The river gauge is on river left and under the bridge there is another small class I rapid. I could see no access to take out even though the guide book says there are two, I could not find one.
After Modoc Bridge, the creek widens out and resembles more of a river than a creek. We still had a little current, and after paddling a total 25.1 miles we finally found a private boat ramp filled with mud. We decided we would check it out for a campsite. Before we found this ramp, we were almost ready to paddle all the way to the take out as campsites are rare with the high banks. I made my way up the five inches on mud on the ramp and found a nice grassy area, although the grass was high. There was a house back in through the woods and I walked up to get permission to camp. The woman at the house said it would be okay but would also have her husband check with us when he got home.
We had to pull the canoes up with Paul's rescue rope as the mud made it impossible to grab and canoe and slip and slide all the way up. We set up our chairs and waited for the owner to come down before setting up tents. He finally showed up and told us we could camp and even said he could come down and cut the grass. We thanked him but said that wasn't necessary.
After setting up our tents, a little while later he came down with his lawn tractor and cut some grass, told us we could leave our trash bag and he would pick it up in the morning. He was very hospitable and was hoping he would invite us up to his wife's good German cooking that night. Beavers slapped their tails again that night.
Next morning, breakfast was fast only a honey bun and coffee, we packed up and gently pushed our canoes back down the mud into the river. I am not sure of the mileage to the next bridge which is Hwy 53 but there is a landing near the bridge on river left called Sportsman Corner Landing.
The river from there to our take out was flat no current as water was influenced by the dam downriver. Near the take out the creek takes on a lake like appearance with floating logs and log jams evident on the banks. The creek is more developed with river cabins and houses.
We made the take out after a total of 32.1 miles on my GPS (a Garmin GPSx Map 65), not sure what Paul got on his Garmin or Wayne on his DeLorme. I was at the landing a good half hour before the others and packed my gear and boat on my truck which was undisturbed. Usually the last several hours before I get off a river where I have left a vehicle, I get anxious to see if the thing had been vandalized. Good again, it was in good shape. When Paul and Wayne got in, I took Paul back up to get his van, it was undisturbed also. Then the long ride home back to NC.
A good river trip, saw an owl, a gazillion turtles, blue herons, and other birdlife. We only had one tree to duck under and not pull overs or portages. Possibly an otter or two but could not be positive. I liked the first 15 miles better than the last 15.

Accommodations:
Camping at Hamilton Branch State Park, motels in North Augusta.
Outfitting:
Mad River Guide Solo
Old Town Penobscot Solo
Mad River Explorer tandem
Fees:
We did not get any permits or have any fees
Directions:
Put in on Turkey Creek is on Hwy 283 west of Edgefield, SC
Take out is at Steven Creek Park off 230 above North Augusta.

Resources:
SC DeLorme Atlas, Paddling South Carolina guide
Trip Details
Trip Duration: 2-3 Day Trip
Sport/Activity: Kayaking, Canoeing
Skill Level: Intermediate
Water Type: River/Creek (Up to Class II)