---
A self-supported trip created by guest-paddler
---
Trip Overview
Being the kind of guy who prefers my outdoor experiences to be quiet and contemplative, I was a little apprehensive about heading out to explore Roosevelt Lake, which is known as more of a hot-rodders lake, swarming with jet-skis and power boats. Though there isn't anyplace on the lake to completely escape the motorized world, we did find an area devoid of the "yahoo crowd" and largely absent of even the generally slower moving and quieter fisherman.
That area (and there may be more) is at the east end of the lake, near where the Salt River enters the lake. For our purposes, we chose the Schoolhouse Point boat ramp as our base of operations. We did this trip as a base camp weekend, but this area could easily be explored as a day trip, or even in smaller segments as a half-day trip.
We spent a long weekend on the lake, equating to one full day of paddling, and two half-days on either end to account for travel time to and from Tucson. We stayed in the Mesquite Loop of the campground there. The Mesquite Loop is the closest to the lake.
The boat ramp at Schoolhouse Point is long and wide, and makes for the easiest way to launch. We discovered that it was best to drive down to the water, unload the yaks, and then park the truck instead of hauling the kayaks up and down the ramp on foot.
It is an odd thing to explore the desert on a large lake, having somewhat of a surreal quality, but I can't say that the lake distracts from the beauty of the surroundings (shoreline trash not withstanding). Presumably because lake levels fluctuate so much, the shoreline vegetation is rarely lush, if it exists at all, so one never gets the sense that he/she is not firmly ensconced in a desert.
At this end of the lake, which is far more shallow than most parts, the skeletons of flooded willows and cottonwoods abound, which offers paddlers adequate barriers to keep most motor boats out of the area without acting as too much of a barrier to paddle craft. There certainly are areas that are too dense to paddle through, but a way through or around is usually not too difficult to find.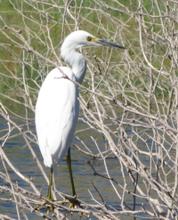 The most enjoyable journey I made was a solo trip up the lake to where the Salt River flows into the lake. At a lake elevation of 2,118 feet, I paddled about 5 miles from the Schoolhouse Point boat ramp before finding noticeable flows. Most of that time, I had no company but an Osprey, and some turkey vultures, yellow-headed blackbirds, Great blue herons, and other water birds. It is fun to poke around the various inlets and bays on the lake as well though.
I've got a more complete trip report with more pictures on my website at: http://www.thebeckoning.com/explorations/onthewater/roosevelt2006/roosevelt2006.html
If you want to contact me, you can do so through the link above.
The next time I go to Roosevelt, I want to try the Tonto Creek end, which is supposed to be similar, and by some accounts, nicer.
Accommodations:
There are hundreds of established camp sites in the vicinity of the boat ramp. When we were there, only the Mesquite Loop was open, consisting of several dozen camp sites. All camp sites had a covered ramada with one or more picnic tables, a fire ring, and plenty of level (though not necessarily cleared) ground. There are several bathrooms in each campground, and the one near our camp was very surprisingly clean and well maintained (with the exception of the spiders that had taken up residence). I saw no shower facilities, but I've been told there are some in some of the campgrounds at the lake. Once you pay the day use fees, there is no additional fee to camp.
Fees:
There is a day use fee of of $6 per vehicle and $4 per watercraft. We didn't know if "watercraft" meant a watercraft that had to be registered (i.e. not a kayak in Arizona), or if it included anything that floats on water (kayaks), so we just paid the watercraft fee.
Directions:
From Phoenix, take US 60 east to Globe/Miami. Head north on Highway 188 about 20.6 miles until you get to the signed turn-off to Schoolhouse Point. Travel another 3 miles or so down to the boat ramp.
Trip Details
Trip Duration: 2-3 Day Trip
Sport/Activity: Kayaking
Skill Level: Beginner
Water Type: Flat/Sheltered Water