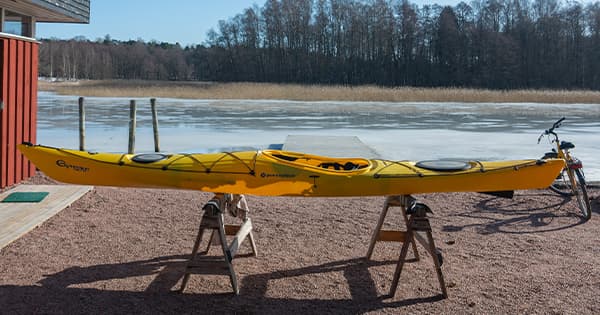 As I look out through the large window in front of my computer desk I see the sun peeking out from behind the many rain clouds, smoke coming out from my neighbors chimney, the ground covered with beautiful autumn leaves, my Halloween pumpkin grinning on our front steps and the squirrels darting about picking up nuts and stashing them for the winter. In addition, tomorrow I get a chance to turn all the clocks back one hour. All these signs are my indicators that I need to begin winterizing.
Winterizing is different for everyone depending on where you live and how you choose to spend your winters. Here in the Pacific Northwest it is the rainy season. It is not common to have a lot of snow in the Seattle area, but we do get a few snow days. Even though we get some days with below freezing temperatures they are not the norm. Winter paddling for me usually consists of cold, rainy, windy days. It is not normal for students to call me for winter classes. I also don't get many calls from my paddling partners to go out for a paddle this time of year, so I end up doing more solo paddles in the winter season. I enjoy solo paddles because I get a lot of reflection time. I also get a chance to concentrate on fine skill development and experiment with ideas that creep into my mind or have been suggested to me by others.

Creating Goals for Winterizing
So what does winterizing mean to you? How do you winterize? I answer these questions by setting possible worst-case scenario goals. Here are my goals for the different aspects of winterizing:
Kayaking
Paddling in cold water, windy day with 25+ knot winds, snow blowing into my face, zero visibility and reflecting waves. Be able to communicate with emergency services and my family.
Vehicle
Be able to drive home with snow or ice on the road. Be prepared if my battery dies. Have adequate clothing and equipment to survive a couple of days by myself without external heat. Be able to communicate with emergency services and my family.
Stored Kayaks
I want my kayaks out of the direct elements, animal resistant, dry inside, seals treated as needed and ready to get them out if I need them.
Kayak Gear
I want any summer gear dry, treated as needed and properly stored until the summer season. Winter gear is kept dry and in a warm room ready to go and treated as needed.
Achieving Your Goals
Since these are my goals, I will explain how I try to achieve these goals:
Kayaking
Since I paddle alone, I take extra precautions when winterizing myself for paddling. I am in my drysuit with more than adequate layers underneath. I have my pogies and hood with me. I have even packed ski goggles and a face guard in my ditty bag. I have extra warm clothes, a towel in a dry bag in my kayak, along with extra rain gear. For comfort the thermos behind my seat is filled with hot tea (with my favorite blackberry honey) or with hot chocolate. As always, my wife knows where I am going and we stay in cell phone contact as the day goes on.
Vehicle
I have my car ready with chains, in case we get snow or ice on the roads. There are blankets, towels, extra jackets, gloves, hats, jumper cables, water, some Powerade drinks and flashlights in the car. Some of this stuff stays in the car all year, but we add more for winter. When I return to shore, I want to be able to get out of my kayak, be able to dry off, get into all dry clothes and be warm in below freezing temperatures. If I launch from remote areas, I bring food and a winter sleeping bag.

Stored Kayaks
My kayaks are stored outdoors therefore subjected to the outside temperatures. However, I keep them out of any direct weather. They are stored on racks under tarps. In addition I have hatch covers to keep insects and critters out of my cockpit area. I can tell you from experience that Raccoon feces and urine not only stinks, it can contain very dangerous parasites. Read about proper cleaning of animal feces from the web before you ever clean that stuff out. Masks, safety glasses and gloves are recommended during the cleaning process. It is vital to keep children away from any animal feces especially Raccoon feces.
I dry my kayaks so water inside does not turn into ice. When ice forms it expands and too much ice can possibly affect seams. If there are rubber seals on the hatch covers they are treated before being stored. In fact I try to treat rubber products twice a year with manufacturer recommended products.
Check out our favorite Kayak Storage Products.
Kayak Gear
I do have my summer gear that gets thoroughly cleaned, dried and treated before being stored away for the winter. My working winter gear is dried after each use. We are fortunate to have a small storage room (about 6'x6') in the back of our garage where we installed a very efficient heater that keeps the room warm (about 68 degrees F.) for only pennies a day. This is where I dry my wet gear and keep it stored until I need to use it. I used to use our laundry room. As a bachelor I had a long dowel over my shower and I used to wash my gear while I showered and let it drip and dry in the bathroom. As I said, this worked well when I lived alone. This does not always go over well with roommates or significant others (my wife, wink, wink.)
Winterizing Is Different for Everyone
As I mentioned above, everyone will have his or her own special needs for winterizing. If you live in tropical areas winterizing may mean changing the color of your shirt. For those of us in climates where seasons change significantly, I believe some sort of winterizing should be done.
In addition to winterizing, paddlers can use their wintertime to do maintenance and upgrades to their kayaks before the next paddling season. While you have your kayak in storage you can add outfitting (recovery straps, paddle holders, deck lines, etc). You can also do needed repairs to your kayak. It is a great idea to change grab loops and deck lines on a regular basis. I recommend regular inspection of all rudder cables.
Before you store your kayaks for the winter it is good to check the watertight qualities of your bulkheads and hatch covers. This way you know if leaks need to be fixed during the winter season.
For many, winter is a time to catch up on projects. One of which is sorting through all the pictures you took during the paddle season. If you keep photo albums, use the off-season to get those pictures where they belong. All my photos are now digital so I try to file them in some sort of order on my computer and then make two independent back-ups.
I will close with encouraging those who think that winter paddling is a no-no to possibly re-think their opinion. Of course there are locations where everything is iced over. However, there are still places many can paddle in the wintertime and have a great time even though the conditions are more challenging. If you are properly trained and properly outfitted you can have wonderful off-season adventures in your kayak.
As one Yak-ism states:

"There is no such thing as bad weather, only inappropriate clothing."

Wayne Horodowich, founder of The University of Sea Kayaking (USK), writes monthly articles for the USK web site. In addition, Wayne has produced the popular "In Depth" Instructional Video Series for Sea Kayaking.