I have a modest harvest each year from the garden I plant in containers on my large terrace. But if my garden is limited to a wide variety of herbs and a few select vegetables, I always make room for several tomato plants. And I know that I am part of a large group of tomato fans! I like to plant different types of tomatoes, and with more than 7500 varieties, there certainly is no shortage to inspire me. I prefer heirloom tomatoes because they taste so much better than their modern hybridized commercial cousins. Heirloom tomatoes come from ancient varieties that almost disappeared in the nineties, thanks to industrial production, and were saved in extremis only because a bunch of serious gardeners and scientists decided that they could not bear such a major loss and considered it their duty to save and preserve our planet's biodiversity. So they worked tirelessly at creating a catalogue of ancient seedlings that is now used worldwide.
I never tire of smelling a tomato when it is ripe and ready to pick. And every year I have the rather pleasant surprise of harvesting more tomatoes than my family can eat. That allows me to give gifts to friends who don't have a garden as well as prepare sauces, canned or dried tomatoes to carry along on paddling trips and to last through a good part of the winter months. Believe me: this brings instant sun and fills the kitchen with wonderful aromas and is more than welcome during a grey and cold fall or winter day!
A brief history
The tomato originated in South America; probably in the highlands of Peru. But it soon was domesticated and spread through South and Central America. The word tomato comes from the Aztecan word tomalt used by the Nahua people of central Mexico. Spanish explorers brought the tomato to Europe, and it had become a common food in Spain early by the 17th century. Italians referred to tomatoes as pomo d'oro, or golden apple, and they soon found a large place in local cuisine there. Tomatoes probably made their way to North America from the Caribbean, and were cultivated in the Carolinas by the mid-18th century.
A fruit, not a vegetable
The tomato (likes cucumbers, squashes, eggplants and avocadoes) is actually a fruit and not a vegetable. But since it has a much lower sugar content than most fruits, it is less sweet and considered a vegetable for culinary purposes. Even the U.S. Supreme Court weighed in and declared the tomato a vegetable in 1893, when duties were imposed on vegetables but not on fruits. The Court said that since tomatoes were served with dinner and not dessert, they could be considered a vegetable for the interpretation of tariff laws. But it stopped short of reclassifying the tomato for botanical purposes. In Arkansas, the "South Arkansas Vine Ripe Pink Tomato" has been declared both the state fruit and the state vegetable!
Health benefits
Tomatoes contain the carotene lycopene, a powerful natural antioxidant. Some studies indicate lycopene, especially in cooked tomatoes has been found to help prevent prostate cancer. It also helps the skin protect against harmful UV rays. Eating tomatoes regularly is also believed to benefit the heart and other organs.
A few tomato tips
If you don't grow your own, always choose a ripe tomato; preferably one that hasn't travelled the planet, in order to be assured of the best nutritional and ecological value.
Never store a tomato in the fridge; it ruins the flavor. If you must ripen a tomato, do it on dry, airy windowsill. If you still have tomatoes on the vine when the frost arrives, you can hang the plant by the roots in your basement or garage; the fruit will ripen.
To peel a tomato, plunge it into boiling water for 20 to 30 seconds. The skin will then peel off easily.
You can remove the seeds from a tomato by cutting it in two and gently pressing it in your palms.
To oven-roast tomatoes, cut them in two and press to remove seeds. Baste them with oil and place on a cookie sheet. Bake them at 425 F for 30 to 40 minutes until the skin bubbles and blackens. This technique is great for making excellent sauces and soups, concentrating the flavor.
Use Italian tomatoes to make dried tomatoes because they contain less liquid. Cut them in two, press them to remove the seeds and dry them with paper towels. Salt and add a drop of olive oil and a drop of balsamic vinegar on the pulp. Dry for about two hours in a warm oven (250°F), turning occasionally. The tomato should take the consistency of supple leather. Be careful they don't burn. The dried tomatoes can be kept in extra-virgin olive oil with Herbes de Provence for at least two to three months.
Recipes for Paddlers
Fresh tomato puttanesca pastas (4 persons)
Ingredients
6 ripe tomatoes, diced (carry them in a plastic container) (or one can of diced Italian tomatoes, with juice)
4 garlic cloves, chopped
1 onion, chopped
3 tbsp olive oil
16 black olives, pitted and chopped
Hot pepper sauce or flakes (to taste)
1 tbsp anchovie pasta (in a tube)
Salt and pepper to taste
Fresh or dried basil and oregano, to taste
1 package of cooked spaghettini
Fresh grated parmegiano cheese
In a saucepan, sauté onion in olive oil over medium heat. Add garlic, anchovie pasta and cook 2 more minutes. (If you are sipping wine, pour 2 oz in the pan). Add tomatoes, herbs, salt and pepper to taste and hot pepper sauce or flakes. Cook, uncovered over medium-high heat for 5 minutes. Add olives, stir, then add the cooked spaghettini. Serve with lots of fresh parmesan cheese.
Stuffed tomatoes for a paddling picnic
(4 persons)

This recipe is at its best with garden tomatoes, when they are in season and just ripe.
Ingredients
4 large tomatoes
Salt and pepper to taste
8 oz baby shrimps, cooked and drained
2 green onions, chopped
1 large celery stalk, chopped
1/2 cup frozen green peas, slightly cooked and drained
4 tbsp mayonnaise
1 tbsp capers, drained
1 dash hot sauce
At home, before leaving for your paddling outing, cut the cap of the tomatoes and remove the flesh, the juice and the seeds inside. Sprinkle with salt and pepper. Set aside.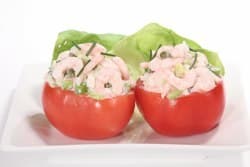 Dried tomato pesto with toasted pistachios and spinach
(4-6 persons) - Prepare at home

Ingredients
1/2 cup toasted pistachios
3/4 cup dried tomatoes
3 garlic cloves, chopped
6 tbsp lemon juice
2/3 cup extra-virgin olive oil
6 cups baby spinach
3/4 cup feta cheese, crumbles
36 pitted cured black olives
Hot sauce or black pepper to taste
Prepare pesto at home, combining all ingredients in a food processor. Mix well and pour in an airtight container. Pesto will last for at least one week in an airtight container. At the campsite, when you are ready to serve, cook 2 cups of rice and mix with pesto. Or serve over short pastas. Serve.

Drain rice (or pasta) when cooked, adding 1/2 cup cooking water to the pesto and return to the pot. Stir and heat for a couple of minutes.