One of the great things I love about the sport of kayaking (and fishing from kayaks) is getting someone else interested in it. I have a backyard full of boats, enough fishing gear for a dozen anglers, and drive past 3 really good launches every day on my 5 mile trip to work. I take these blessings for granted sometimes. But, seeing first-timers hit the water resets the counters, so to speak. I enjoy seeing the looks on their face as they ease away from shore, under their own power, captain of their own vessel. It's good for me because it reminds me of all the things that I truly love about the sport. Ctrl-Alt-Del = Restart (and install updates).
Recently, I had an opportunity to help put a number of first timers on the water. My role was that of collection and delivery. We already have a fleet of boats. But I needed to get more, and also get them to the water. So in steps the "band of brothers", that I've discussed in earlierarticles. I put out some requests on my local paddle-fishing forum, asking if anyone had a trailer I could borrow, rent, whatever. I was smothered in responses - so the trailer became a done deal (thank you Bill). I then needed more boats. I sent a few e-mails, and again, knee deep in boats. So, I picked up the extra boats, PFD's, and paddles (thank you John). It was a lot of work, but I gotta tell you - I had a blast I'd do it all again next weekend. You have to remember that a few years back, I was working with a kayak company and when required, me and my boys would load 135 kayaks into a truck for shipment (quickly), so this effort paled in comparison.
The event was supposed to kick off at 9am on a Saturday morning. I had my stuff ready Friday night, and when you ponder the stuff necessary for 9 boats, that's a lot of stuff. But, in a time honored tradition, I was ready to leave the house at 7 am on Saturday. The launch was a location centrally located for most of the participants (Courtney Campbell Causeway, to be exact). We come rolling up, very early. Oh look, someone is already here fishing. Yeah, whatever … this area really isn't known for fishing, and besides, this is a paddling event. The "f" word really wasn't brought in to play.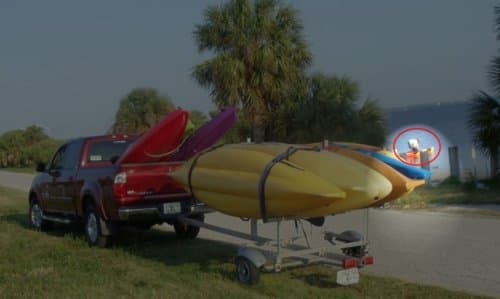 My plan was to make it so folks could park their car, walk up to the launch, pick a boat and go. So, my wife and I made a lovely presentation of paddlecraft. The stage is set. As it turns out, the fishing guy was one of the folks that had signed up for the event, and he was coming backfrom fishing when we got there (early). That's what I'm talkin' about.
Paddling.com, meet Jeff.
So, what's different about his boat? You got it - fishing rods proudly pointing toward the heavens.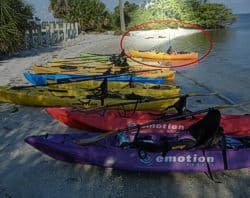 Some folks got there early and took a spin. It was an absolutely perfect day for paddling - flat water, slight tide, cooling (but not controlling) breeze - a chamber of commerce day. This launch is adjacent to a very busy highway that bisects upper Tampa Bay. Imagine the Autobahn with a water feature. It's also very close to a boat ramp. I never pegged this place for a fishing spot, so I was OK not bringing my fishing gear.
Other paddlers showed up with their own boats, and we all were soon on our way. My wife lead the way, and to be honest, I had no idea where she was going. But, this is a pretty safe area, too skinny for most power boats, so we'd safely get some exercise and I'd get to see a new area.
We're off! But where's Jeff going? Obviously, he's not a novice paddler, and obviously, he's geared to catch fish. If you travel with a fleet of recreational paddlers and plan to catch a fish in the midst of them, you better be the first one on the scene.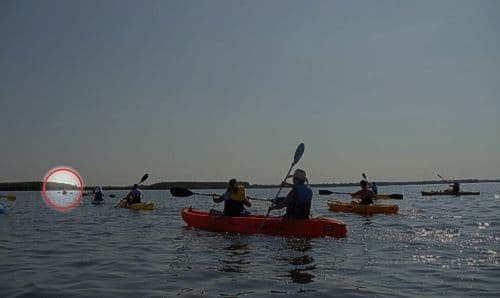 This area turned out to be a great place to explore. The deeper we got in to the mangroves, the fishier it looked. Jeff stayed with the group, but didn't miss a chance to make a cast here and there.


Jeff and I chatted a bit as we paddled around, and he offered more than once to let me borrow a rod. I declined, but in retrospect, I should have accepted his offer to take a rod and a top water plug. When we got to this area, I saw lots of activity next to the shoreline. Mullet were everywhere, but there were telltale signals that snook were back in the "jungle". I could have easily spent a full day plugging these coves. Jeff made the best of the situation … read on.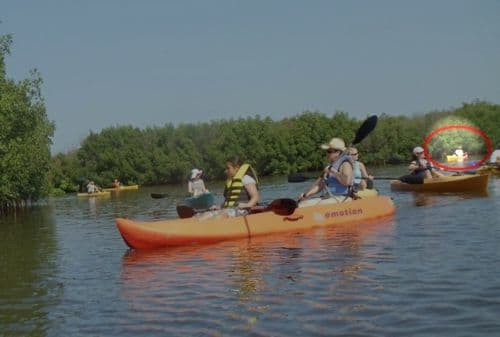 We'd been paddling pretty steady for over an hour, and my lower back was P.O.'d, big time. So, I started scouting for a place shallow enough where I could get out and stand up. I finally found a spot and hopped out. It must have been a good idea because I was soon surrounded by the rest of the gang.


We finally got underway again. The rest of the group made their way back toward the launch, but Jeff and I hung around a bit. This area was simply too fishy to leave, even if I didn't have a rod.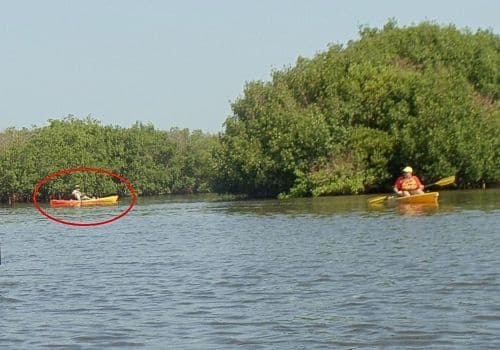 By now it's approaching noon (bad). But the tide is moving at a pretty decent clip (good). Jeff took a detour, made a cast at a likely spot and was rewarded with a small snook. He freely admitted that the fish must have reacted to the splash of the bait because the strike came immediately after the lure hit the water. Call it lucky, but after all, luck is where opportunity and preparation shake hands.
We all made it safely back to the launch and got the boats loaded. What a great day. Great, because the sport gained a few more fans. Great, because there was proof that the snook population didn't get completely decimated by the extreme cold temperatures that killed off so many this winter. Great for me because, I was reminded of the simplicity of what we do. Grab some gear (doesn't have to be a lot), and go fish.
So, this article is dedicated to the little bit of "Jeff" in all of us. Once upon a time, in an estuary probably not so far away, there was a person that simply decided they would fish from a self propelled boat. No muss, no fuss, just fishing. So, in answer to the question "Where's Jeff?". He's in all of us, back behind the gear, and preparation, and tide charts, and solunar tables, so…
Thanks, Jeff!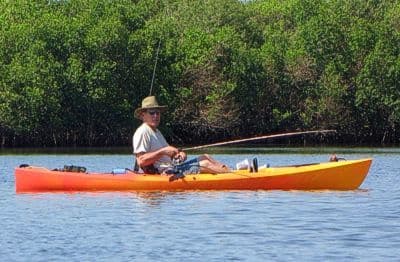 The next weekend another group outing was planned. Obviously the previous event was a huge success. This event would be held at a location where I have caught a lot of fish in the past. There are also kayak rentals there, so everyone can select their own craft. Following Jeff's lead, I kept it simple. I allowed relaxation to enter the mix, and had a lot of fun. If a picture paints a thousand words, then this collage of the two events is "War and Peace, part 2". Lots of smiling faces. And you can't put a price on that …


The moral of this story: Never, EVER pack a paddle without packing some fishing gear too.
On the 2nd trip, my wife and I both caught some fish. Jeff met us early that morning, but the fish didn't show until mid afternoon (which made no sense), after he had left. My tag line says it all, but seriously... fishing is great, but it offers only a tiny contribution toward the overall experience we have when paddle meets water.
You should know by now that there's almost a musical segway in these articles. So I'll leave you with a little something parastolen from the Zack Brown Band:
"I got my toes in the water, a** in my yak,
surrounded by friends, a sunset at my back,
life is good today, life is real good today..."
See you out on the water... take a friend... pack some fishing gear...
"Many men go fishing all of their lives without knowing that it is not fish they are after"
~ Henry David Thoreau