Recently a buddy of mine needed an extra kayak for one of his out of town guests to use for the afternoon. The kayak rental joint he had pointed them to was closed, so he called me and asked if I knew where he could rent a boat. I had no clue, but I did know that there were several kayaks in my backyard craving some hydration. So, home I went.
I was on my lunch hour, so I didn't have a lot of time. I did however want to beta test a new gadget I recently purchased (bed extender), which I had hoped would make the load/unload process much less stressful and a lot quicker. I backed in to the driveway, connected the bed extender, and had a boat tossed on there in less than 10 minutes. I snagged a paddle, seat, PFD, and away I go. Well, not so fast.
IT'S ALL IN THE PREP WORK: I have quite a collection of tethering devices. Chain, carabineers, bungee cords, steel cable, padlocks, and cam straps. My tether choice for this event would be cam straps. I firmly believe that everything should have its own place, and by golly things should be in those places.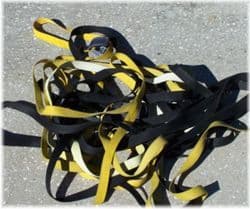 I said it was what I "believe", not what I practice. As a result, I spent way too much time untangling this mess. Once untangled, I found myself using a strap that was too short. So, I spent a few minutes and marked the length of the straps. Next time, I'll know which one to grab.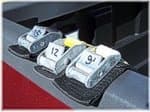 CROSS BARS:
Whether you use a roof rack for your vehicle, a rack on your truck, or a bed extender like I use, you will be strapping your boat to some sort of crossbar. If you're carrying the boat on your roof, you'll want to carry it deck down. That is a much flatter surface to use against the bar rather than the rounded hull.
RATCHET STRAPS, BUNGEE CORDS, or CAM STRAPS:
There are a number of opinions as to which method is best for lashing down your boat. For me, I only use cam straps (I'll plead that case later). I don't like ratchet straps for several reasons. The fact that they allow you to over-tighten the load is the main reason. Plastic kayaks will most certainly yield to the extra pressure - not a good thing. If the load shifts and the strap becomes loose, the ratchet strap can come unhooked due to the slack - not good either. Bungee cords stretch (just doing their job) and as result can allow the load to shift, causing slack, and all of a sudden they're about as good as a ratchet strap. Cam straps - that's all you need to know.
TIEING ONE ON:
We'll start at the end, the result. This is how the finished product should look.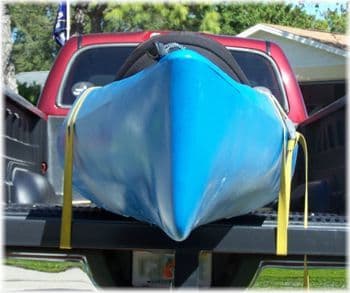 Strap should be perpendicular to the crossbar. If the strap somehow moved (not likely), it could only get tighter. The strap needs to be snug, that's all you need. Finally, the tag end should be in a snug knot. This will give you a bit of security should the cam slip (not likely). If you're using a roof rack, you'll simply perform this procedure on each crossbar. NOTE: This is a 9' strap. I discovered that a 6' strap is too short.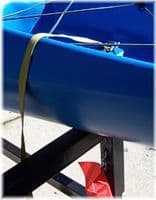 Go under the bar, then toss the tag end over the boat.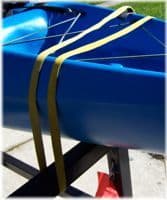 Walk around to the other side, adjust the strap as shown.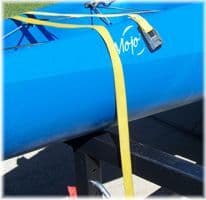 Take the tag end under the bar and back up to the cam buckle. Tighten the strap until its snug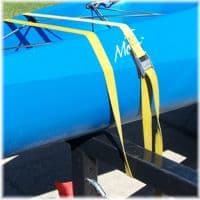 Now, form a simple knot with the tag end.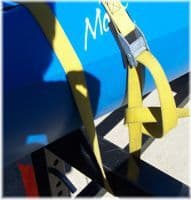 Then, tighten the knot until its snug.
Snug is enough - anymore and it'll take a screwdriver and a steroid infused boy scout to get the knot undone.
That end of the boat is now secure. Repeat for the other end, you're done.
If you're securing multiple boats, make sure each boat has its own set of straps. Don't use one long strap for 2 boats. Should that strap fail, you'll have double trouble.
If you're carrying a long boat on the roof, it's certainly not a bad idea to secure a line from the bow to the front bumper of your vehicle, just to keep air deflecting off the windshield from lifting the boat off the rack. Bungees are bad - don't forget that.
YEAH, ABOUT THAT BED EXTENDER:
My last truck was a Ford Ranger. Because the truck was so small and low, the rack was low enough so that 2 people could easily load the boats on to it. The new truck is a Tundra (that's right, a truckers truck) - much bigger and a lot taller. A buddy of mine has a rack system for his Tundra, and he has to carry a small step ladder so he can load and lash his boats. I opted for a different solution - the bed extender.
Not much to it, but it makes loading and unloading a breeze. You can find them on sale from time to time for $25, regular price is $40- $50. I've spent a lot more money on things that didn't give me this type of reward.
The main downside to this type of boat transportation is having something that long sticking out of the back of your truck bed. With the Ranger, I once had someone run in to my boat while it was loaded in this manner (though it did have a flag on it). The guy said "he didn't see it". You're gonna tell me you don't see a red flag hanging off the back of a 15 foot long bright yellow boat in broad daylight? Sheesh. The bed extender came with the red flag you see above. In FL, to be legal, you just need to have a flag marking the end and width of the load. It's common here to see the flag hanging off of the end of the boat, and I've never heard of anyone getting popped for just that. The "T" bar can be raised a good bit so you can clear the bumpers of the idiots behind you. Yes, the new target is now their windshield. Natural selection, if you ask me.
The upsides include ease of loading, and no salt water drips and sulfur laden mud falling (and drying) on your hood and windshield during the ride home. I normally load my boat stern forward, so that I can put my rods and paddle in the bow hatch while the boat is loaded. I also transport with the seat on since I carry the boat deck up. See, another time saver. Since the bed extender will fit a standard square tube trailer hitch mount, it's transferable to other vehicles with the slip of a pin. When my buddy borrowed my boat, he also borrowed the bed extender. That made his day a lot easier too.
THE LOAD-OUT:
Back in my rock and roll days, my band would normally play 2-3 clubs in one week. That's a lot of playing, but after you do it week after week for a number of years, you start to look at it as "X" number of load-ins and load-outs. 3 guys and 22' box truck packed full of gear - no roadies. Good gigs start to be measured by ease of load-in and load-out, versus crowd reaction or money. Jackson Browne wrote a song based on this necessary evil. You know me, there's almost always a musical correlation. After a long day of fishing and paddling, the load-out can certainly score the day's memory as a win or a loss. So, hopefully this information will enable you to concentrate on the "gig" (fishing). And, since you'll be using less time for the load-out, maybe you'll have a little more time to …. (queue the band)
"… stay … just a little bit longer …"
See you out on the water!
"Many men go fishing all of their lives without knowing that it is not fish they are after"
~ Henry David Thoreau