Yes, it's beginning to look a lot like Christmas. Everyone's yard has something in it that flashes, manly pickup trucks now sport wreaths on the grill, and folks are making plans to be with family and friends. That's what makes Christmas so special. So don't start thinking that this is the holiday to sneak away and wet a line. But, that doesn't mean you can't start planning to take a great adventure once the icicle lights come down.
I checked out a few profiles on the forum, just to see who was from where. Northern VA, Southern Ontario, Eastern OH, Western TN. The weatherman then says cold, rain, snow, and sleet. I'm sitting here in Florida, made ME want to get away! So, I started pondering a new adventure, and what all would be involved to make it happen. And, since I'm wishing, let's take it to the limit, in stages.
TIER 1 - Go Local: More than likely, there are a lot of unexplored places right in your own backyard. I hit the same spots over and over, mainly because I know them well, they're close, and I've had good luck there. But, I can add 30 minutes each way, consult some forum brethren, and find myself in an entirely new body of water - probably will be in the same area code. I'd wager that if you do an internet search on the general "location" and "target specie", you'll find plenty of information. Obviously this will be the most economical, and you'll get to sleep in your own bed. For me (based out of Tampa Bay), that could mean a drive south to Estero Bay, or a drive north to Crystal River.
TIER 2 - Go Regional: This trip will find you still sleeping in your own bed, but Waffle House coffee may be involved during the ride. For many of you, that'd require crossing state lines which will mean grabbing a temporary fishing license. That's easily solved over the internet. Since Florida is a long state and I'm camped in the middle of it, for me that'd mean heading to the Florida panhandle, or heading to the Everglades. I could also target the east coast and the "goon", or dodge the alligators, snakes, and mosquitoes to chase largemouth in the Okeechobee. Yep, the goon's looking pretty good at this point.
TIER 3 - Get a Room: This puts us all in the same boat. Book a flight, or take a long drive the day before the adventure. Once you get to where you have this much travel time invested, I feel that you definitely should be looking at a charter with a guide, possibly for an all inclusive trip. If you plan to fly, obviously you won't be taking your own boat, but you can still take your own rods, reels, and tackle. For me, this would mean heading to California to plunk around in the kelp beds, or heading to the Florida Keys for some bonefish and permit. No shirt, no shoes, no problem.
TIER 4 - Get a Passport: Let me preface this segment by thanking my daughters for arranging a cruise/trip for my wife and I for our 30th wedding anniversary. We haven't decided where we're going yet, but you can bet it will be warm and surrounded by salt water. And where there's salt water, well, you know. Since my wife is an angler too, we wouldn't mind including a roosterfish in the vacation photos. But, if you're looking for a paddle-angling destination, the world truly is your oyster. Canada, Australia, the UK, South America, the list is a lengthy as your budget will allow. There is no shortage of guides, lodging, transportation, it's all out there.
ONE STOP SHOPPING: If you want a great place to start your search, start here: www.paddling.com/trips/.
TOPIC FOR MESSAGE BOARD DISCUSSION: OK, let's talk about YOUR dream paddle fishing trip. Where would you go, what would you want to catch? Thanks for your input.
I wanted to take a moment to thank you all for supporting paddling.com this year. Think we can agree that as we browse the internet that this newsletter, this website, and the collection of forums found here offer information that can be found nowhere else. I wish you all a Merry Christmas, and look forward to exploring the sport of paddle angling with you in 2008.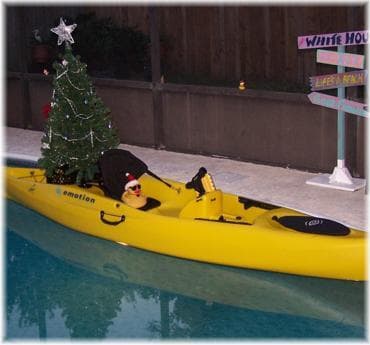 See you out on the water...
"Many men go fishing all of their lives without knowing that it is not fish they are after"
~ Henry David Thoreau