There are amazing opportunities all over the world to snorkel and enjoy exploring marine life, shipwrecks, ancient ruins and the underwater world. I am, by no means, an avid or super experienced snorkeler. Until recently, I had been snorkeling a couple dozen times over the last 20 years. Usually snorkeling has required an organized tour, a fair amount of money, a ride on a boat etc. Not easily accessible for the average beach-goer.
Recently I have discovered SUP snorkeling. It happened by accident, while staying in Bahías de Huatulco in Oaxaca, Mexico. Huatulco is known for its protected bays and easily accessible coral reefs that are great for snorkeling. An ideal spot to experiment and learn how to combine the two sports. While in Huatulco, I quickly developed a love for snorkeling and after a couple weeks at the easy-access spots near the beach, we started to take the SUPs to explore new underwater terrain further afield. Here is what I learned...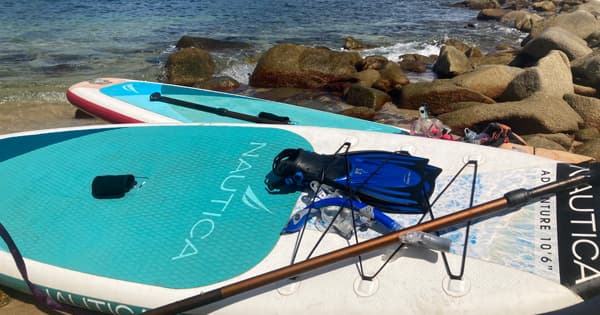 Tips and Techniques for a Successful SUP Snorkeling Experience
Scouting and access:
For good snorkeling, you need an area where there is abundant sea life or other points of interest, in shallow and clear enough water to view it from the surface. If you are resourceful enough, you can find decent snorkeling anywhere with clean bodies of water. Check where tour companies are going, use maps, apps, and chat with the locals.
If you don't have your own equipment, it is generally easy to rent. As SUP continues to grow in popularity, the same calm waters that are good for snorkeling, more and more often have a SUP rental spot nearby.
Once you are there, the SUP is great if you are unfamiliar with the waters you are exploring. You can cover the area quickly and find the best spots to take a peek below the surface.
Viewing from the board:
If the water is clear enough you can view sea life while paddling along. When you think you have found "the spot", you can lay down on the board, put on your mask and with your face in the water you can view from the comfort of your SUP. This gives you a quick peek to make sure the area is good before leaving your board. Snorkeling, laying on a SUP, is also a great progression for those with some trepidation about getting into the water with the sea life or who are not strong swimmers.
Getting in the water:
First decide if you are going to wear your PFD or not. This is a personal decision you will need to make based on the conditions and your ability and experience snorkeling. Snorkeling in a PFD can be enjoyable but since most PFDs are designed to keep your face out of the water it can be uncomfortable to maintain a good body position for snorkeling.
If you decide to leave your PFD make sure it is fastened securely to your board along with your paddle. Don your fins and mask and slide into the water.
Snorkeling tethered: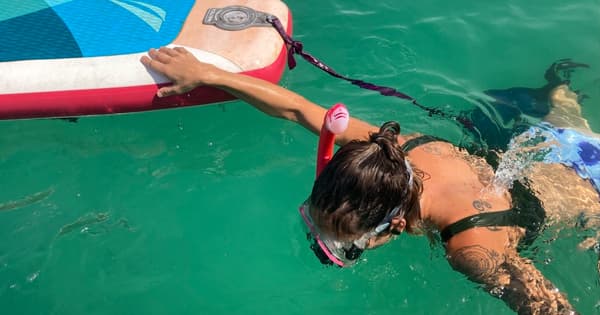 If the water is calm enough and there is no current you can just slip off your board, keep your ankle tether on and tow your board behind you. When the conditions permit, snorkeling tethered can be very satisfying. You can move on and off the board quickly and it is always close by for a break from swimming. The board also acts as a buoy to warn boats that someone is in the water nearby
Anchoring:
More often than not you will need to anchor your board(s). A small 5lb anchor should do for two or 3 boards, unless you are snorkeling in areas with strong current. Tie your anchor rope to the board and the anchor before leaving shore; a small throw bag works well to keep your rope organized. Once you have found your spot, lie on the board and lower your anchor slowly and carefully. Don't drop your anchor on living coral, boat wrecks etc. Fasten your paddles and gear to the boards and attach your boards together (I use a couple carabiners for this). Make sure your anchor is holding; throw on your snorkel gear and head out.
SUP Snorkeling Safety Tips
There is much to think about when snorkeling in open water. Here are a few tips to help keep safe:
Be careful SUP paddling in shallow water, corral is extremely sharp and falling into rocks or wrecks is no fun either. When in doubt, get down on your knees.
If you are using rope to anchor, be extremely careful not to become entrapped or tangled in the rope.
Be aware of boat traffic, if your board and PFD are not bright get a buoy to float in the area you are snorkeling.
Be aware of the tides and rips in the area you are snorkeling. Conditions can change very quickly.
If you love SUP and love the water, try SUP snorkeling. You can use your SUP to access spots too far to swim. Once you're there, you can snorkel from your board, tow it on your tether or park it on shore or with an anchor. Combining these sports has opened up a whole new world of paddling and adventure for me. Perhaps it will inspire you too.
Inspired by wanderlust and a passion for rivers, Adrian's paddling addiction has taken him across the globe. After pursuing his degree in Outdoor Recreation and Tourism Management, Adrian eventually settled in Palmer Rapids, Ontario. Here, he has worked for over a decade as the Director Of Operations at The Boundless School.