For the record, I'm not what one would call a nudist. I don't sleep nude or hang around camp exposing myself to the elements. I just choose to swim without any clothes on. I always have. There's a sense of freedom one gets plunging into a cold lake in early morning without the aid of swim trunks. In fact, I'd go as far as stating that the act of skinny dipping is a part of a camping trip as much as toasting a marshmallow or watching the sun set. And it was the act of bathing nude that actually started my writing career.
I was on a solo canoe trip in northern Ontario, Killarney Park to be exact, and after a long day of paddling and portaging I thought a swim was in order. So, it was off with the clothes followed by a quick leap into the water. While in midst of a deep dive, I felt the water tremble, definitely an odd feeling that made me quickly come back up to the surface. And there, skimming the surface was a water bomber collecting a load of water to douse a nearby forest fire.
I panicked a little of course. There I was, alone in the wilderness with trees burning nearby. So I immediately exited the lake and climbed the highest rock point behind camp to scout for any signs of danger.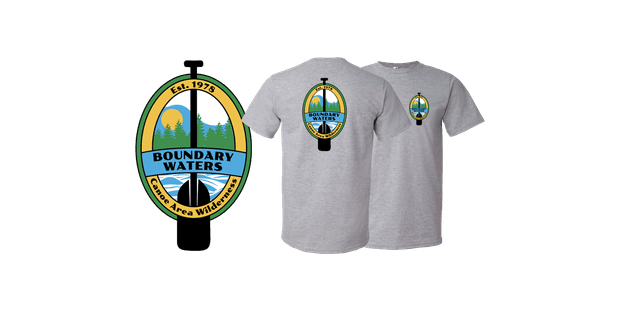 ~Get the BWCAW Tee~
With over 1,090,000 acres of wilderness area, the BWCAW is a paddler's paradise.
This was a moment I'll never forget. There I was, standing on an exposed ridge wearing nothing but my birthday suit, one hand holding onto a stout white pine and the other cupped above my eyes to knock out the sun's glare as I searched the horizon for smoke or flames. A second later I heard a giggle from below and one of six girls from a canoe camp that was paddling by yelled out "Hey, there's a naked man up there!"
My response was immediate and silly. I quickly ran down the ridge towards camp. On the way, however, I took a tumble, splitting my knee wide open.
The camp leader saw me topple down the rock and gave a command to paddle into my camp to administer first-aid. She was a gorgeous blonde clad in a tan bikini and, if I wasn't stark naked, I would have definitely wanted treatment from her.
But again I panicked, told the girls I was okay and that there was no need to approach. The attractive camp councilor called the girls off, and as they paddled across the lake I could hear their laughing and giggling echo across the water. I managed to dress the wound, and dress myself as well, and then wrote up the incident in my journal that evening.
I mailed the same script that I put in my journal to my local newspaper when I got back home in hopes of being published. They ran the story the next day titling it "Northern Exposure." In return, I received the payment of $60 and the beginning of my career writing silly stories that incriminate me as an expert skinny dipping outdoorsman.
Skinny Dipping Etiquette
When group dipping make sure everyone is in agreement to see and be seen
Think twice before agreeing to skinny dip with a prospective mother-in-law or boss or with your friend's spouse.
Undress where ever you please but please warn everyone around you that you're about to undress
Skinny dipping by moon-light is an age-old tradition but keep in mind that during a full moon things can be seen a lot more clearly then you might like
Swim well out of range from other campsites
Know that there is a big difference between swimming naked with a group and standing around nude chatting with everyone after the dip.
Be extra mindful of personal space issues; abutting another's nakedness isn't always considered a good thing
Keep in mind that being nude with someone else should not be considered an invitation for sex; that's a totally different camping element
Cameras should always be off limits unless permission to take pictures is given
Skinny dipping is not a good time to make jest of ones fears towards murky water, leeches, jelly fish or their own physical insecurities
Never make your less-then perfect figure be the reason for not giving skinny dipping a try
Whatever the downfalls, skinny dipping should always be tried once in your life
Check out Kevin Callan's web site: kevincallan.com
Kevin Callan is the author of 11 books including "Wilderness Pleasures" and "The Happy Camper." A regular keynote speaker at major North American canoeing and camping expos for over 20 years, he has received three National Magazine Awards and four film awards, including top award at the prestigious Waterwalker Film Festival. Callan lives in Peterborough, Ontario, birthplace of the modern-day canoe.