Paddling.com Exclusive First Look
Watch the newest film from Justine Curgenven, her first in over 3 years!
Mexico is home to 10% of the worlds wildlife and almost 40% of the world's species of dolphins & whales. The sea is clear and warm and you don't need a drysuit. Discover why one woman makes her annual migration down to Baja to kayak, surf and star gaze. Join her at surf camp, in Loreto and on a remote 14 day trip around the 2nd biggest island in the Sea of Cortez.
There's a reason why Ginni Callahan says 'It's an addiction!' but she doesn't want a cure. With stunning drone footage, wildlife galore and good humor, this is the first film by Justine Curgenven in 3 years.
Learn more about Sea Kayak Baja Mexico.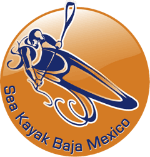 Learn more about Justine Curgenven and Cackle TV
Watch more videos from Justine on her YouTube Channel