I know, I know! Pears may be delicious but they have a reputation for being impossible to carry on any trip, just like avocado, banana and tomato. Most people think that they also have a tendency to spoil from the inside, leaving their exterior appearance lovely but turning into a bland mushy paste when cut to the core. Well, this bad reputation is not deserved and I intend to prove it.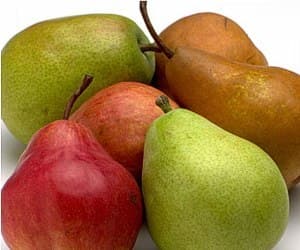 First, a few varieties of pears travel as well as apples without any special protection needed thanks to their firm flesh and tough skin: Bosc, Japanese and Comice, to name a few, are sturdy travelers; other types can also be taken on a trip, at least for 3-4 days, if not overripe and packed properly. They can also make fabulous butters, cobblers and dried treats. As for picking a pear that is perfect inside and out I would say it's a matter of experience. The best way to avoid having a pear with a mushy core is by buying pears that are not fully ripe.
The ripening test
Most people ignore the fact, but pears are one the rare fruits that do not ripen on the tree; they are always picked when they have reached full maturity but while they are still hard. The ripening process will start only once the fruit is picked and placed at room temperature. And, except for Anjou and yellow Bartlett pears, most of these delicate fruit won't change color when ready to eat. The best way to know when they are ripe is by lightly applying pressure on the neck. When it is slightly tender it's ripe! Many of us wait too long to eat the pears we buy at the fruit or grocery store, waiting for them to change color in the process, which explains why the core is often dry and mushy at the same time.
Always delicious even when bruised
But even if you happen to pick a basket with a few pears that are less than perfect, don't throw them away: cut the fruit into quarters without pealing them, remove the core, put in a pot with a bit of lemon juice, vanilla, a cinnamon stick and simmer for 30 minutes. Then, pour into a blender or food processor, purée for 15-30 seconds and you will get wonderful pear compote that is terrific as is, with yogurt and granola, muffins, with toasts and cheese, on ice cream or as a delicious topping for a pound cake. Once ripe, pears will keep for up to 3 days in the refrigerator.
Highly prized in antique China, Greece and Rome, pears are the fruit with the longest history. Apparently, 5000 years B.C. a famous Chinese diplomat was so passionate about growing as many varieties as possible and grafting the fruit that he quit his job in order to become the first professional pear grower known in history. His name was Feng Li and he is the first of a long line of passionate pear growers. The first English settlers along the eastern coast of North America brought pear trees with them, but the New England climate proved to be too harsh to allow large scale growing. So it was not until almost 2 centuries later that the pear was introduced to the western United States, along the North Pacific coast. Today, the best American pears are still grown in Oregon and Washington, for a total production of 582,000 tons annually. Thanks to the positive influence on its economy, Oregon named the pear its official State fruit. In Canada, the Okanagan Valley, the fertile Niagara peninsula and some parts of Nova Scotia also grow pears successfully. In Europe, they are very popular too and different varieties are grown in France, Belgium and Italy.
Excellent health record
Pears also have a brilliant health-benefit track record: loaded with fibers (one pear provides 24 % of our daily needs), rich in potassium, vitamin C and certain antioxidants known to fight chronic disease, this fruit has an important role to play in maintaining our health. Each portion (1 pear) contains only 100 calories. Pears can provide interesting options to paddlers for various meal and snack options: sprinkle fresh chopped pears and pecans over your morning cereals, stuff them with crab, shrimps or canned chicken for a light and tasty meal, serve them on a toasted English muffin with brie or cream cheese for a satisfying dinner, arrange them with a bag of arugula or baby spinach, dried cranberries, chopped almonds and blue cheese for another nutrient-packed light supper on your first or second camping night. For a great dessert, dip them in chocolate spread or in chocolate pudding then roll in crushed ginger snap cookies and you are in for a treat! Prepare pear butter at home and carry it on your next paddling trip to spread on a toasted bagel or English muffin and peanut butter for a terrific and quick breakfast; for a trip longer than a week, carry either dried pears or canned pears in grape juice. When you bring pears on a kayak or canoe trip, pack them in a non-collapsible container. They will keep for up to 5 days if not totally ripe when you leave home. But remember that to ripen, they need to be left at "room" temperature! The warmer the weather the quicker the ripening process will be…
Recipes for Paddlers
Spicy pear compote
Ingredients
16 pears, such as Bartlett, cored (with skin)
3 tbsp lemon juice
1 cinnamon stick
1 star anise
2 cloves
1 tsp pure vanilla extract
1 tbsp liquid honey (optional)
Cut pears into small pieces, add remaining ingredients. Cover and cook for 30 to 45 minutes, over low heat, until tender. Remove from heat, discard spices and let cool at room temperature. Using a blender or food processor purée cooked pears. Compote will easily keep for one week. (Delicious on French toasts or pancakes too!)

Variation: pear butter Cook pears uncovered over low heat for 1 and 1/2 to 2 hours, stirring often, until reduced by half. Remove from heat, discard spices. While mixture is still hot, add 3 tbsp butter and whisk until preparation gets shiny. Let cool at room temperature. Pear butter will easily keep for 2 weeks in the fridge thanks to the butter and its limited water content.
Stuffed pears for campers
(4 portions)

Ingredients
4 fresh pears (or 8 canned halves, drained)
2 cans Nordic shrimps drained (or real crab)
1 celery stalk, finely chopped
2 green onions, finely chopped
1 small cucumber, chopped
6 tbsp peppercorn (or ranch) dressing
In a bowl, combine all ingredients, except pears. Cut pears in 2 length wise, remove core and stuff with the shrimp (or crab) preparation. Serve immediately.