First, a moment of silence for the hardest working man in show business. The Godfather of soul - James Brown.
I don't care how long you've been in this sport, how many boats have come and gone through your garage, you still get a thrill from getting a new ride. Though my paddling and fishing will be very limited this summer, I still was in the market for a new boat. Go shopping with me.
DECISIONS, DECISIONS: I remember looking to nab a new fishing kayak about 5 years ago. The choices were few. Many of those choices were nothing more than recreational kayaks that had rod holders added. My first kayak was actually purchased at Sam's Club, and I added a flush mount rod holder - I thought that was the coolest thing. If you haven't bought a kayak specifically designed for fishing in the past couple of years, you're missing out. No matter what type of fishing you do, one of the major manufacturers has courted pros in that field and tapped their knowledge to build a better boat. Any boat you choose now IS a better boat. Better materials, better design, better performance.
So, with a new boat in mind, my wife and I headed to Action Water Sports(www.actionwatersports.net/). Of course, I had a specific boat in mind, but it certainly doesn't hurt to look. I looked …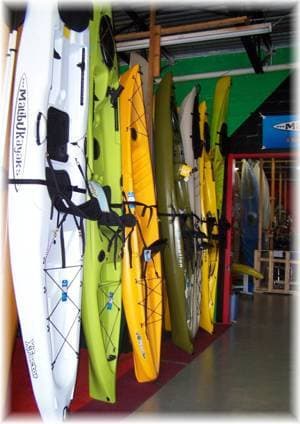 This is a mere sampling of boats that Dave (Sims) had to offer. And, as is true with most large dealers like this, the assortment of accessories will also boggle the mind. What started out as a trip to pick up a boat turned in to an hour long visit. It was time well spent since there was a lot to see. I also picked up a few tips that will be revealed in a later article.

ARE WE HOME YET? ARE WE HOME YET?
Auburndale Florida is a tiny little place. Not a lot going on there. But, I forgot that the area is surrounded by many, many lakes. And as such, there are lots of places to demo a new boat. My GPS took us a new way this time, and we discovered some of those lakes. But, there was a little problem. No paddle, no PFD. So, all I could do was wish.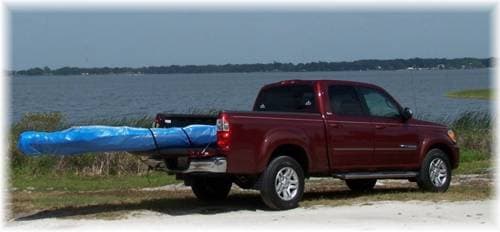 It's just as well though, for 2 reasons. Reason number 1 - This is freshwater Florida, and that means you share the waters with alligators, snakes, and airboats. I'll take my chances in saltwater, thank you very much. Reason number 2 - I don't need to be paddling a boat right now. We'll discuss that later …
We finally got home, I unwrapped the boat. I love the smell of a new kayak in the morning... smells like... victory...
THE TEST PADDLE: Before we get in to that let's talk about something else, which is more important. Here's your catch phrase of the week. "Posterior Cervical Discectomy". That is why there hasn't been a test paddle. After all of the tests over several months, the results clearly show that neck surgery is in my future. That happens in mid-July. So, until then, I'm simply not taking any chances leading up to this surgery. I'm sure I could fish from the new boat. I know this because a couple weekends ago, I put it in the pool and spent a good part of the day in it. I adjusted the foot braces, tried sitting "side-saddle" for a while, and even managed a nap in it by letting the seat back. So, I'm confident that once I reach my destination, fishing from it will be a breeze.
I'm sure I could paddle it for a short distance if I tried. My neck rarely hurts. That's good, except for the fact that I'm unaware of the damage I may be doing. But, the important thing is how well I'd be able to take care of myself in the event of an accident on the water - specifically, could I successfully perform a deep-water re-entry. In this new boat, I'm fairly confident that I could. But, what would happen if I couldn't? It's simply not worth the risk. So, I'll behave myself until the surgery. After the surgery, I'll follow the doctor's orders to the letter to ensure a complete recovery. If all goes well, I'll still be able to get in on some great early fall fishing. And fall is absolutely my favorite time of the year to be on the water.
But, what do I do with this new boat in the meantime? My granddaughter helped me with a field test. Ah, life as seen through the eyes of a 4 year old. Seems that the milk crate in the tank well not only works great to store tackle, it's a great place to give Barbie a ride. And, you'd be amazed at how many ducks, balls, and whatevers will fit in that center hatch. One of Murphy's laws states that an object dropped inside a kayak will wedge itself where it can't be reached by hand. Luckily, she also put enough water in there so objects merely floated within reach.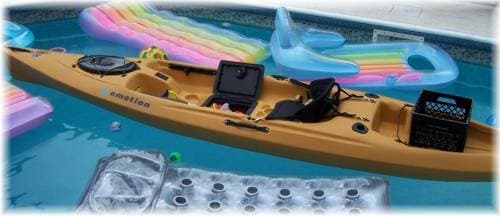 UNTIL I PADDLE AGAIN: So, before I go under the knife, I'll be doing some things to the boat and of course, sharing them with you. And, since I'll have a number of weeks to "recuperate" after the surgery that means I'll have the green light to scour the Internet and see what's going on with the paddle angling community, all over the world.
In the meantime, you need to go boost our sagging economy. You need to do your patriotic duty. You need to hand that IRS stimulus check over to a kayak dealer. It'd be un-American not to …
See you out on the water!
"Many men go fishing all of their lives without knowing that it is not fish they are after"
~ Henry David Thoreau