A few years back I helped lead a group of high-school students on a week long hiking trip. It was their first backpacking trip, so I made sure to spend some quality time going over important tips with them before heading out, one of which was how to properly pack a backpack. Disappointingly, however, the pre-trip planning seemed like a waste of time. We weren't even an hour from the trail head when they starting complaining about all the weight strapped to their backs.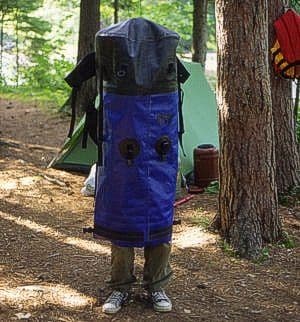 I called a break and began checking each student's pack to see if I could suggest ways to lessen their load. Some had only cheap hand-me-down packs. But, on average, the design of pack wasn't a huge issue. Neither was the fact that a few too many had completely ignored my advice of leaving all the nonessentials at home. It was how they packed their gear that actually was causing bruised shoulders and lower back pain.
The method used to loading up your gear depends a lot on the style of pack used. For an external pack it's better to keep the weight low to help keep your balance. But for an internal pack, or even a canoe pack, the weight must be kept to the middle. Since the design is made to hug the body more, the weight is kept closer to center of gravity. That means the sleeping bag and cloths go first. Then the cook set, food, stove, and fuel bottle, are placed in the middle. Just make sure not to have a hard-edged frying pan or a plastic peanut butter container jabbing you in the spine. The lighter items, along with gear you'll need in a hurry (ie. rain jacket, camp shoes, extra socks, camera), then get layered on top or get stuffed into all the empty corners or gaps and spaces found along the edge. Finally the tent goes last, due to the fact that it's usually the first thing you unpack when arriving at camp and the last item that goes away.
Most backpacks come with small side pouches. These are great for all the odds and ends: map, compass, bug repellent, water bottle, sunglasses, first-aid kit and munchies. Just make sure not to dangle your favorite camp mug, or anything else for that matter, on the outside of the pack. It will eventually free itself and become lost forever. And make sure that roll of toilet paper is handy. You never know when nature will call.
The more separate waterproof sacks, re-sealable containers or even garbage bags the better. It keeps everything waterproof and organized. Your sleeping bag and clothes, the two bulkiest items, should also be stored in compression bags (a stuff sack with straps on the side that cinch down to reduce the size). Outdoor Research makes some awesome stuff sacs and "AirPurge" compression sacs with a trademark air permeable/waterproof fabric band that purges excess air from the sack during compression.
Items like compression sacs can make a huge difference when packing items away.
Bulk is your Enemy
The major bulk inside your pack usually comes from three essential items: Tent, Sleeping Bag, clothes
When it comes to tents your choice is simple. Aim for the smallest and lightest you can afford and spend more quality time huddled under a rain tarp during foul weather.
Go for the down filled rather than synthetic when comparison shopping for sleeping bags. The down bag is unmatched when it comes to warmth, weight and its ability to be compressed to the size of a miniature football. Just make sure it's packed in a watertight stuff sack.
The amount and type of clothes are a little more complex. Your choices of garments are totally dependant on the time of season. You can't help but bring an extra fleece, long-johns and wool tongue during spring and Fall outings. In this case, remember to choose clothing with the highest possible performance-to-weight ratio.
In warm summer conditions, however, you only need to pack one extra set of clothes. That's all you'll really need. Just hope for a hot, sunny day half way through your trip so you can do laundry.