I just got back from a 20-day canoe trip that circumnavigated Algonquin Provincial Park in central Ontario. What an intense trip. The 350-kilometer route consisted of 93 portages that added up to 68 kilometers. It also went up three rivers and down another three. It's properly titled, "The Meanest Link".
This route is the brain child of the staff at Algonquin Outfitters - Alex Hurley and Gordon Baker, devised in the summer of 2004. They combined four challenging canoe routes connecting the four Algonquin Outfitters stores serving Algonquin Park: Oxtongue Lake, Huntsville, Brent, on Cedar Lake, and Lake Opeongo. It was named in honour and memory of Bill Swift Sr., one of the founders of Algonquin Outfitters. Swifty, as he was most often called, had other nicknames, such as Mean Dude, or Meanest, which were a tribute to his gruff exterior persona.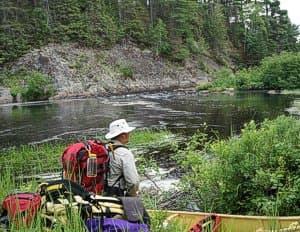 I'll be posting a solid story of the trip soon, but a point of interest I thought everyone would enjoy is how I packed for such an epic canoe trip.
I covered group dynamic info and route planning in a previous article, but for this one I want to highlight another challenging part for lengthy trips - packing light enough for my canoe partner, Andy Baxter, and I to only go once across the portage. I generally portage twice, enjoying all the pleasures of a few extra camp gadgets brought along. I still wanted to enjoy our trip out there and not make it a marathon-style race through the park - but I also needed to lighten up.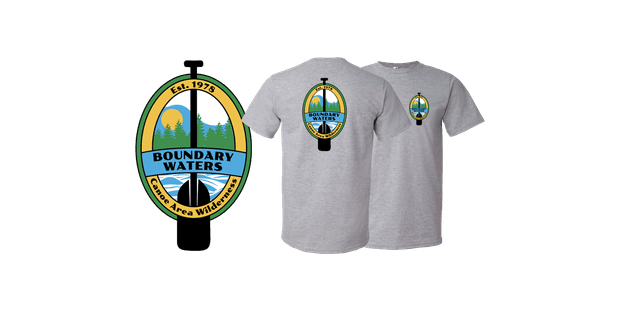 ~Get the BWCAW Tee~
With over 1,090,000 acres of wilderness area, the BWCAW is a paddler's paradise.
Packing Gear for 20-days!
The first thing we did was reduce our bulk. I find that's the real issue at times. Compression sacks used for sleeping bags, matts, cloths and tent can make a huge difference. Andy and I packed down sleeping bags rather then synthetic (Therm-a-rest Antares and Nemo Nocturne). We also added two Therm-a-rests Neo-light sleeping mats; they're the lightest, and most comfortable, in my opinion. The sleeping gear was costly, but the purchase reduced our bulk considerably. For clothes we brought only an extra shirt and lightweight pants, Woolpower sweaters, a couple pair of underwear and three pairs of socks. On day ten we camped early to do laundry, except for the Woolpower - for some reason that product never smells bad.
I also packed my 9'x 9' Eureka bug shelter. It served as a rain tarp and since the mosquitoes were out in full force, it was well worth the extra weight. And our tent was a 3-person; a little too big for two people, but by packing it in two separate compression sacks the bulk was also greatly reduced.
For water filtration, I packed a Platypus gravity filter (for at camp) and chemical tablets. The tablets aren't necessarily my first choice, but it really helped to lessen our load. Our cooking pot set was also reduced to two small pots, a small frying pan, two cups and a couple of titanium Sporks (half spoon and half fork). The stove brought was an MSR SimmerLite.
What remained was the real weight issue: my gear to film and document the trip on social media. Combined, it weighed more then our sleeping bag, tent and cloths combined. However, I powered my batteries with the Goal Zero solar system and had a wireless router, mini-pod and satellite phone that sent postings each night while en route. That was cool.
Packs chosen were two Ostrom Wabakimi canoe packs and a small food barrel. My pack was full and I needed the tump-line to haul the weight. Andy carried the small food barrel in his pack, the bug shelter, first-aid kit and his luxury item - his fold up camp chair. Andy goes nowhere without his camp chair.
Packing Food for 20 days!

Carrying food for 20 days would have been a major issue. After all, your gear is generally the same for a 5 day trip or a 20 day trip except for the food and stove fuel. But we solved that by scheduling food drops. Every six days we came to one of Algonquin Outfitter stores and picked up a box we had delivered or mailed there for us. It worked perfectly - except for a missing Platypus bag of single malt on our second pick up; odd and very disappointing - found out it was a joke played on us by people I didn't know. Not funny in my opinion.
As far as packing the food, Bannock saved us the weight (and mold) of bread packed. All the meals were dehydrated and made at home. I made up a number of recipes by using a mixture of pasta, rice, cous-cous and quinoa as a base for the meals and then added sauces (curry, spaghetti, salsa) and dried veggies (tomato, olives, egg plant, zucchini, mushrooms, peppers). And, of course, we had a bit of booze packed: Highlander 12-year-old single malt, Black Grouse blended whisky, Dock 57 spiced whisky and a bit of vodka and zambuca.
RECIPES:

And here's two of the recipes we made from what you see in the video:
TOMATO PESTO PASTA
Ingredients:
1 cup noodles (any style)
1 cup dehydrated tomato pesto sauce (choose the sauce without oil)
1 cup of dehydrated celery, olives and mushrooms
1 Tbs. of Parmesan cheese
Directions:
Reconstitute tomato pesto sauce with ½ cup of boiling water. Slowly add more water as required until sauce thickens (approx. 10 minutes). Serve over cooked pasta and sprinkle on Parmesan cheese.
CHICKEN CURRY
Ingredients:
1 can of dehydrated chicken
1 can of dehydrated curry sauce my favorite is Pataki's Korma or Vindaloo flavor)
1/2 cup of cashews or peanuts
1 small onion
2 cups precooked white rice
2 1/2 cups of water
Directions:
Reconstitute curry sauce and dried chicken in ½ cup of boiling water, stirring constantly over medium heat for 4-6 minutes, and then set aside. Cook rice in 2 cups of boiling water for five minutes. Pour curry sauce on top of rice and place nuts and chopped onion on top.