Bradenton, FL - March 4, 2018- A local kayaking group led by Bradenton resident, Marsha Wikle, was attacked by a possible rabid river otter while paddling on the upper Braden River on
Sunday morning. While 3 people were bitten, 2 requiring a trip to the emergency room, this leisurely trip could have been much worse. The attack caused 2 people to fall out of their kayaks in a narrow section with steep banks. Marsha, a Certified Trip Leader by the American Canoe Association (ACA), had been trained to handle emergencies on the water. While there have been several drownings this year, tragedy was avoided this time due to Marsha's training and quick reaction. As with all of Marsha's trips, everyone has to wear a life jacket. A life saving measure which saved several paddlers from drowning. While on the water and unable to climb the steep banks of the river, Marsha was still able to get 2 kayaks emptied and then get the paddlers back in their boat. Remaining calm, led the group back to safety. 2 of the 3 people were taken to the emergency room where they received rabies and wound treatment including a surgical repair to one of the paddler's face and ear lobe.
This unavoidable and unusual incident underscores the importance of wearing a life jacket, becoming skilled at safety and rescued and picking a good leader for any paddling adventure.
Florida Fish and Wildlife (FWC) responded with 3 officers to try to locate the otter. Other boaters reported seeing an otter fighting with an alligator on the river. If the alligator prevailed, it might be the first time an alligator saved a life!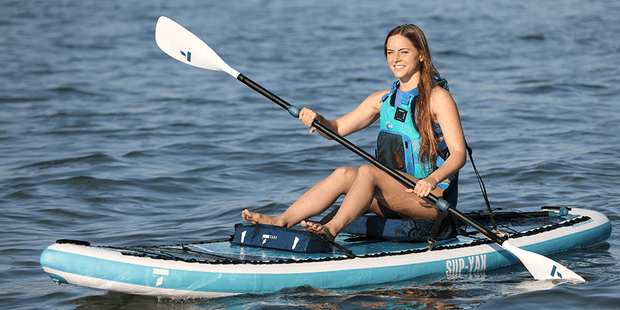 TAHE 10'6 & 11'6 SUP-YAK Inflatables
2-in-1 Kayak & Paddle Board complete packages for single or tandem use.