It's hard to ponder the evolution of the kayak without revisiting where it all began. Enter the Inuit Indians, and their desire to hunt from the water. I'm sure there were doubters in those early tribes, but there's no denying that the kayak worked for them. Doubters soon became kayakers.
Times change, people adapt - that's called survival. Today's Inuit's have adapted as well. Research shows that they still cling to their heritage and tribal customs, but they've traded their dogsleds for snowmobiles and their kayaks for motorboats.
Modern day paddle angling has also adapted to the changing times. It's not just enough to have a boat and a paddle these days. There seems to be a never ending influx of new boats, many with specialized features and functions. But with this progress, have we lost the spirit of what kayaking is all about?
Let's check out some not-so-traditional kayaks. But keep in mind; you can't go to new places by paddling down the same stream.
PROPULSION: Hobie gave us the pedal drive kayak. It was weird at first, but certainly is accepted by the kayak community now. Native Watercraft has put its own spin on the notion of pedal power by offering it in their canoe/kayak hybrid.

So, why not take non-traditional propulsion to a new level? Let's put a trolling motor right in the middle of the boat. It does look a little odd. But, after being on the water all day, I know I would enjoy being able to flip the switch and head back to the launch.


Rumor has it that Native will soon be releasing a nuclear powered model, with a 42" plasma TV, and an infrared side burner. Why not?
www.nativewatercraft.com

Remember, you can check out and compare all kinds of fishing kayaks in the Paddling.net Kayak Fishing Guide:
http://www.paddling.com/kayak-fishing.html
POSITION: Many fishing kayaks are wide and stable enough to stand up in. I've done it, but never really have been comfortable once I'm up there. Some folks opt to add outriggers to their boats, but they can make it hard to paddle.
Here's the solution. The Freedom Hawk "Freedom 14".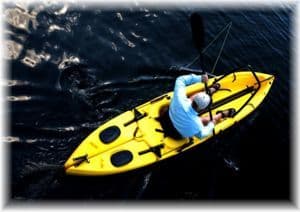 With the flip of a lever, the outriggers deploy and in moments, you have a stable platform on which to stand.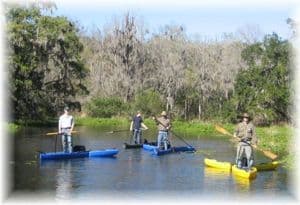 Few would argue that being able to stand up to spot fish is certainly an advantage.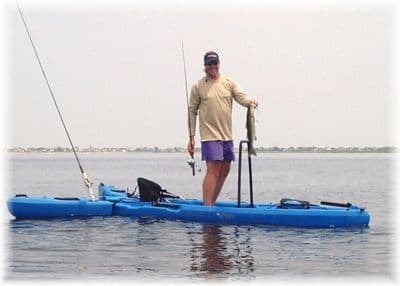 To see this boat in action, go to:
www.freedomhawkkayaks.com

PORTABILITY:
Not everyone has a super-sized vehicle to carry a traditional boat. And, not everyone has a garage or yard where they can store a traditional boat either. So what do you do if you live in an apartment and drive a little sports car, but still long to fish from a kayak? You get a boat that folds.
Doesn't look like a kayak, does it?
This doesn't look like a vehicle that you could transport a kayak with either.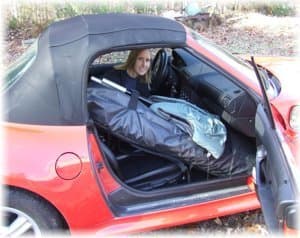 But, after following a few simple steps you're ready to take your boat to the water.
…. and you know what happens next.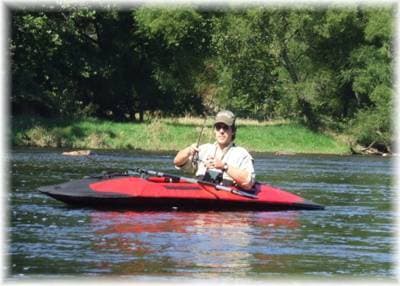 Here you have non-traditional storage, non-traditional portage, and some assembly required (certainly non-traditional). But, I wager to bet that the view from this boat is anything but non-traditional.
To see how slick this boat is, go to: www.foldingboatco.com
THE ROCK AND ROLL HALL OF FAME: Changing gears. Any idea who got inducted into the Rock & Roll Hall of Fame this year? Let me drop a few of the names - let's decide if they're worthy, or not.
John (Cougar) Mellencamp: Worthy. "R.O.C.K in the U.S.A" baby!
The Dave Clark Five: Worthy - absolutely. They slugged it out with the Beatles and sold over 50 million records.
The Ventures: Most definitely worthy. I got the itch to learn to play guitar from hearing "Walk Don't Run". Trivia time. Mosrite guitars. That's the make they played and endorsed (specifically the Mark V). Tuck this tidbit away, as it may enable you to render Alex Trebec tongue-tied after you cash in during Final Jeopardy.
Madonna: I'll give you a moment to stare at your screen just like I did when I first learned this. I can find no supporting data to justify this induction. I guess this is how the Inuit "doubters" must have felt.
THE HOOKSET: At long last, I finally make my point. I trust the decision makers at the Rock and Roll Hall of Fame. But if Madonna's admission to the Rock and Roll Hall of Fame didn't poke a hole in the universe, then accepting these boats as traditional kayaks surely won't either.
Personally, I could see many uses for each of the boats mentioned here. I'd proudly admit them to my hall of fame (which would be the fence in my back yard).
Label me as a doubter on the Madonna thing though. And, I bet the Inuit would agree with me. I fear for the universe now.
So, let's hear your thoughts on this kayak thing. And yes, I welcome your comments about the Madonna thing too.
Tomorrow is Thanksgiving. So cherish those friends, and hug those babies (regardless of their age).
See you out on the water!
"Many men go fishing all of their lives without knowing that it is not fish they are after" ~ Henry David Thoreau