How to Self Rescue If You Capsize
When kayak touring alone, it is important to know how to self rescue if you capsize. World Champion kayaker, Ken Whiting, examines some of the most popular techniques in this episode of PaddleTV.
---
Although paddling alone is never a great idea, if you do choose to do it you need to stay close enough to shore so you can comfortably swim. Or you need to have some self-rescue techniques up your sleeve that you know you can count on. So in this video we're going to take a quick look at a few of the most popular self-rescue techniques.
First off, it's important to understand that self rescues are not easy and it's going to take a lot of practice to perfect them. Especially when you consider that when you're going to use them you'll probably be in rougher conditions. The absolute best self-rescue technique you can learn is this rule: if you want to paddle in the surf or other rough or exposed conditions, you owe it to yourself to learn a bomb-proof roll. If this is something that interests you then I would highly recommend taking a rolling clinic.
If you don't have a reliable role or if, for other reasons, you end up finding yourself swimming beside your kayak, here are two techniques.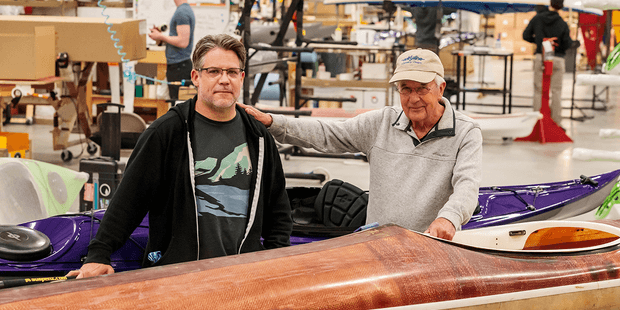 50 years of lightweight, maneuverable, high-performing kayaks.
Check out this interview with Tom Keane, Eddyline Kayaks Co-Owner, on their journey!
The Scramble Self-Rescue
For re-entering your kayak by yourself, the scramble is just what it sounds like. After flipping your boat upright, you'll scramble back onto and into your kayak. The best way to do this is to approach your boat from the side at the stern. Now grabbing the cockpit combing, you'll pull your body on top of the kayak keeping your chest down on the stern deck. Staying as low as possible, throw a leg over the kayak so that you're straddling it. You'll now work your way forward until you can drop your butt into the peak. You can then grab your paddle and use it for support while you pull your legs back into the kayak.
The Paddle Float Rescue
The paddle float rescue is a variation of the scramble which uses your paddle with a float attached to one blade for support. When doing the paddle float rescue, you'll place the paddle across the back of the cockpit combing (perpendicular to the kayak). You'll then hold the paddle in cockpit combing in one hand to reach a cloth to grab the combing with the other hand. With your legs on the surface behind you, you'll give a good kick and pull your chest up and onto your kayak. Staying low, you can then hook a foot over your paddle shaft to get some additional support while you turn your body to face the stern of your kayak. Then move your other leg into the cockpit while keeping your weight on the paddle float side of the kayak. You'll then move your other leg into the cockpit and corkscrew your body back into the seat.
Whether you've used the scramble or the paddle float rescue, you'll still have a swamped cockpit to pump out. Although the scramble or paddle float rescue can literally save your life if you choose to paddle alone, I personally couldn't imagine paddling alone if I didn't have a bomb-proof role. So if you're interested in doing either, I'd recommend taking a rolling clinic and practicing the role until you have complete confidence in it. On top of that, it is important that you always carry a reliable communication device with you and that you leave a float plan with someone so they know when to expect you to return and where to start looking for you if you don't show up.