I loved being in the Girl Guides (aka Girl Scouts in the USA), and one of my favorite activities was learning campfire cooking techniques. Maybe that's why camp cooking is still so attractive to me now, years later. I'll always remember the day Louise, our Guide leader, showed us a strange vegetable that looked something like a vase. She told us it was a butternut squash, and she proceeded to cut it in two and scoop out the seeds. Then she added a pat of butter, wrapped the squash in aluminum foil and placed it in the glowing embers of our firepit. About 45 minutes later, she retrieved it, and what she served us was a revelation for me: its pulp was sweet, moist and nutty. I was hooked on squash from that day on! To this day, winter squash remains a staple in my kitchen. And I often plead with my husband to fire up the grill even in a snowstorm so I can relive that first encounter with the winter squash.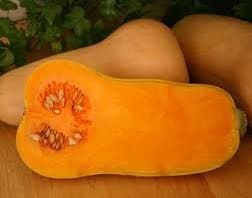 The last fall harvest For me, winter squash represents the abundance of the fall harvest. Long after the rest of the crops have been cleared, the strange-shaped gourds continue to ripen. From bright orange pumpkins, to yellow butternut or spaghetti, to green acorn: the permutations are almost endless. In fact there are hundreds of varieties of winter squash. And though they may take their time ripening, once they are harvested, they can be kept fresh for months in a cool dark storage space.
The Three Sisters Humans have been cultivating squash for thousands of years. Squash seeds dating back more than 10,000 years have been found in Ecuadorian caves. They migrated north and were a staple of Native American populations when Europeans first arrived. In 1621, when the Pilgrims were treated to a first Thanksgiving dinner by Wampanoag Indians, winter squash was almost certainly on the menu. Native Americans considered squash easy to grow. It was one of their three main crops: squash, corn and beans, and because they were planted close together, they were known as the Three Sisters. Squash not only offered flesh, but also nutritious seeds and the hard shell could even be used to make containers or vessels.
A nutritional bonanza!
The more orange the flesh, the richer the squash is in beta-carotene, a powerful anti-oxidant recognized to help prevent heart disease and slow the progression of malignant tumors. Squash also contains plenty of vitamin A (essential for memory and good eyesight), lots of fiber, potassium, vitamin C manganese and folate. The seeds from winter squash are not only nutty and delicious roasted, they are also full of high-quality proteins, and can help promote prostate health.
Consider squash for camping
I often carry squash along with me on paddling expeditions, especially longer trips, when I know we'll be setting up camp for a couple of days or more. Squash comes with its own hard packaging, keeps for days (or weeks) and can be easily cooked up as soon as your campfire has a good bed of embers.
Choosing and preparing
Choose a good sized squash with optimum color; it will have ripened longer on the vine before having been picked.
Some squash, like the acorn or the butternut, are relatively easy to peel. You can roast them in a pan with a little oil, along with onions and garlic to accompany you main dish. Or add them to a risotto when it is two-thirds cooked.
If you cook squash on ambers make sure to cut it in smaller pieces for quicker results. Spaghetti squash can be cut in half and cooked either on ambers, wrapped in aluminum foil.
When you bring squash on board for a paddling trip make sure you also carry a good, sturdy knife and a cutting board.
You can also peel and cut squash at home, before leaving, and wrap pieces in a plastic bag. Pieces will keep 2-4 days.
Recipes for Paddlers
Parmesan-Pine nuts Spaghetti Squash (2 portions/meal or 4 portions/appetizer)
Ingredients
4 tbsp pine nuts
1 spaghetti squash, cooked
3 tbsp olive oil or butter
3 tbsp dried parsley
2/3 cup fresh grated Parmesan cheese
Salt and pepper to taste
In a pan, roast pine nuts for 3 minutes over medium heat. Remove from pan and set aside. Scrape the cooked spaghetti squash into strands and place in a pan with oil or butter. Reheat over medium heat. Add remaining ingredients, toss gently and serve.

Squash pilaf
(4 portions)

Ingredients
1 acorn squash, peeled, seeded and chopped into small dices
4 green onions (or one onion), finely chopped
2 celery stalks, chopped
1 red bell pepper, seeded and chopped
1 cup long grain white rice
4 tbsp olive oil
1/2 tsp thyme
1 tsp marjoram
2 1/2 cup vegetable broth (made with cubes and water)
1 can sweet corn, drained
1 can chickpeas, drained
Salt and pepper to taste
In a large skillet, cook squash, green onions, celery and bell pepper in oil, over medium heat, for 6-8 minutes. Add herbs and rice, mix well, add broth and bring to a boil over high heat. Lower heat, cover and cook for 15 minutes. Remove cover, add corn and chick peas and cook 5 more minutes or until heated through. Adjust seasoning and serve.

Roasted butternut squash with maple syrup and bacon
(2 portions/meal or 4 portions/appetizer)

Ingredients
1 butternut squash, halved lengthwise, seeds removed
2 tpsp butter
4 tbsp real bacon bits (such as Hormel)
4 tpsp maple syrup
1 pinch chili flakes
1 pinch thyme
2 tbsp parsley
Salt and pepper to taste
In a bowl, mix all ingredients, except the squash. Rub over the flesh of the squash and wrap each half squas loosely in aluminum foil. Place in ambers and cooked for about 35 to 45 minutes or until nicely roasted and tender. Serve.