Over 25 years ago I attended my first kayak "symposium". It was held in a gymnasium in Anacortes, Washington and featured about a half dozen sea kayak manufacturers' boats and gear. Back then choices were few, and much simpler. The hot topics of discussion among the pros revolved around the need for bulkheads and rudders. Even the best, newest kayak seat available still needed to be padded by using your folded up Therm-A-Rest as a seat cushion! Out on the water, associated gear was usually an extension of backpacking clothing and equipment - most not even 'water resistant' yet.
Move ahead over a decade into the 21st Century and the huge paddling sales/expo events like Jersey Paddler, Midwest Mountaineering's Adventure Expo and Rutabaga's Canoecopia where manufacturer's max out huge arenas with gear, gadgets and gizmo that would make those early days look like a small garage sale.
So what is new out there in the paddling world to help extend our "want vs. need" gear list? Well, that's a fairly subjective question. One paddler's gear is often another's gizmo or gadget. With that in mind, beyond the standard annual issue of new boats, paddles, life jackets and other common essentials, here are some items you may want to consider:
STUFF IT!
Since we're talking "stuff" you will want to bring paddling, might as well begin with something to carry it in. There are all kinds of bags, from single-stitched cheapies to expensive, super-seal dry sacks. It's an essential piece of gear.
The round shape of the zippered, padded sacks that stack inside Cooke Custom Sewing's (CCS) Zippered Barrel Bag caught my eye as a handy shape to use in kayaking as well. Stowing food in colored bags is SOP for most paddlers and these just make it convenient to nestle into tight places under the hatch of a kayak as well as the soft-sided "barrel" for canoe trips.
If space is critical, compressing other items besides your sleeping bag will make a big difference. A most impressive stuff sack is Granite Gear's Event Sil Compression Drysack. Not only does it provide you with the standard waterproof rolltop closure, it's made of strong Cordura fabric and features the Ultra 30 Sil event Purging bottom as part of the LineLoc Ultra Compression system.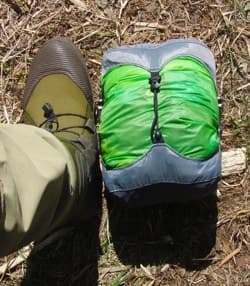 These bags compress the load with a simple but effective drawstring closure creating a very compact - and watertight (it floats, too) bundle to cram into most any space. Several sizes and colors are available. They would make a great sack to stuff your emergency clothing and kit into and stow up in narrow bow area of your kayak.
A very cool product that combines the attributes of food storage and compression is the ZIPVAC - basically a hand-powered, field version of a FoodSaver vacuum system for a fraction of the cost, and with reusable bags! The ZipVac is the best field vacuum storage system I've used. With a variety of bag shapes and sizes (Quart-Gallon-Jumbo and Fillet) you can store anything - food or gadgets - that you want stowed in a relatively waterproof, compact envelope.
The hand-pump suction tool slips effortlessly over the ringed airlock and the zip seam let's you access the goods as needed. And the coolest part - a quick reseal and suction and the bags can be reused again and again!
The last entry into the nifty storage gear category is the Survival Kit Container by Enviro Products. Labeled simply as "Stainless Steel For Lunch", the container is clearly under-represented in the range of uses it has. I like it because it reminds me of the first and still best survival kit container I bought in Alaska over 25 years ago.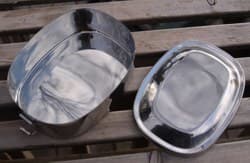 Evolved from a concept used in Japan for workers/commuters to carry hot meals to work, the kit offers a multiplicity of functions - which also makes this stainless steel container so essential as survival gear. Clearly as a small container it is useful as a first aid kit, carry-along survival kit, and other use adaptations (small boiling/cooking pot, reflective stainless steel surface signaling mirror). If you want a sturdy container for food, first aid or any collection of widgets and whatever's, this is a great little box.
BY THE LIGHT
Flashlights, headlights, tent lights - seems they sprout up anew every year - usually in step with technology and utilitarian fashion. I've rarely seen a bad flashlight, and occasionally find an exceptionally good one (clear, solid, bright circle of light with no dark spots or irregular fields of coverage, etc.). This year, a deck light and a headlamp have caught my attention among the many good choices.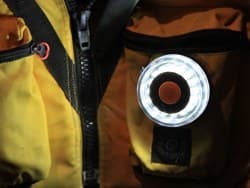 For years my kayak "running lights" consisted of a regular flashlight case with a red/green globe mounted on a suction cup stand that locked its rubber rim onto my deck. Wish I would have had the Navi Light 360. It's made by NAVISAFE and sold in America through NRS.
It provides a full 360-degrees light that can be mounted on deck, on your life jacket (either by lanyard or magnetically) or even atop your noggin (with or w/o a cap on!). The key attachment options include a hook/loop strap connection to deck lines, a wrist and neck lanyard and a strong, removable magnetic disc base that enables you to attach it to any thin surface the magnet can penetrate.
Besides a full circle of constant white light, the Navi Light offers quarter/90-degree directional aiming via a push-button switch on top. It also flashes. The directional option may be handy to keep an annoying glare out of your eyes while paddling at night, while the top switch makes it convenient to go to flash or continuous mode quickly.
The unit floats with the light facing up, and will last, depending upon mode, up to 120 hours on three AAA batteries.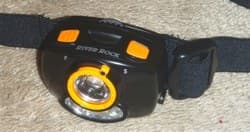 I am a big fan of the lights offered by River Rock. Their tent lamp is still my favorite camping light. Their Tek Trek LED Headlamp rocks on with a compact, super bright 125-lumen focusing option in addition to a dimming option. It also flashes an SOS signal and has a second bar of lights: blue, green or double red.

GET A GRIP ON IT
Every year there seems to be a new combination of tools merged together onto one "Inspector Gadget-esque" mini-tool. From the Swiss Army Knife (and clones) to many varieties of Leathermans' (and more clones), the offerings are broad and plentiful.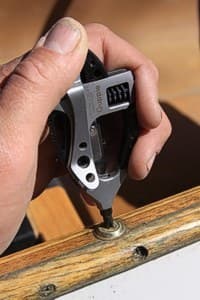 One that bears closer notice is the Guppie by Columbia River Knife & Tool. It's a pocket/clip-on wrench-knife-screw driver-carabiner tool that is easy to carry. It doesn't have an excessive amount of features, but being small it may earn a spot in a pocket or other handy holding place.
The clip makes attaching it simple and convenient and the small knife will always be handy. The Guppie also has a holder with four screwdriver heads that earns it a few extra points on the handy-ometer.
Speaking of "grips", how about a padded but secure cushion on your kayak paddle? You've seen 'em - small, neoprene tubes that slip over your paddle shaft to provide a soft grip for your hands while paddling? Yakgrips by Cascade Creek are just that. I was at first skeptical thinking they'd slip and slide all up and down the shaft, but I was wrong. You sense their staying power when you first install them on the shaft-even wetting them down as directed takes some steady pressure to get them in place. However, once put-Stay put!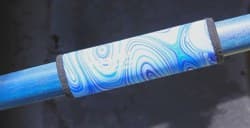 Besides the obvious cushioning of your hands, the Yakgrips mean a quiet placement against your cockpit rim if spaced right. This is handy when dropping your paddle to use both hands for binoc's or camera when wildlife viewing.
The Yakuzzi, also from Cascade Creek, offers an option to keep a drink container (taller ones that rise above the rim of the generous holding tube) conveniently close at hand by hanging it off the cockpit rim or canoe gunwale.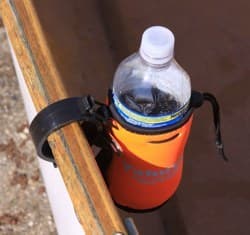 Made of neoprene, the "bottle holder" uses a no-tool, clamp-on attachment that enables you to hook the holder to the side of your boat. While you may not be able to use your spray skirt while the Yakuzzi is in place, you can have a drink hanging by within reach off the forward edge of your cockpit rim.
It will take two hands to remove the vessel held in place by the elasticity of the holder, but you can leave the bottle encased in the soft holder when going ashore simply by sliding it out from it's hanger ring.
COMBINATION SENSATION
A new law for Canadian waters requires that each canoe and kayak be equipped with a tow rope, whistle and bailer at all times. Quick to respond is NorthWater's answer: the 4-Bailer, that combines 50 feet of 1/4" high quality floating line, a fabric bailing bucket, water proof whistle and high visibility reflective tape all in one handy-storable sack.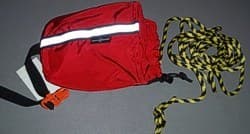 Small enough to stow on deck, from a thwart, or in the cockpit, the bag is in compliance with this new law and also can serve as a handy throw-line as well. This is a "must-have" for border swings in the BWCA or Voyageurs National Park and other Canadian-linked waterways.

STILL MORE TO COME… Beyond their utility, many of these and other gadgets and gizmos are designed to add creature comforts to your paddling pleasures. Check back next month when we look at the specific gadgets you can use to outfit your standard touring kayak for fishing.
Remember, the most important piece of gear you have is your brain! Be safe, have fun out there!
Tom Watson is an avid sea kayaker and freelance writer. For more of Tom's paddling tips and gear reviews go to his website: www.wavetameradventures.com He has written 2 books, "Kids Gone Paddlin" and "How to Think Like A Survivor" that are available on Amazon.com.