Tom Watson details that for all its grandeur, the best part of the iconic Mississippi waterway may actually be its ever-changing sloughs and backwaters.

The Mississippi -
Father of Waters, The Big Muddy, Old Man River.
Mark Twain described it as: "Too thick to swim in; too thin to plow!"

I've stepped across its narrow channel at its source at Lake Itasca in northern Minnesota, paddled along its reed-lined banks north of the Twin Cities and watched its water being churned as I stood on the aft deck of a riverboat out of St. Louis. I've got a friend who has kayaked its entire length twice, (and wrote a book about it); another who attempted to water ski all the way from Lake City (the birthplace of waterskiing) to New Orleans. I even met the guy from Slovakia during his record-setting swim down the Mighty Mississip'.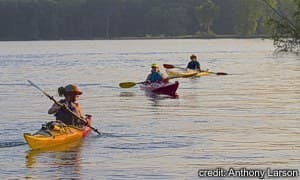 Yup, seems like nearly every summer yet another group wants to paddle the length of the big river in fulfillment of some noble quest or awareness. The Mississippi certainly has a grand appeal to all those who want to take the Old Man on - from it's clear-running, stream-like start to it's fanned out muddy delta waters as it flows into the Gulf of Mexico. Yet, for all its grandeur, the best part of this iconic waterway may be its ever-changing labyrinth of sloughs and backwaters during it's lazy drop down through the upper Midwest that creates one of most rewarding inland casual water paddling experience anywhere in inland America.
From it's source in the north central portion of the Land of Lakes state, the river drops a total of over 800 feet in elevation before it even reaches the Iowa border. From their it drops that much more again becoming slower and muddier than it's upper segment.
As the largest watershed in the contiguous United States, and a major water-transportation shipping route, the river is affected each spring by incredible floods that scour the lowlands, deposits tons of sediment and debris along the banks; reconfigures and clogs channels. To help mitigate damage done by those seasonal occurrences, the Army Corps of Engineers constructed a series of locks and dams during the 1930's.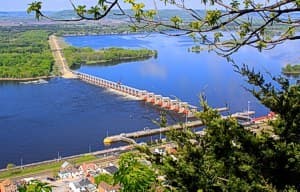 The dams, spillways and wing dams put in place by the Corps control floods and maintain a navigation channel nine feet deep along the course of the river. Barge traffic is akin to huge locomotives plying the river constantly during the summer. The lock system on the main channel defines the commercial routing of the river. That main channel runs the entire length of the river, sometimes through narrow, tree-arched banks to open pools that can broaden to 2-3 miles from bank to bank. Behind each dam, especially along the lower Minnesota-Iowa-upper Missouri portion, large, lake-like pools have formed creating vast open waterways enjoyed by recreational boaters - powered or otherwise.
The other part of the river, those waters that aren't restricted or defined by dredging and other channel maintenance have formed a completely different river: clusters of sandbars; islands of all sizes; side channels, backwater sloughs and braided waterways; laced together to create a network of endless routes, many of which are no wider than a kayak is long, and each with its own particular characteristics.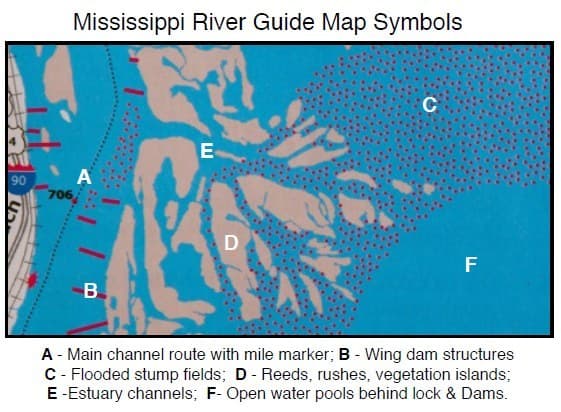 One of the most diverse and intricate system of paddle ways are within a 261-mile stretch of the Mississippi River designated as the Upper Mississippi River National Wildlife and Fish Refuge. Established by an act of Congress in 1924, the refuge extends from Rock Island, Illinois, upstream to just below the Twin Cities at Wabasha, Minnesota. The refuge encompasses over 240,000 acres, including a patchwork pattern of wooded islands and sandbars along the river, nearly 50,000 acres each of marshlands and floodplains and another 5,700 acres of grasslands.

Burleigh Slough near Winona, Minnesota, is a showcase of what it's like to paddle throughout one of the countless backwaterways along the river. Located just within Pool 5A at a point on the river about a mile upstream from the spillway and Dam #5A, the waterway out from the boat access is a narrow passage, blanketed with a watery bed of lily pads that opens up into a north-south waterway corridor. The river is spotted with sandbars and sand pile islands, the smallest of which are covered in a variety of vegetation including scrub willows and alders. On larger islands and along the shoreline, stands of trees including silver maple and cottonwoods tower above the water.
Two narrower water routes flow off to the east where another sloughs connects to Burleigh from the south. The upstream passage is called Pickerel Run. It is one of many entrances into Twin Lakes - an expansive body of deeper water in the middle of the river, surrounded by a cluster of sandy, willow-covered bars and islands.

A dense canopy of green leaves limits the view beyond the far shoreline except at openings between islands. Then, as if a broad curtain has just been parted, one of many towering limestone bluffs that flank both sides of the river come into view. A long, narrow sandbar, one of many along the river, stretches out perpendicular to the mouth of the stream and like most of the larger mounds, is an inviting take-out spot.
Primitive camping on the islands in the river, literally between the states, is open for the taking. There are no campgrounds on the islands, but you can pick a suitable spot on the sandy expanse of a forested floodplain floor back beyond the root-choked embankment. There are no amenities such as fire rings, picnic tables or drinking water. No bureaucracy, either: no fees; no permits, reservations or crowded sites.
Several state and private campgrounds, with ample water access points, are scattered along this portion of the river, particularly between Redwing, Minnesota, along the SW border of Wisconsin and down into Iowa.
Annual flooding during April and May washes away most traces of previously used campsites. Prudent use of resources and Leave-No-Trace camping practices leave this area almost perpetually a virgin campground. You need to be completely self-sufficient; and while you'll need to take your own water or purify that taken from the river. You will have an endless source of firewood.
This ecosystem hosts a broad range of wildlife including beaver, whitetail deer, muskrats and raccoons. There are a few creepy crawlers too. Oftentimes you can approach the exposed root ball of a washed-out tree along the bank and find scores of harmless snakes sunning themselves - strung out like tinsel on a Christmas tree. (There are only two poisonous snakes in Minnesota: the timber rattler and the Massasauga, which is an extremely rare snake, listed as "endangered" in Minnesota, with few recorded sightings).
The area's backwater lakes and sloughs provide a rich habitat for many species of turtles including painted turtles striped in yellow and red, huge, angry-looking snapping turtles and round-backed soft-shelled turtles. It's not uncommon to see a half dozen, hubcap-sized soft-shells lying nose to tail, extending all the way up the muddy riverbank.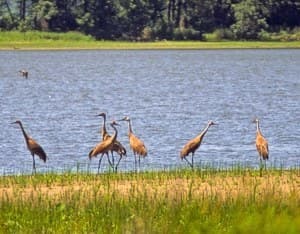 These environs offer some of the best birding in the country. The Mississippi River flyway is used by 40 percent of all birds migrating north-south across the continent during spring and fall migrations. Half of the world's population of canvasback ducks stage within the refuge during those same time frames. One fifth of North America's tundra swans rest along the river, too. In the spring, stretches of open, shallow water along the entire refuge are speckled in white as hundreds of thousands of swans gather for days and sometimes weeks on end, just prior to their journey north. The section of river south of the Minnesota town of Brownsville is a popular viewing area. [NOTE: Access into these areas is restricted during swan migration].
Overhead, red-tailed hawks, ospreys and occasionally bald eagles are spotted soaring on the updraft rising up along the face of the bluffs that flank the river along both banks. Golden warblers flit about within the willow branches, king fisher can be seen lopping along in flight just ahead of you.
Throughout the summer, small flocks of white pelicans reside in the shallow pools. The refuge is also home to over 2,700 great blue herons during spring migration while another 5,000 summer residents spread out among 15 colonies, neighboring with soras, grebes, egrets, cormorants and hundreds of other species. If one's lucky, there's a chance to witness Sandhill cranes wading along the grassy shore of larger backwater pools. Even the flocks of ubiquitous coot are a pleasure to watch. When over a thousand of them suddenly decide to take off, that prolonged sound is like someone slowly and deliberating ripping off a tightly-wound strip of duct tape from the roll.
Another unique opportunity along sections of the river when spring floodwaters are slowly draining back out are exploratory day trips cruising along the edge of the blue heron rookeries. Roughly made nests of twigs and branches located high up in the cottonwood trees can be approached via backwater flooding that has raised the level up four, five, six feet above the bases of the trees. Keeping your distance and viewing with binoculars allows you to enjoy this visual treat without disturbing the nesting area.
With all these jewels of opportunity to paddle there are a few lumps of coal to take note of:
• Hunting Season The region is thick with hunters during the March-April goose season and the October waterfowl season. Hunters in camo' skiffs seem to out-number the coots that reside here. Paddling during those seasons can be noisy, and camping sites-even though numerous-can be hard to find during the height of the hunting season.
• Lock and Dam Protocol/Guidelines-River Hazards… Check out "River Hazards" in a previous Guidelines article.
• Poison Ivy Quite common on all the islands and grows as low-lying bushes, taller shrubs with a woody stem and often vines its way up trees. In winter, burning the woody stems of poison ivy inadvertently gathered for kindling can produce smoke that may cause an irritating reaction.
• Wing Dams These are 20- to 40-yard vertical baffles (rock, concrete, timbers) that deflect flow of the river current to keep the main channel from silting up. Wing dams appear on maps/charts as slash marks angled out from the shoreline and can line both sides of a channel for several miles. Depending upon water levels, their tops can be just below the surface creating a turbulence as the water courses over the top. They can also create strong eddies. Boaters need to be aware of their placement. Again, refer to the River Hazards article for details.
• Stump Fields The pools created by the backed-up waters behind the dam flooded much of the tree-covered river bottom areas causing forests of dead trees. Re-maining stump fields are common along the edges of pools. Usually the water is deep enough that you'll glide right over the tops without even knowing it. At lower water however, they can be a real nuisance and a hazard to staying upright!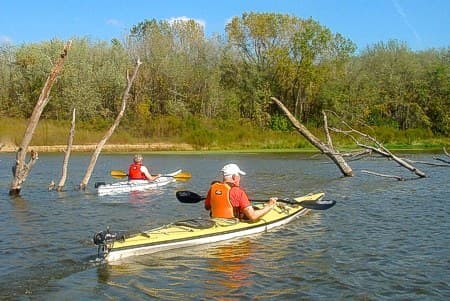 Paddling the Mississippi River, particularly throughout the refuge is a unique opportunity to find and explore the smallest water passages on the biggest river in the contiguous United States.
An ideal resource on all the key structures and amenities of the river is the "Mississippi River Guide: A guide to boating on the Mississippi River between Hastings Minnesota and the Iowa Border" produced by the Minnesota DNR. For more information on the Upper Mississippi River National Wildlife and Fish Refuge (IL, IA, MN, WI), go to: http://www.fws.gov/refuge/upper_mississippi_river/

---
Tom Watson is an avid sea kayaker and freelance writer. For more of Tom's paddling tips and gear reviews go to his website: tomoutdoors.com/blog/He has written 2 books, "Kids Gone Paddlin" and "How to Think Like A Survivor"that are available on Amazon.com.