Canoe Packs - A General Breakdown
You'd think choosing a canoe pack, since it's only generally used for carrying a large volume of gear for a short period of time, would be quite simplistic. It's the complete opposite, however. There's an endless assortment of designs and models, and each one always seems to have a bunch of overzealous users who think their system for hauling equipment around is far better than all the rest.
Here's a general breakdown. Just remember, whichever one you pick I can guarantee another fellow canoeist will definitely challenge your selection when they meet you on the trail.

Canvas Packs ("Duluth Packs")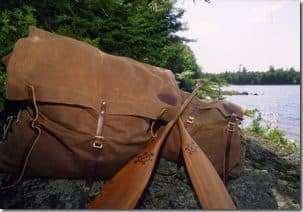 The canvas pack, or more commonly known as the "Duluth Pack," has been labeled by some canoeists as the most traditional canoe pack. Their claim is hard to beat. After all, it's original patent, by Camille Poirer (a shoe store owner in Duluth, Minnesota), dates as far back as 1882. It came with a buckled flap, fancy leather shoulder straps, a conventional tumpline, a new-age sternum strap, and even an umbrella holder. Woods Canada also produced a similar style of pack in 1909. Both styles haven't changed much since.
The canvas pack is a large volume, frameless pack, with almost unlimited space to stuff things in. They fit perfect in the canoe. They're also extremely durable and can take years of abuse. They absolutely won't break, period.
However, other canoeists think that canvas packs are a thing of the past. They're simply a sack with straps used only by a bunch of nostalgia freaks that force themselves to be uncomfortable for the sake of tradition. The canvas eventually rots, the leather breaks down, and it's impossible to waterproof your gear without using layer after layer of heavy-duty garbage bags.
I'm not sure who's right. There's no doubt that better bags have been designed since 1882. But I will say that I've abused mine for over twenty years now and it's still going strong.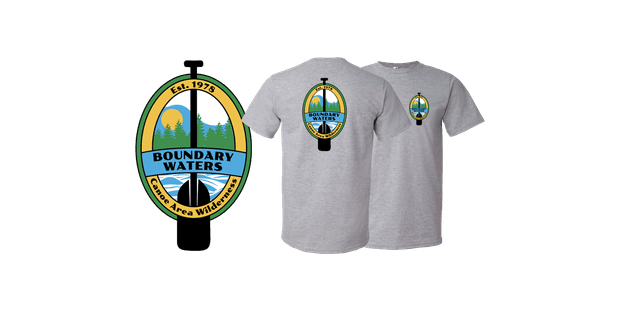 ~Get the BWCAW Tee~
With over 1,090,000 acres of wilderness area, the BWCAW is a paddler's paradise.
Pack Basket
The woven ash pack basket is still used extensively in Maine and the Adirondacks. It's another one of those traditional packs that doesn't make much sense to many canoeists. They're not waterproof and can be quite uncomfortable to carry. I've used one for years, however. Pack baskets are hard to beat for keeping fragile gear safe from breaking or those gawky items from jabbing you in the spine. Of course, they're not as effective as a barrel pack (see below), but they sure are nicer to look at.
Wanigan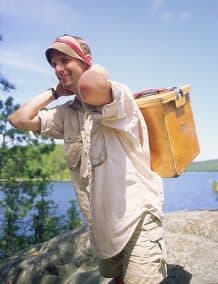 Another age-old packing device is the wanigan. The word, loosely translated, comes from the Native term for "kitchen," and many youth camps are devoted to it for that very reason. The wanigan makes an excellent storage bin for a large group's cook set. Basically, it's a wooden box, usually made of quarter-inch plywood (measuring 25 inches long, 12 inches wide, 15 inches deep) that's used to carry all the pots, pans, utensils and some food items. The lid makes a perfect cutting board and the box itself comes in handy for a serving table. It's a perfect system for keeping everything organized, eliminates shuffling through packs for last-minute items, protects breakables, fits snug in the canoe, and will even float in the event of an upset. The portaging technique also makes good use of the tumpline, a system that's thought by many expert canoeists as the only true way to carry a heavy load across the trail. You just place the tump on your head, making sure not to rest it directly on your forehead or too far back that the weight wrenches your neck muscles. If only kitchen gadgets are stored in the box then it's usually light enough to even toss a small canvas pack on top as well.
I made good use of a wanigan while working for a traditional camp in the Temagami region. I'll be honest though. I hope never to see one again. Some of the guides swore by them. I swore at them. I could never understand the reasoning for carrying a big, heavy wooden box with only a strip of leather lashed across your head. To each their own I guess.
Barrels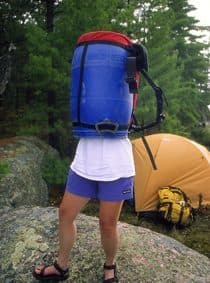 The plastic olive barrel is today's waterproof version of a wanigan. In the mid-eighties a few canoeists began picking them up at yard sales or delicatessens after realizing that the watertight containers were perfect for keeping gear dry, especially on river trips. Now you can pick them up at almost any outdoor store. Just like using the traditional wanigan, however, it's a love and hate relationship. The barrel has all the advantages of the conventional wooden box - even having the lid second as a cutting board - but in no way is the thing comfortable to carry. At least it doesn't rely exclusively on a tumpline system. The barrel also comes with shoulder straps or can be slipped inside an old canvas pack. I strongly recommend, however, you pay the extra cost for a high-quality barrel harness, like Ostrom Packs' Voyager model. You'll thank me when you hit the portage.
When purchasing a barrel make sure the O-ring seal and the metal snap-ring that fastens the lid on is not damaged. Also, get the ones that come with handles. They make it a lot easier to get the barrels in and out of the canoe. Stores usually sell them in 30 liter or 60 liter sizes.
You can also pick up smaller surplus olive barrels by visiting any place that buys olives in bulk (ie. large-chain grocery stores, delicatessens, or restaurants). Either ask for them or wait until garbage day and pick them out of their recycle bin. Two of them, resting side by side in a regular canoe pack, works' well. I also place my sleeping pad between the barrels and my back for more comfort. They have a screw-on top with a rubber washer, making the container waterproof. But the opening is a little too tight for my liking.
Internal Frame Hiking Backpack
An internal frame hiking backpack isn't necessarily used by canoeists. The frame itself always seem to make the pack fit oddly inside the canoe, taking up way too much valuable space. However, a backpack happens to be fantastic to carry on the portage. Some solo canoeists even find it a perfect option when attempting to carry the canoe and pack together in one trip. So, if you think about it, there's no real strong reasoning behind not using one, especially if that's the only kind of pack you happen to own.
Nylon Packs
In the last few years there's been a lot of hype about high-tech nylon canoe packs. They're based on one main compartment rather than several separate pockets like a backpack. But they still come with a top-notch system of shoulder straps and a hip belt, making them just as comfortable to carry then a top-of-the line internal frame hiking pack. Lots of buckles and straps help compact everything and keep the weight centralized. An individual waterproof sack keeps everything dry. And because there are so many companies developing different models, prices seem to stay competitive as well. The only thing they don't have going for them is tradition. However, my custom made Ostrom pack (the 115 liter Wabikimi design) I purchased just a year ago is such an excellent product that I'm positive it's destined to create its own legacy. It's one of the most durable and comfortable fitting canoe packs on the market.
Waterproof Packs
Rather than using various bagging devices to waterproof gear inside the pack, you can now purchase a pack that's already waterproof. PVC coated packs were first made by Cascade Design and developed by Dennis Hill of the Seattle Sports camping equipment company. Hill, while hospitalized for a knee injury, was inspired to combine the roll-down closure on an ice pack placed on his knee with the bottom design of a grocery bag.

The pack uses a suspension system reminiscent of internal-frame backpacks. It offers detachable padded shoulder straps and an anatomically shaped padded hip belt. The only thing it lacks is a padded back and vertical stays, making it extremely uncomfortable to carry with a heavy load. And due to the fact that the PVC coating allows no breathing ability, your dirty socks will smell up the interior something fierce.
Kevin Callan is the author of eight books including 'The Happy Camper: An Essential Guide to Life Outdoors'. He is a recipient of the National Magazine Award and a regularly featured speaker at North America's largest paddling events.
Related Articles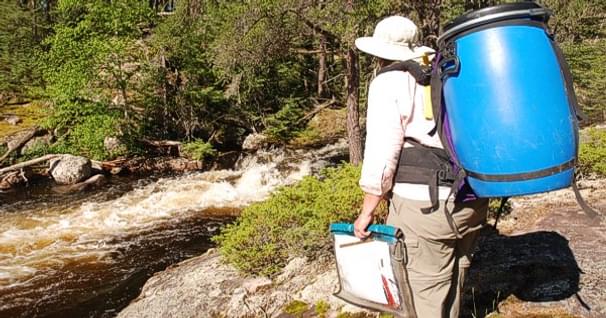 The pack barrel's story goes back to the mid-1980s when a group of canoe guides from Ottawa, including…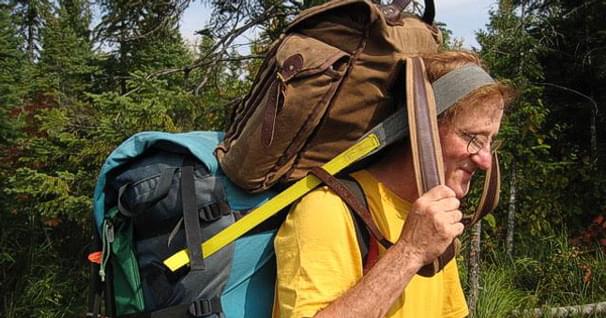 Canadians love tumplines. Americans generally consider them torture devices, largely because they've…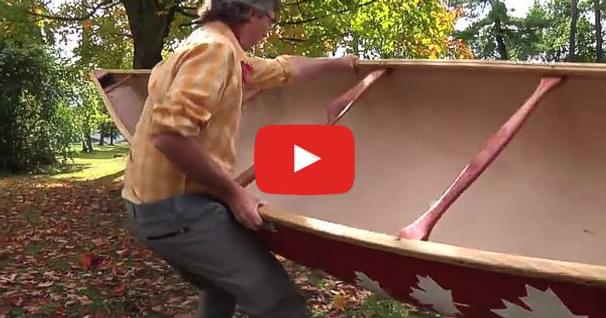 In this video, Kevin Callan enlists some help in demonstrating a two-person canoe lift and a two-person…