Have you ever been the last person to go to bed on a camping trip? As friends retire to their tents, the sounds of peepers begin to celebrate the end of another day. The flames settle into glowing embers, and for a brief moment you contemplate adding another log to the fire. Instead, you stand up and feel a wave of cool air that comes with the dying light. You are tempted by the warmth of your sleeping bag, but instead you welcome a moment alone at the river's edge.
The stillness may haunt you at first, but then your mind slowly adjusts to the truth -- the beauty of the sights and sounds that surround you. The river muted in conversation, now hums with every droplet that scurries over the rocks. The moon illuminates each needle on the towering pines and there is a softness to the shadows of the understory. If you hold your breath and really listen, you may even hear the distant cry of a wolf.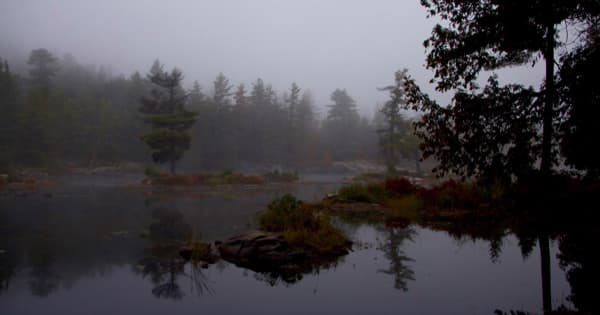 Travelling with a group on a canoe trip encourages a shared experience. Everyone shares the same meals, the same distances, the same sunsets and the same storms. This sameness unifies a group by sharing highs and lows, and there is a common understanding that no one else will truly understand. But let's be real for a minute… As rewarding as group travel is, it can be utterly exhausting too.
The priority of the group sometimes takes away from your own experience, and it is important to remember to be alone every once in a while to process and to live your own experience too. Taking solo time on a trip can be difficult, and if you have introverted tendencies or prefer to recharge alone, prioritizing these moments daily is needed. From one wallflower to another, here are some personal tips on how to be alone every once in a while on an extended trip:
6 Ways to Find Some Alone Time on an Extended Paddling Trip
1. Build downtime into your trip when you are planning with your group. Whether it be a layover day, a late start or an early afternoon - give yourself enough time to have some flexibility. The whole group will benefit and you will be able to recharge your solo batteries.
2. Pitch your tent in a strategic spot away from the kitchen firepit, and not along the route to the bathroom. Pick a spot where no one is going to walk past your tent, and give yourself plenty of room when it is possible from your neighbors. Opt to not share a tent when you can, so you have a spot to retreat to.
3. Offer to be the early riser on breakfast duty. There is usually a window before anyone else gets up when the campsite is completely still, and you get to watch the mist burn off of the water and feel the first rays of the morning sun.
4. Bring two hammocks. Hammocks are the universal symbol of relaxation, so set them up in a spot with a beautiful view. One is for you, and the second hammock is for your paddling friends who will not be able to help themselves but relax too.
5. Pack cigars. I don't condone smoking, but camp cigars are a thing in some paddling circles and the idea is that you finish a day on the water together by sharing a cigar. Or you can find a perfect swim spot by yourself and take a moment.
6. Don't forget your journal, art supplies or a book. Bring things from your regular routine that help you to take space and are easy to pack. Even if you are trying to pack light, there are many options for waterproof e-readers and small paint sets.
A teacher, whitewater canoe guide, and volunteer firefighter, Allyson Saunders lives in the Madawaska Valley in Ontario with her exceptionally perfect dog, Honey. Nature inspired, Allyson can be found on a river, in her garden, on a ski trail or with a paintbrush or a cup of coffee in hand.