Our skin is our body's largest organ, the ultimate "base" layer of protection. It only makes sense then to protect it from the elements, and to do so without interfering with its external functions in the process. Ideally anything covering nature's layer of protection should at least, in some form or another, either enhance that performance or limit it in the least way possible.
Base layer clothing attempts to do both. As one's first underlayer of clothing, a base layer should allow the skin to do its work, sometimes even enhancing a basic function in the process - while not critically preventing that process from working most effectively.
Base layer clothing is part of the overall layering process we humans have learned to use to keep us protectively warm (or cool) and dry against the elements of the environments in which we are actively (or sometimes passively) engaged. We wear clothing in a series of layers, from undies to overcoats, dressing up or down depending upon the conditions of the moment.
Layering works on the concept that we help regulate our body's thermal and perspiration functions by adjusting our clothing appropriately to augment what our body, via our skin, is doing as it performs its functions. A good layering system beginning with the proper combination of fabrics that are then used to make well-designed, functional clothing, is the key to staying healthy and comfortable in extreme outdoor situations.
First and foremost, a base layer functions by managing moisture against your skin. Moisture management is key to regulating your body temperature by moving the perspiration you generate up and away from your skin, through a layer of fabric that then wicks away moisture, dispersing it through outer layers and ultimately to the outside air where it can evaporate. This process keeps you, and your mid/outer layers, drier.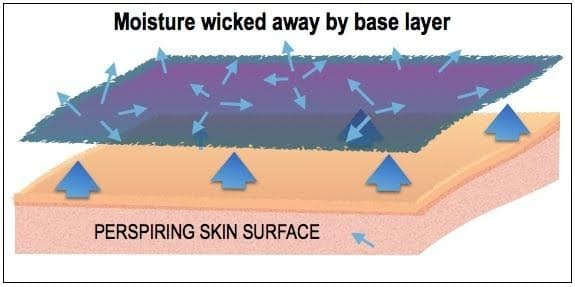 Layering also describes the way in which clothing is combined to achieve and maintain this ongoing process. When you are too hot, remove or ventilate a layer; too cold, add a layer. By wearing a series of garments all designed to effectively manage layers that can be added or removed as needed, we become a garment-based de-humidifer and thermostat of our own body.
Because it is clothing, the base layer should be comfortable, good-fitting, and since it is a protective shell over your skin, provide a bit of insulation as well. Layering garments are available for your entire body, from head to toe: lightweight balaclavas for sleeping or cap liners, short and long-sleeve shirts (regular and turtlenecks), briefs and full pants, glove liners and socks.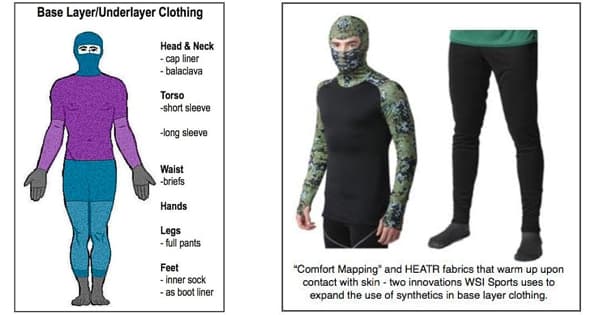 Developing an effective base layering collection of clothing will depend upon your physique, the level of activities you'll be engaged in, as well as the conditions/elements you'll encounter while doing so. A skinny, stationary ice fishing angler and a stout cross-country snowshoer can both utilize layering procedures, but using different "weights" of clothing, and even different fabrics for those layers.
As the foundation of an effective layering system, base layer clothing is categorized by progressive "weight" classes:
Ultralight/microweight - Milder conditions; typically used more for moisture wicking and comfort rather than insulation properties
Lightweight - Cool to moderately colder; wicking and some insulation
Midweight - Moderately cold to cold; wicking and more insulation; a good choice for alternating activity and rest/casual interludes
Heavyweight - More extreme cold. Sometimes referred to as expedition weight. It's best used in sub-freezing temperatures and stationary activities
The challenge in many outdoor scenarios is the transition between milder, warmer weather and colder, more challenging weather (drops in temperature, increased wind, rain, etc.). Looser layers are more comfortable in warmer weather, while snugger fitting layers retain insulating qualities better as temperatures decrease. The level and type of activity also determines the most effective "weight" of layering to wear - thinner base layers will do a better job of wicking away moisture during heightened activity.

Two natural fibers and an array of synthetic fibers are the primary materials used to make the preferred fabrics that are then made into base layer clothing:
Wool - traditionally known to keep you exceptionally warm, "even when wet", today's standard quality wool comes from the merino sheep. It's softness, comfort, and the fact that it isn't itchy, makes it universally popular as a premier wool. Merino wool is naturally odor-free. Dual functioning, it both traps air for heat insulation in cold weather, and its breathable fibers offer skin buffering relief from air heated by the sun. It offers more insulation than synthetic fibers of the same thickness, but will take longer to dry. Wool is often blended with synthetic fibers to enhance it with key properties of the synthetic fiber such as better wicking, stretch and durability.
Silk - although it's considered a natural insulator, it is usually selected for its softness and comfort without the bulk. It's most effective as a wicking fabric (though not as fast as synthetic fabrics) when worn during moderate cold weather activities. It's downsides include it being less durable, expense and the special care it may need for cleaning (must be washed after every use to avoid odors).
Synthetics - a variety of chemically created fibers including polypropylene, polyester, nylon, rayon and spandex. Often used in combination with each other or wool to create blends of the most desirable characteristics of each particular fiber: ease of care, softness and lightness, abrasion and wrinkle resistance and comfortable stretch. Synthetics are prone to odor build-up.
Polypropylene has been the standard underlayer fabric of choice for decades (quick drying, breathability). More recently polyester, alone or in blends, is most often used in base layer clothing; nylon is often selected to add durability while spandex enhances stretch.
One of the more recent innovations in base layering are garments designed and constructed based on the technology of thermo-regulation through a process called "comfort mapping". Simply put, it's based upon our body's control mechanisms triggered by cold/heat that are set into motion at varying degrees throughout different regions of our bodies (for example:- different levels of sweat production in different areas).
Comfort mapping can be applied to the design/fabrication process: a windproof textile material can be designed to cover the chest and back area to prevent wind from penetrating the clothing while a particularly breathable and moisture-wicking textile panel would be used to keep the underarms dry.
Another technology applied to base layer is fabric that literally warms up when it comes into contact with the skin. WSI Sports, a leading producer of cold weather clothing for the professional sports industry (as well as outdoor recreation) integrates their proprietary HEATR® process into the fibers - it won't wash out, yet retains its moisture wicking and warming characteristics. WSI incorporates body mapping technology by applying their warming material onto a piece of clothing wherever extra warmth is needed most.
Personally, I consider socks to be one of the most critical components of base layering. There is nothing worse than cold, clammy feet! By function, socks play two distinct, interconnected roles as an under-layering garment: as a thin liner for heavier socks, and as a single insulating layer inside footwear. Socks typically incorporate synthetic blends to enhance the wicking capability of the sock.
In addition to moisture wicking and insulation, socks also provide cushioning for the feet. Cushioning is achieved by selectively increasing the density of the weave or adding specific materials into specific areas of the sock. To help the sock hug the foot better, spandex and stretch nylon are typically added.
Again, because of its properties, merino wool is the material of choice, either alone or in combination with synthetics, for most quality socks on the market. And, like other under-layering clothing, socks come in a variety of "weights" and fabric combinations to provide the best layering possible. Moisture wicking is the primary function of thinner socks; insulation and cushioning capabilities increase as the socks get heavier; thicker.
The marketplace for socks is as broad and diverse as any segment of the undergarment clothing industry. Many offer proprietary fabrics, unique cushioning patterns and other special features. For example: Wigwam's lightweight Portland Pro features a seamless toe in a sock that combines polyester, nylon, merino wool and spandex together; its Ultimax Base Camp Fusion is a heavyweight merino sock and liner, featuring an inner wicking layer of Olefin with a 55% merino wool outer layer.
Terramar "Hiker" series uses several combinations of merino wool and synthetics to fine-tune its weights in socks, some of which are thin/light enough to serve as either the main stocking or as a liner for thicker socks in extreme cold conditions.
Thorlo has taken its footwear to a new level by emphasizing key padding and cushioning concerns to create what could be called a therapeutic outdoor sock. Their clinically-tested padded socks are designed and targeted specifically at wearers who are prone to suffering from blisters, foot pain, pressure and moisture issues.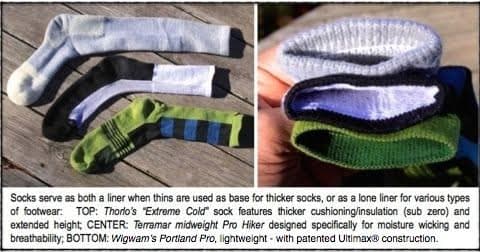 Being next to your skin, your base layer can set the tone for comfort and safety that your entire layering system will provide. Some base layers function as the outermost garment during leisure time. A separate set of underlaying clothing can be stuffed into sleeping bags and used as camp 'pajamas'.
Base layers are just that, a base upon which all other clothing is added as part of a complete body moisture/heat regulating layering system. Clearly high-tech under-layers and liners have come a long way since the days of ineffective cotton long-johns and scratchy wooly underwear.