Jimmy Styks paddle boards was founded in California in 2009. The first Jimmy Styks paddle boards were introduced when the new technology of inflatable boards was developed. The brand quickly made a name for itself by selling high quality boards to sporting goods stores. As the market matured Jimmy Styks was at the forefront of technology and quickly became popular to many types of paddling enthusiasts.
*This article is sponsored by Jimmy Styks.
Today, Jimmy Styks is focused on building easy to use, high quality & durable inflatable watersports equipment. One of the key features include a patent pending Click 'N Go keyless fin system that make the fin setup very simple. Jimmy Styks product is designed in California, so we live and breathe the lifestyle and sport and are passionate about building great looking, high-quality products. Our customer service team is based out of Southern California and are available to help with any customer needs.
2023 is set to be an exciting year for the brand with the introduction of the new Boost series with attachable seascooter. This is a unique and affordable way to add motor power to your inflatable stand up board. Look out for the new technology arriving in March 2023.
Inflatable Stand Up Paddle Board
Jimmy Styks offers a variety of quality inflatable stand-up paddle boards by activities from general all-around paddle boards to touring or racing paddle boards. Our wide selection of iSUPs cater to all levels of paddle boarders from beginners to the seasoned pro alike.
All Jimmy Styks iSUPs are made with a dual layer fusion construction, meaning our boards have an extra layer of coating on the drop stitch, making them more sturdy and rigid. Our iSUPs are also heat-laminated, making our boards 25% lighter and 30% lighter than most boards that use a glued double layer construction.
Touring Series
Jimmy Styks' Touring Series line of iSUPs are built around speed and performance and are generally used for touring & racing purposes. Our Neptune and Channel both have sharp noses that increase speed by allowing them to cut through waters more efficiently. Their narrow bodies also reduce drag and make paddling smoother and faster.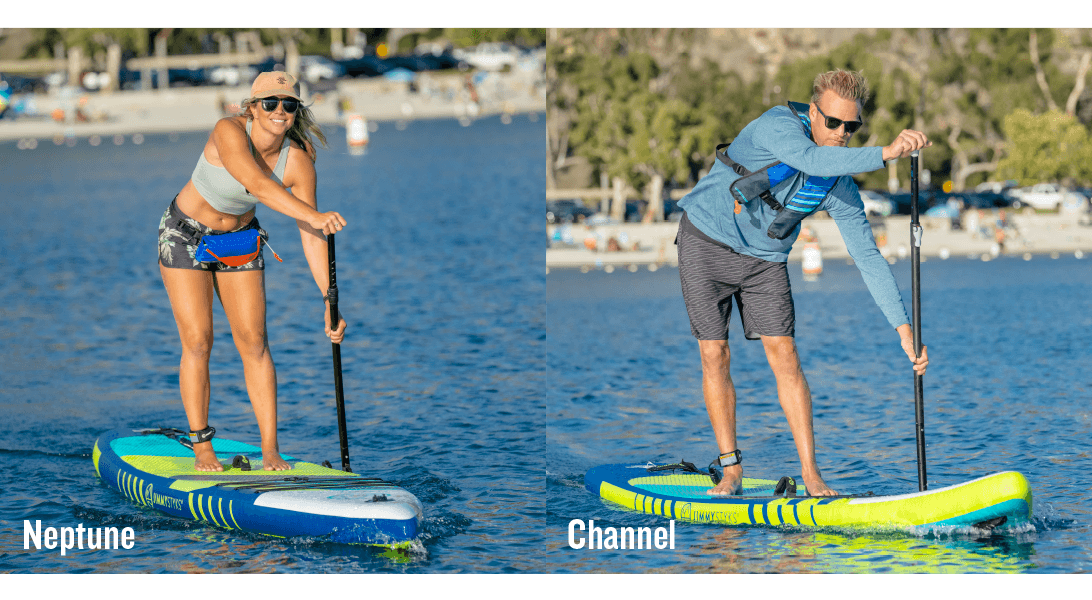 Our Neptune is for intermediates to expert level paddle boarders. Its narrow 30" board makes the Neptune perfect for racing, while our Channel, compared to the Neptune, with a slightly shorter length and wider base, would be more suitable for the intermediate paddler who are looking for an introductory touring/ racing board.
Traditional Series
Jimmy Styks' Traditional Series iSUPs are suitable for all level of paddle boarders and can be used for a variety of different activities. All our iSUPs under this line are thick and wide, providing maximum stability.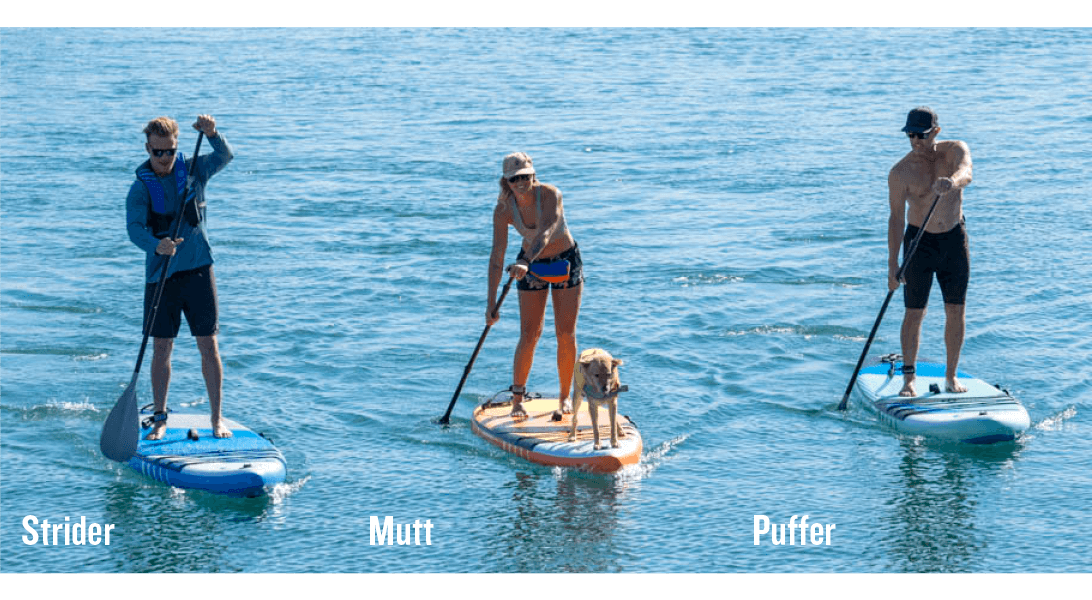 Our Puffer could be used for yoga because of its more symmetrical shape and the Strider & Mutt may serve as good introductory boards for touring because of their sharper noses. However, all our Traditional Series iSUPs are versatile enough to be used for most activities the paddler chooses.
Inflatable Kayaks
Jimmy Styks' Nomad I and II are our flagship inflatable kayaks. They are best suited for flatwater with minimal waves and are perfect for beginners and intermediates looking for leisure time on the water. Our premium inflatable kayaks are just as rigid and tough as hard-shell kayaks, and feature displacement hulls to slice through water effortlessly. All our kayaks have detachable seats and footrests that can be easily assembled and put away for a hassle-free and comfortable paddling experience.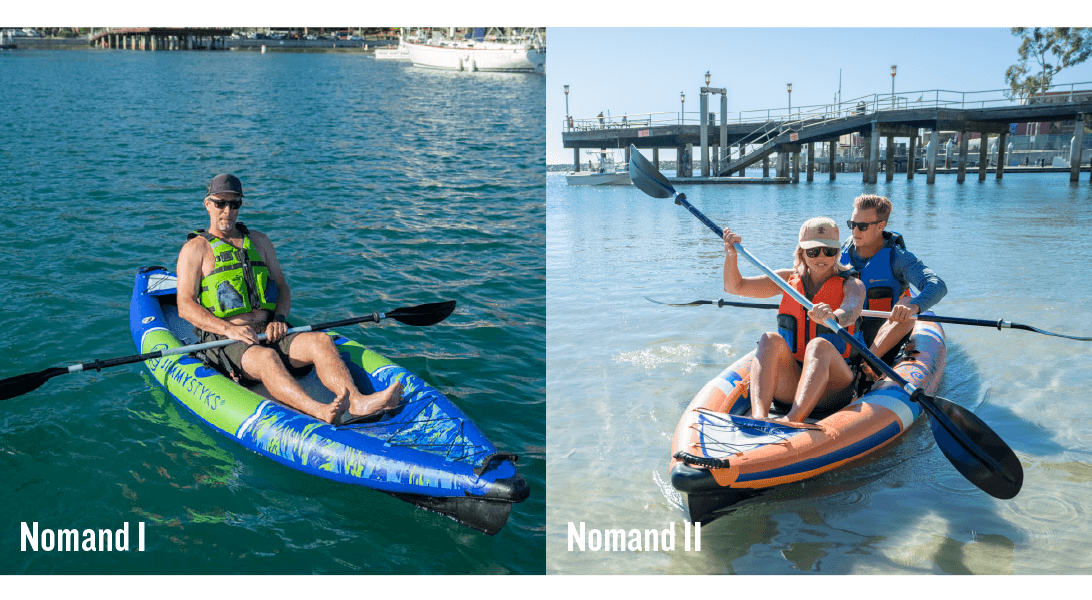 The Nomad I is a single person kayak while the Nomad II is a tandem kayak. These Kayaks feature a 1000-denier supported inner fabric, meaning that it is made with thick fibers that make up the threads to weave the fabric, in addition to our Single layer drop-stitch floor, it creates a sturdy base for the crafts.
Inflatable Water Mats
Jimmy Styks inflatable water mats are highly versatile and can be used for a wide range of purposes and water sports activities. Our inflatable water mats can be used as an open-water yoga mat, a diving platform, or simply an inflatable island to rest on in the middle of the sea. Ideally our water mats can be attached to a boat or yacht as an extension or platform to the sea.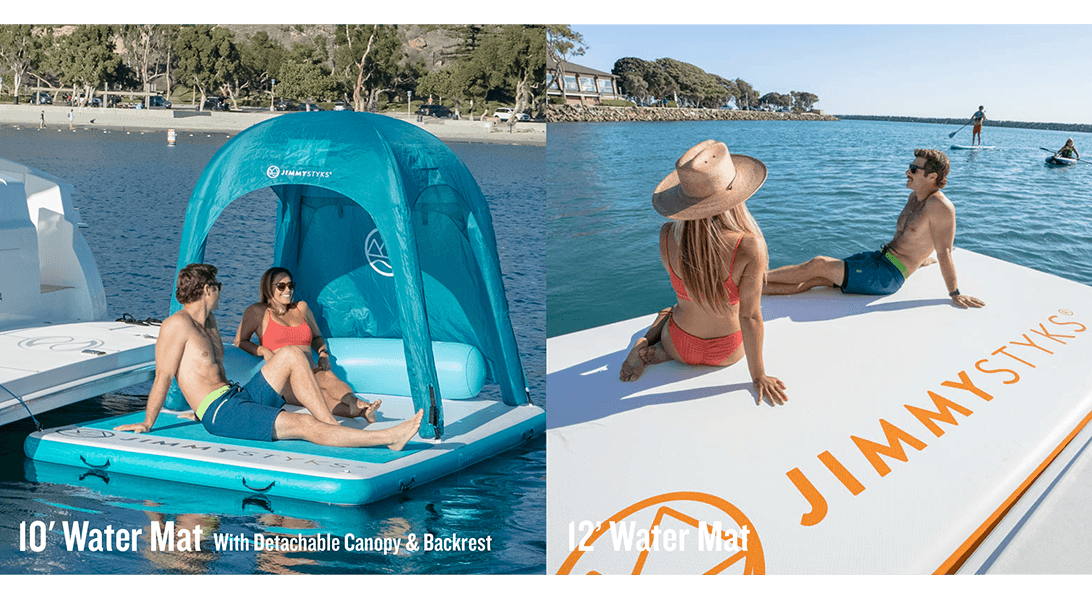 Stay Tuned
Stay Tuned for all of our newest products! Our Boost Series, available in early 2023, will feature our new Tracker iSUP, and Pescado convertible kayak, which both come with an underwater electronic seascooter and a wireless remote control to boost speed and cruise even without paddling!
The Pescado is 2-in-1 iSUP/Kayak, and is Jimmy Styk's first fishing kayak with a fishing pole mount attached to the side of the board. With a 36'' width, the Pescado is extremely stable and provides a comfortable fishing experience to all fishing enthusiasts. The Pescado's detachable seat and removable foot rest make the craft easily convertible from an iSUP to a kayak. While our new Tracker is built for stability and is mainly for beginners or intermediates, it still features a sharper nose for added speed and maneuverability. Both boards are made with Dual Layer Fusion drop stitch construction, making these newest additions extra rigid and sturdy.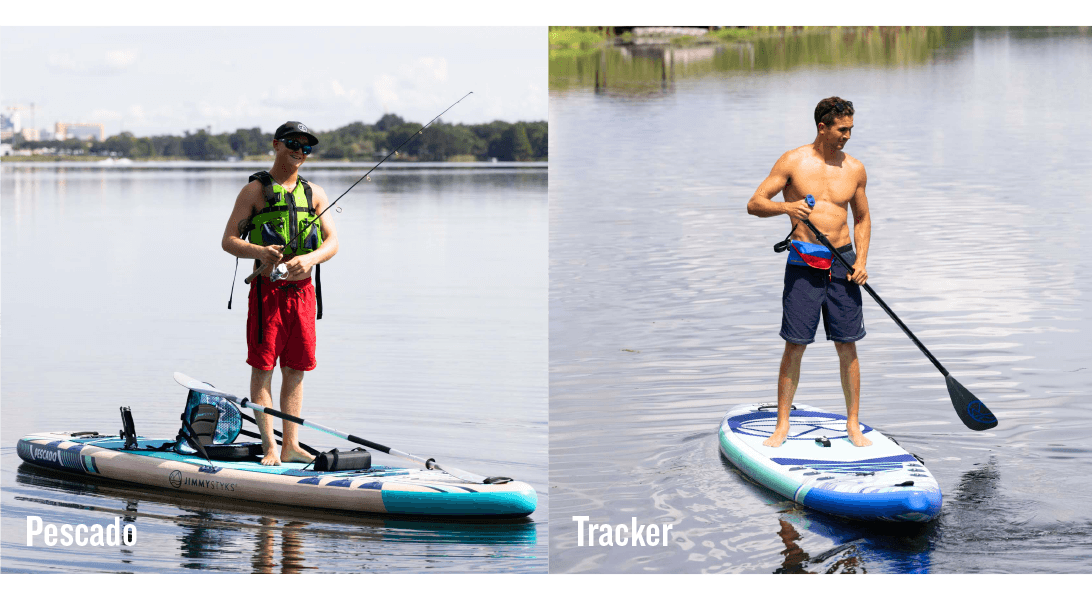 Our Boost seascooter will have 3 levels of speed setting and can go up to speeds at 5KM /H and depths up to 5 meters. It can be used as a booster for your iSUP or kayak with a remote control handle or separately as a seascooter for underwater diving.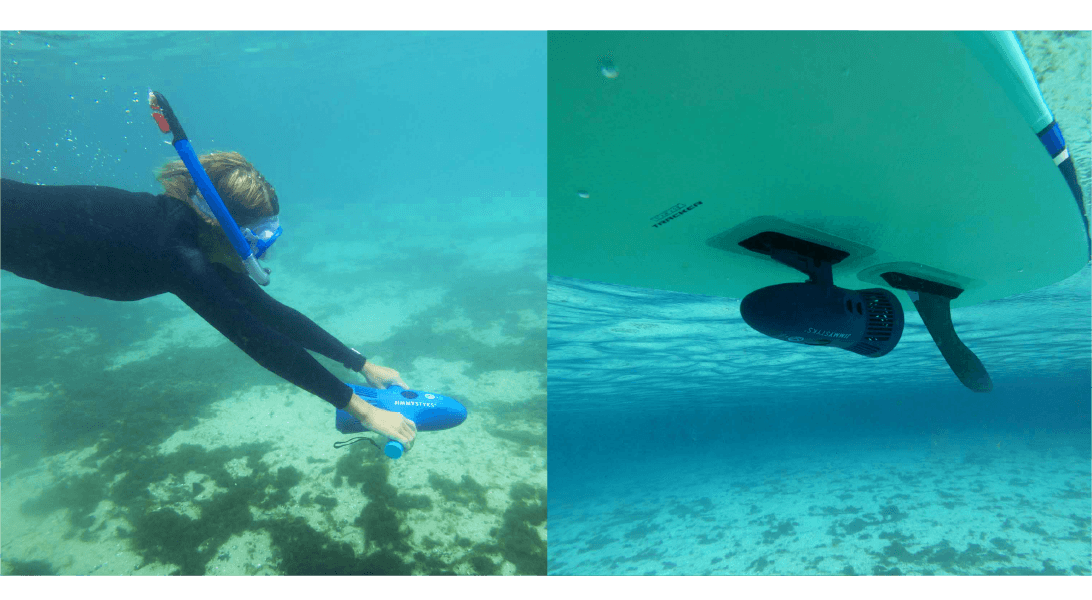 Our Solution and Solution Mini will be available mid-2023 and will be our beginner friendly iSUPs. Both boards feature the same design but in different sizes, so use the Mini as an introductory board and get both as a set as you progress in skill on your paddleboarding journey!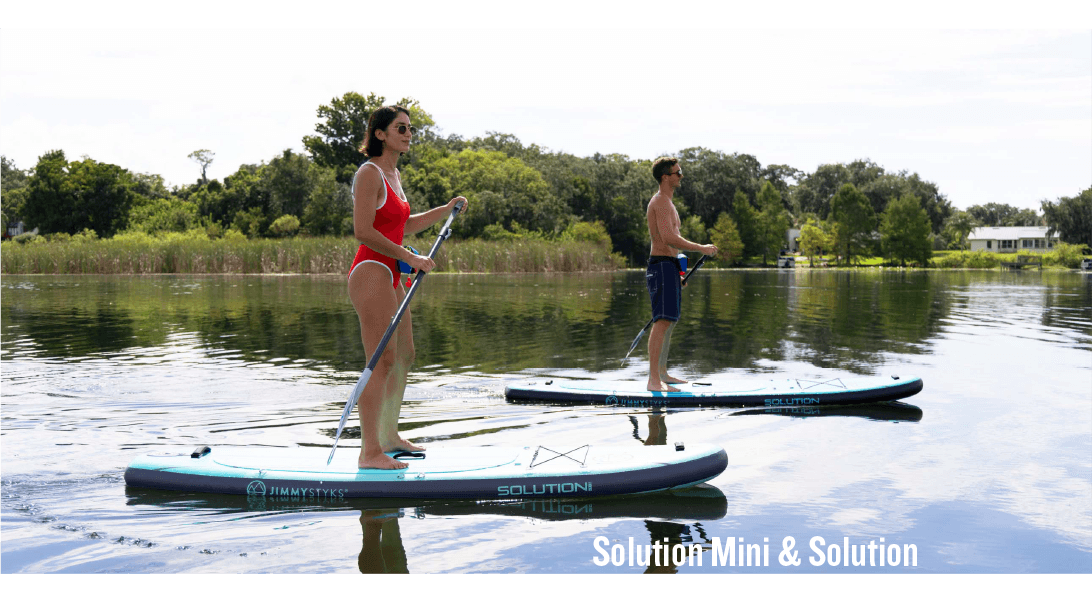 Get excited for Jimmy Styk's new line of water sport products and stay tuned as we continue to innovate and bring you top-of-the-line water sport products with unmatched inflatable technology.