Well, in my quiet countryside that is usually covered with a white blanket of snow at this time of year, the past week has been an absolute disaster for cross country skiers, snowshoers, fat bike enthusiasts and the like, with heavy rainfall and temperatures so high that they will soon likely wake Canada's bears from their hibernation, and send them frolicking for fresh shoots. These extremes are not the best for maple sap and the sugaring-off season either.
The bright side of this situation is that I can start dreaming about my summer cottage in Maine and the resumption of our sea kayaking expeditions! With one of the best paddling routes in North America thanks to the work of dedicated folks at MITA (Maine Island Trail Association), the possibilities for multi-day trips are endless. Daydreaming is certainly more fun right now than stomping through wet, heavy snow up to the knees!
This year, I'm concentrating on creating menus around my spice box because I believe the art of mastering spices becomes even more important on outdoor trips. The reason is simple: many ingredients which travel well don't necessarily have the most appealing look or taste, and need to be jazzed up a bit. It's tough to make a juicy burger, beef loin or roast chicken when you paddle from one deserted island to another, because those tasty foods don't travel well away from the fridge. You have to be a bit more creative in order to make canned chicken appealing. That's when your spice rack comes in handy!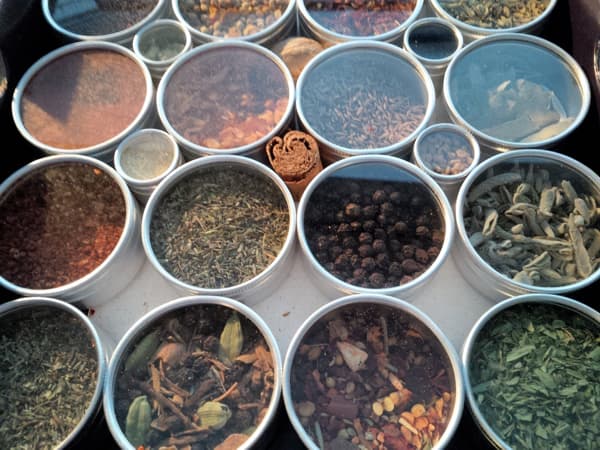 Spices: the indispensable tool
But remember: spicing up a dish doesn't necessarily mean it has to be hot and smoky; you are often looking for fragrance and comfort after a long day filled with exercise and salty mist. Think about a lovely chicken soup improved with ginger, a generous pinch of lemon zest and pepper flakes, or a gorgeous pasta salad with sardines, smoked paprika, fennel seeds and roasted baby tomatoes. How about a papillote of freshly caught trout with tarragon, dill and lime rind, with a pinch of black pepper?
It's easy to change your overall meal experience by simply learning to master the use of spices. It takes literally seconds to pitch some coriander seeds, cumin, clove, cinnamon and ginger powder into a boiling pot of tomato, rice and chickpea soup and to finish it with fresh parsley to give it an amazing Moroccan style which will seduce everyone around the campfire. Or pick the humble tuna sandwich. You have two options: it can be downright bland if you just mix tuna with a bit of mayonnaise, salt and pepper. Why not try instead to add a pinch of cayenne pepper, dried chives, caraway seeds and capers? It suddenly becomes a fiesta for your taste buds, one that will be remembered by all members of your party as part of a great lunch. That's what adding a little spice to our lives means: they jazz things up.
How to get the best spices for your money
When it comes to spices, we naturally turn to our cultural communities: the Mexicans, Greeks, Indians, Turks, Syrians or Vietnamese have a huge pallet of wonderful flavors because, contrary to North American cuisine, ethnic specialties rely on spices and herbs. That's why no place is better than a Mediterranean or Latino food store to get the freshest and best quality spices, depending on what kind of dishes you wish to prepare.
Another important thing to bear in mind is to buy small batches because spices lose a lot of their aromas quickly, especially once they are ground. After six to eight week, they'll need to be replaced. So buy just a few ounces at the time; it's really worth the effort. That's also the reason why I don't get my supplies in grocery stores; they have often been on the shelves for months, especially exotic spices. Rather, buy a lesser amount in bulk.
How to store spices
Small airtight containers are the best way to carry around spices in a wet environment like ours; they can be made of metal or plastic, both work well. Do the same when you are carrying dried herbs. But if you prefer to bring along fresh herbs, it's easy to do. Pick them at their freshest, roll whole sprigs (don't chop herbs ahead of time) in a few layers of humid paper towels, place them in a plastic bag and pierce a few holes to prevent condensation. Chives, basil, cilantro and mint will easily keep 5-7 days; thyme, parsley, sage, marjoram and oregano will last even longer. I can assure you that a quick whole wheat couscous salad made with chick peas, feta cheese and loaded with fresh mint and parsley works wonders to please everyone!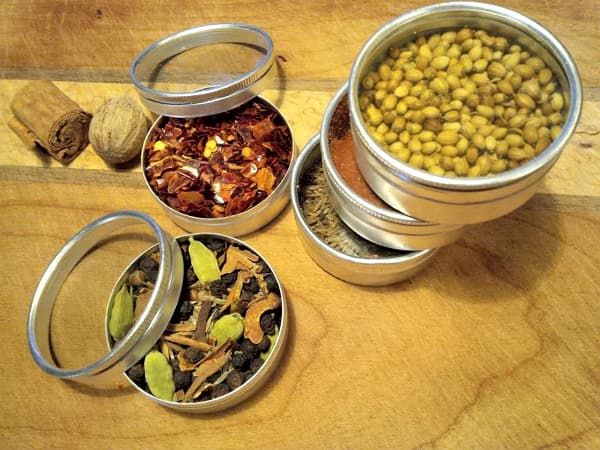 The essential paddler's spice rack: a matter of preference
To prepare your personal spice rack for your next paddling trip, first, ask yourself what kind of meals you plan to serve. Vegetarian spaghetti or burgers don't call for the same spices that Japanese-inspired noodles or hummus do. For instance, every breakfast at our house starts the same way: with a frothy latte made with soy milk, on which my husband sprinkles a generous portion of cinnamon. Then comes the granola or oatmeal, to which we add a pinch of clove and cinnamon too. Hot cocoa in the afternoon also benefits from a little bit of cinnamon. So, we always carry a big container of it.
Go ethnic and have fun!
I cook a lot of Mediterranean and latino-inspired dishes because they offer a lot of interesting vegetarian options: so I always bring along cumin powder: it is as good in an Italian pasta dish as it is essential for a vegetable couscous, a black bean and corn fiesta salad, lentil soup or sprinkled on fish. I never leave home without it, just as I love to bring along crushed smoked dried habanero chillies. Regular crushed chilies are fine too. Fennel seeds, dill, celery salt and chives are other essentials for any dish of fish or even canned crab or shrimps. Coriander seeds are also a must to add to couscous or chili, along with ginger.
I also plan some Asian-inspired dishes for every kayak trip because they are loaded with flavor and allow the use of protein-packed tofu in the best possible ways. Along with toasted sesame oil and tamari (fermented soy sauce), I like to carry a little star anise to throw into a pot of algae, tofu, vegetable and ramen noodle soup for a quick and comforting meal. Star anise has a sweet quality to it that can not be replaced by any other spice. Add some crushed chilies, fresh cilantro and you are in for a treat!
Many people like to carry dried onion and granulated garlic, but I don't. I've never been able to stomach their strange aroma and for me, it truly ruins a dish instead of improving it. So, I always carry fresh garlic and onion, which are guaranteed to make a big difference in any dish. But it remains a matter of personal preference. My friend Steven Raichlen, the famous grill guru, recommends to use it as part of rubs for meat or poultry when barbecuing and the result is fantastic!
Depending on whether you feel like cooking a curry, a vegetable byriani (Indian rice dish) or a dhal (lentil dish), which also travel very well, bring a mix, like garam masala and some curry powder with you on the trip. You will get flavourful results easily. I usually prepare my own spice masala (mix) with cumin powder, turmeric, cinnamon, clove, curry powder, ginger powder and black pepper.
Since dried herbs are also a paddler's best friend, I always bring thyme and marjoram and carry the rest of my herb pantry in the fresh form. I just couldn't live long without fresh cilantro, mint or parsley!
If you want to read more about spices, their history and some interesting blends, take a look at this feature story that I wrote a few years ago.
Recipes
Black bean and corn salad
(4 portions)
2 cups canned black beans, drained
2 cups cooked corn
1 red bell pepper
1 red onion
1 tbsp dried habanero chili
1 tbsp cumin powder
2 tsp dried Mexican oregano (or regular)
½ cup lime juice (or 2 limes, with the rind, grated)
2 tbsp vegetable oil
1 cup fresh cilantro, finely chopped
Salt and pepper to taste
Mix all ingredients together and serve.
Ramen noodle and vegetable soup
(4 portions)
6 to 8 cups chicken broth (from cubes or tetra pack)
4 star anise
1 tbsp crushed chilies
1 pouch dried algae
Enough ramen noodles for 4
1 lb firm tofu (from tetra pack), finely diced
2 tbsp tamari (or soy sauce)
1 onion (or 8 green onions) finely chopped
1 cup broccoli, finely chopped
2 tbsp toasted sesame oil
1 cup fresh cilantro, finely chopped
1 cup peanuts or cashews, chopped
Bring the broth to a boil. Add star anise, chilies, algae, ramen noodles. Lower the heat and cook until the noodles are almost done. Add the rest of the ingredients, except the oil and cilantro. Simmer 2 more minutes and serve, sprinkled with sesame oil, cilantro and peanuts.
Vegetable spicy rice
(4 portions)
4 tbsp vegetable oil
3 tsp cumin seeds
2 tsp coriander seeds
2 tsp smoked paprika
4 tbsp fresh ginger, finely chopped
(or 2 tsp ginger powder)
1 tsp dried thyme
2 cloves garlic, finely chopped
1 carrot, finely chopped
2 stalks celery, finely chopped
8 green onions, chopped (keep green parts for garnish)
1 bell pepper, finely chopped
2 tbsp toasted sesame oil
2 tbsp tamari sauce (or soy sauce)
4 cups cooked long grain rice, drained
1 cup toasted almonds, chopped
In a large skillet, heat oil with cumin, coriander, paprika and ginger and cook 1 minute over medium heat. Add the rest of the ingredients (up to sesame oil) and cook until tender (5-8 minutes). Add sesame oil and tamari. Mix well, add rice and cook 3 minutes over medium heat, stirring constantly. Add almonds, heat and serve.