One of the great companion activities associated with paddling is photography. The quietness of the canoes and kayaks and their shallow draft enable the paddler to make a stealthful approach to critters on water or along the shore. That said, there is still a respectful distance one should keep between themselves and wildlife. One can then close that gap using telephoto lenses - to literally bring the subject up close and personal. Like equipment for any activity you get what you pay for. Because of the maritime environment of paddling, gear either has to be waterproof, highly water "resistant" or protected very carefully. However, before deciding on those considerations, here are some other tips that might help you decide on a particular piece of equipment.
In the realm of photography there are the waterproof, water resistant and "under" water cameras. The underwater models are designed for the refractive conditions of water and don't really provide quality photography above the surface.
There are some of the bigger instamatic cameras that have been designed for use in the outdoor arena. They are highly water resistant, and because of that, are dust and grim resistant as well. I have been using one for years and have had it dunked in sea water, dropped in streams and left hanging out in the rain - no problems! The most critical thing to remember with such cameras is to rinse them off in fresh water after a day in the salt.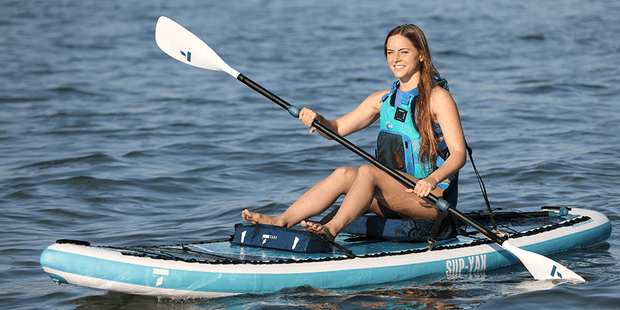 TAHE 10'6 & 11'6 SUP-YAK Inflatables
2-in-1 Kayak & Paddle Board complete packages for single or tandem use.
Another important characteristic of an instamatic or "point-and-shoot" camera is that you don't usually look through the lens to compose your shot as you do with a larger, single lens reflex (SLR) camera. Instead you have a large viewing window that allows you to crop the picture and shot. The problem is that since you are not looking through the lens, you may not see water droplets that have accumulated - and won't be noticed as big, blurry smudges until that frame is exposed. I have at least five waterproof cases for my regular 35mm SLR camera. But, you know what? When I am in the midst of incredible photo opportunities I don't have time to put it back in the bag between shots. Once it's out, it's exposed for the duration. As a serious freelance photographer I have lost two expensive camera bodies to the sea - that's the price you pay.
The best way to cheat losing your camera to the elements is to wear it on a short strap (keeps it from lying in the pool that can collect in your spray skirt) and wipe it clean whenever you get a change. That short strap also keeps your camera (or binoculars) hanging high on your torso when you bend over a tide pool - preventing them from swinging down into the brine.
I am not aware of very many digital cameras that boast water resistant features. I recently bought the Pentax Optio 33WR and have found it to work quite well. Its compactness allows me to wear it around my neck, outside my PFD, fully exposed to the elements. Like any digital camera, you should probably consider one with at least 4 megapixels if possible (the Pentax Optio has only 3.2 megapixels, but seems to produce excellent images.). Search the Internet for other digital options and read the options list carefully.
A possible limitation on these cameras, as well as the instamatics are the limited telephoto capabilities. When choosing a lens to seriously close the distance between you and your subject, make sure the resolution will remain crisp and clear as you "enlarge" your subject.
You will read about various filters and film types that are best for use on the water. Study them if that's your style and shoot accordingly. For over twenty years I've been doing paddling photography and use a slow 50 - 100 ASA film, basic UV filters, an occasionally polarizing lens and that's about it.
My lenses of choice are telephotos in the 70-200/300mm range and wide angle lenses in the 24-35mm range. For overall use, I still carry my instamatic water resistant camera, strapped around my neck through the spray, rain and even an occasional dunking. I've even pulled off shots that made their way to covers of national paddling magazines - they can be a real asset.
Lastly, any prudent paddler, whether photographing or just enjoying the natural setting, should be respectful of the fauna one might encounter. Be aware of breeding colonies and rookeries - particularly of marine and shore birds. Opt for a larger lens rather than encroaching too closely and disturbing a nesting site.
Hopefully these tips can help you select the right kind of gear (weight, durability, water "proof" ness") that will provide you with the best results.
Tom Watson is an avid sea kayaker with 15 years experience in the North Pacific waters of Kodiak Island, Alaska. He is also a freelance writer whose articles have appeared in most of the popular kayaking publications. He is a frequent presenter at regional kayak symposia. Currently he is working on his third guidebook entitled "Think Like a Survivor" to be published by Created Publishing, International, for release in spring, 2005.