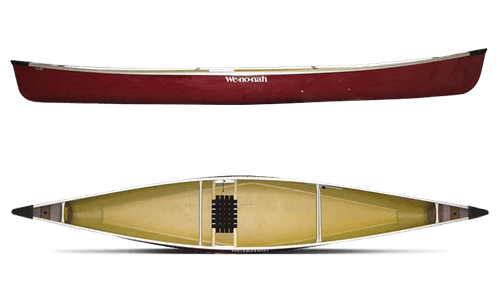 Argosy Options
Argosy Description
The Argosy is made for solo exploration of rivers and streams, whether paddling the Missouri River at dawn or running the riffles and eddies of the Shenendoah. It's nimble enough to carry you through cross currents and over eddylines. It has added depth and volume to handle rough water and even whitewater, and plenty of rocker in the keel for maneuverability. The Argosy's ability to lean predictably in tight turns builds in confidence.
Read and submit reviews for the Argosy.
Argosy Specs and Features
Structure: Rigid / Hard Shell
Seating Configuration: Solo
Ideal Paddler Size: Average Adult
Skill Level: Intermediate, Advanced
Ideal Paddler Size: Average Adult
Skill Level: Intermediate, Advanced
Read reviews for the Argosy by Wenonah Canoe, Inc. as submitted by your fellow paddlers. All of the reviews are created and written by paddlers like you, so be sure to submit your own review and be part of the community!
I purchased this canoe at The…
I purchased this canoe at The Quietwater symposium.several years ago and have had a learning curve from paddling kayaks. Mine is Kevlar flexcore that weighs40#. The initial stability is a little low but, the secondary stability is great. It does catch some wind so I keep a double blade for those times. I love this boat for small rivers and streams.
I bought a used Argosy in…
I bought a used Argosy in royalex. The canoe is light weight and easy to carry. The construction is excellent. The canoe tracks easily, and turns easily.
My only complaint is the stability. If I sit, the canoe tips with the slightest shift in weight. It shifts so quickly, it catches me by surprise. Once the canoe starts to lean, it accelerates until you shift opposite and stop it. Otherwise, you're in the drink. If I kneel, no problem. But I'm old and stiff, and kneeling hurts. I'll be selling this fine canoe.
I have owned my Wenonah…
I have owned my Wenonah royalex Argosy for several years now. For small rivers and streams this solo is hard to beat. At 14'6" and rocker with a 27" water line it is easy to weave around what ever the water throws at you. But at the same time it tracks great and is very stable. In fact I fish from it all the time. The height angle adjustable seat is also a plus.
The only bad thing that I can say about it is that it has a little flex in the hull when you push it. It doesn't effect the way the boat handles it's just that you notice it. A great all around solo canoe for what it was made for.
I'm 5'10" and 165 lbs. I've…
I'm 5'10" and 165 lbs. I've had a Royalex Argosy for several years. It's a pretty decent "all around" design: not slow in flat water, tracks reasonably well, turns decently if you lean it, doesn't get blown around too badly, and gets down class 2- acceptably if you can read water and know what you are doing. It would be acceptable to camp out of if you didn't bring the kitchen sink. Stability when leaned moderately is good, but it gets twitchy when leaned hard. A 200+lb friend found it twitchy in general, so I'd say the upper weight limit is probably around 180-190.
The adjustable seat in the Royalex version is annoying - the mechanism rattles loudly when car topping, and it will pop out of your chosen setting if you bump it with your feet while moving around in the boat. Neat idea, though.
The Royalex is a bit thin/fragile, but that's an issue with most Royalex boats these days. At least it makes the boat easier to carry/portage.
Overall, the Argosy does nothing well, but it does a little of everything acceptably.
I tested the Wenonah Argosy…
I tested the Wenonah Argosy and Wilderness canoes today. After reading numerous Argosy reviews with stability concerns I wasn't sure what would happen. At 6'1" and 235 lbs I may not be the typical paddler, but once I tested the secondary stability I fell in love with the Argosy's responsiveness. It was like comparing the handling of an F4 Phantom to a C130 Hercules. Maybe I'm comfortable with lean from WW Kayaking, but within an hour I was one with the boat. Great design Wenonah.
After making several river…
After making several river trips in my Argosy I have come to really love this boat and totally disagree with the previous review stating that this canoe is totally unsuited for anything other than freestyle! Check the other reviews and my following experience.
I have owned about 20 different canoes... mostly solo boats and this canoe is VERY VERSATILE. I just paddled the rocky twisty lower Green River river in NC where quick turns and precise lines are required since only one turbine was running at the upstream dam. This canoe can be easily and quickly maneuvered with its 2+ inches of bow rocker.
Then the next day I paddled a swift but smooth section of the Broad River near the SC border. It was uniformly about 2ft deep and clear so I paddled STANDING up in the canoe where I really enjoyed the high vantage point and seeing all the fish and underwater features. Try that in most narrow beam solo boats! That is excellent initial stability. The flat bottom allows for this capability that my other solo boats do not. I am now selling my Dagger Sojourn and possibly my whitewater boat because this wonderful canoe does it all.
As a dedicated solo canoeist…
As a dedicated solo canoeist - I have a Wenonah Prism, a Bell Wildfire, a Bell Yellowstone Solo, and a Mad River Independence - I was curious about the Argosy. I recently test-paddled one and to my surprise found a very lively boat - actually, a little too much so for my liking. Initial stability is moderate to low, much like the Yellowstone Solo; but unlike the YS, secondary stability is excellent, even with the Prism-type tumblehome. And its responsiveness to paddler input is extremely high. I paddled the Tuf-Weave layup and it seemed plenty rigid, with none of the oil-canning another reviewer mentioned.
I quickly learned that it must be leaned to track with any degree of ease, and like my other solo boats, the more it's leaned the easier it is to track. Using both Canadian strokes (in-water recovery) and a combination of C-, J- and pitch strokes, I managed to overcome the excessive bow rocker (2-1/4").
After finally getting it to go straight, I did some freestyle moves like box strokes, gimbles, posts, axles, and sideslips, as well as paddling backwards. Aside from being overly responsive to weight shifts, it seemed very agile, almost "squirrely." I also found that its fairly tall ends make it quite sensitive to wind.
What bothered me about the Argosy is its stability. It goes from extremely tippy to extremely stable with a very noticeable lack of transition between the two. It was easy to find the limit of secondary stability because the boat fairly bounces back, but there is no "sweet spot" as in the Wildfire and Independence. Those two boats will hold a lean angle precisely as asked; the Argosy is very unstable until leaned to nearly its limit. This makes for an unpredictable boat that is ill-suited to being paddled flat and is rather uncooperative with only a moderate angle of heel.
Wenonah's write-up is accurate, except I can't recommend the Argosy for rivers wider than about 30 feet or where wind is likely to be an issue. It reminded me most of a Bell Wildfire but with less initial stability. In my view, Wenonah should market the Argosy as a freestyle solo because it's unsuited to any other purpose.
I just purchased a 4 yr old…
I just purchased a 4 yr old green royalex Argosy and took it up and back down the French Broad river in Asheville. I like the boat and agree with most reviewers on their positive attributes but a couple of areas that troubled me are the pronounced oil-canning of the flat bottomed hull and the severely bad positioned thwart just behind the seat. The rather flimsy hull bounces up and down very noticeably just below the seat with almost every stroke of the paddle. I have a Dagger Sojourn that is similar in size but with a more rounded hull, it is MUCH stiffer and has NO trace of oil-canning. I can feel the drag this puts on the canoes speed and I am actually contemplating installing some type of aluminum support below the seat to firm up the bouncing hull. I have the footbrace which is GREAT for getting snugged in the canoe and make some efficient kayak paddle strokes... but the after thwart grinds in to my lower back. I think I will devise a small padded back support to rid this annoyance.
Overall, I really like the boat but I think a $1000 boat should not oil-can that bad and a little more R&D could have made it better.
Argosy in Royalex by Wenonah…
Argosy in Royalex by Wenonah – I've owned a Wenonah ultralite Prism for quite some time and have enjoyed it immensely however, it's no doubt limited to flatwater use. With a variety of moving water in the area I was looking for another solo in Royalex to hold up to scraps, rocks and general abuse to be expected in such an environment. After much investigation, I bought the Argosy and find I could not have made a better choice. The first six months I used it only on flatwater which it behaved admirably in both the kneeling and sitting position. I found it tracked well on flatwater using either a bent shaft or straight shaft paddle. It worked well with the "J" stroke, the "C" stroke, switching and even with a kayak paddle. It was a nice surprise to know that although I bought this boat for moving water, it handled quite well on the flatwater too. This spring I've been taking it down some of our local moving water places. The water's been up a foot or so and the cfs numbers were running much higher than summer pool. The Argosy has been handling great whether loaded down or sitting empty and high.
Since purchasing I've added a Wenonah footbrace. When sitting in a canoe I like to have a footbrace as it allows one to wedge into the canoe and feel a part of the canoe much like kneeling does. Also since purchasing I've added a Kevlar skidplate which was more for assurance/confidence than anything else.
In closing I highly recommend the Argosy for those looking for a canoe to perform on both flat and moving water. If I was limited to having only one canoe it'd more than likely be the Argosy. By the way, the Argosy in Royalex isn't that heavy either. I have a full-size truck with camper shell that I have Yakima's on top. With all that height, I still have no problem getting the Argosy up and down by myself.
The Argosy... Where to begin?…
The Argosy... Where to begin? Before owning the Argosy, i must admit my canoe skills were limited. I had certainly paddled a canoe on many occasions, but did not understand paddling as a skill. In this respect the Argosy requires practice and dedication to make the experience enjoyable. But with practice, this boat becomes your best friend. It turns on a dime, gets to full speed in just a couple strokes, leans so far over it will take on water before it feels unstable. The asymmetrical hull makes it steer very precisely when draw strokes are used far forward of center.
Argosy Kevlar Ultralight by Wenonah I purchased this 32-pound, 14'6" solo canoe expressly…
Argosy Kevlar Ultralight by Wenonah
I purchased this 32-pound, 14'6" solo canoe expressly for a 5-day river trip on the Buffalo River in Arkansas. I needed a boat that would transport my 160-pound self, all my camping gear, food, several gallons of water and still have room for a PETT toilet as well as a 3-gallon waste container for our group's use. It had to do this while still having enough buoyancy and maneuverability to run nontechnical Class I+ shoals and standing waves without swamping. The canoe had to be light enough to be carried unassisted by someone 67 years old. Fortunately, the Buffalo River was running at a "Goldilocks level" and thus was deep enough so there were very few collisions with rocks. The Argosy Ultralight proved to be ideal for this trip.
Even fairly heavily loaded it was quite fast, tracked well, turned easily, was stable, and yet rode up over the waves and provided a very dry ride. At one point in the trip big standing waves swamped one of our boats, a heavily loaded Old Town Cascade, but my canoe took on less than a gallon of water in that same rapid. Any concerns about the durability of the Kevlar Argosy were ill-founded, since it emerged from the trip with only a few scratches but no damage.
I originally thought I would buy a Wenonah Vagabond, but when I demo'd both of them the same afternoon, the Argosy was clearly superior for my purposes. The Vagabond would not hauled enough freight and would have been too hard to turn.
OK, so the Argosy Ultralight would not be appropriate for big whitewater rivers, and it is not built for rock bashing, but it was very well suited for this particular trip. If you need a tougher material, Wenonah offers the Argosy in a variety of tougher materials; but, of course, they are heavier, and I wanted a very light boat. Wenonah is famous for elegant designs and excellent fit and finish--all of which are obvious in the Argosy that I bought.
Giving any boat a rating of 10 would imply perfection, so I don't think that any boat ever rates a 10; however, I give the Argosy Ultralight my highest rating, a 9.
I love this boat!! I have a…
I love this boat!! I have a Sandpiper and was looking to get a slightly bigger boat. The Vagabond is basically just a longer Sandpiper so I decided to try the new Argosy. In addition to being a foot longer than the Sandpiper, it has more rocker, tumblehome and depth. It is narrower at the gunwales but the overall width is a little wider.
I was concerned that it might be difficult to make it go straight because of the added rocker. Well that has not been a problem at all. It handles very well, moves swiftly through the water and holds a lot of gear. Although I don't like to carry a lot of stuff I could if I wanted to and it just feels roomy.
I've taken it out several times - twice on day trips and three times on overnight trips. On all trips there was some moving water but also some stretches of flatwater. It has performed perfectly so far. But I have to insert a word of caution – this is not for a beginner paddler. I loaned my boat to someone relatively new to paddling and she had a lot of trouble maneuvering it and keeping it straight.
It's great on moving water. If you'll be doing mostly flatwater paddling, this is not the boat you want.
This is my first canoe. A…
This is my first canoe. A little tricky at the beginning. Lots of swimming. After many hours on the water with this canoe this is a very fun canoe. Class 1-2 whitewater can be run with this canoe. I have done an overnite with this canoe and know I can do longer trips. I pack very light. I,m giving this a 10 because it meets all my current needs.
I originally wanted the…
I originally wanted the vagabond could'nt find one in my area, the dealer highly redcommended the argosy, I am very pleased, with everything about it, tracks well, fast and very good secondary stability. I have not paddled a vagabond, so cannot compare the two, however I have no regrets buying the argosy.
This is a great river touring…
This is a great river touring canoe. It tracks well and is very nimble out on moderate whitewater. For those of you that want an extremely versatile solo canoe, at least for the southeast hill country, this is the boat for you. For those whitewater people that don't want to get a full-on whitewater boat, you will love this boat. I think it is the best all-around solo boat that there is in this length and I would recommend it to anyone.
I had compared it with the Vagabond and the things that I noticed when comparing the two was that the Vagabond had more primary stability, but the Argosy had more secondary stability so I could see why maybe the absolute beginner wouldn't want one based on that. But you are not a beginner forever and you will warm-up to this boat quickly and feel very stable in it. Even stable enough to fish in. It is much also much better on moving water where the best fish are anyway. It was also surprisingly fast for it size. I don't think that is much, if any, slower than the Vagabond. I also loved the fact that it was a couple of inches deeper so that I could fit my feet under the seat while on my knees making it really stable.
I think that if you want to get a really good river boat and really an all-around boat, go with the Argosy and if you want to get a lake and flatwater boat, go with the Vagabond. They are both really good boats and I love Wenonah as a company. They always treat me right and take good care on me. Please feel free to email me if you have any questions as I am still breaking in the boat and will be able to tell you more later.