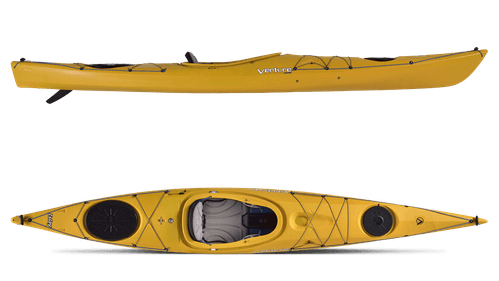 Islay 14 Options
Islay 14 Specs and Features
Structure: Rigid / Hard Shell
Cockpit Type: Sit Inside
Seating Configuration: Solo
Ideal Paddler Size: Average Adult, Larger Adult
Skill Level: Beginner, Intermediate
Ideal Paddler Size: Average Adult, Larger Adult
Skill Level: Beginner, Intermediate
Read reviews for the Islay 14 by Venture Kayaks as submitted by your fellow paddlers. All of the reviews are created and written by paddlers like you, so be sure to submit your own review and be part of the community!
This is an update to my…
This is an update to my earlier review (see below).
Nearly three years with the Islay now, and I'm still impressed. I use it solely now for training on the river. I bought a second-hand P&H Scorpio for the sea. I'm updating the review in the light of comparison with the Scorpio - they are both P&H designed so share the same DNA.
Speed. Now I've got my technique back I can cruise the Islay at 4.2 knots (4.8 mph) on flat water over a 4 mile course. That's a strong pace for any kayak. I put it down to the low rocker which gives a long waterline. In comparison I can cruise the Scorpio (17') on flat water at 4.5 knots. Not much difference - but the Scorpio has a lot more rocker. The Islay is hard work to accelerate into a sprint - I can reach maybe 5.8 mph, but you really feel the hull has reached its limits.

Tracking. With more practice I now think the tracking is good. I guess it's down to the low rocker again. I still think the boat is a bit too high volume for my weight - 65 kilos; there is too much freeboard so I'm weather cocking a lot. The skeg fixes it no problem, but in wind I need all the skeg all the time. If I were buying again I'd definitely take a lower volume model. I get similar problems with the Scorpio (I'm right at the bottom end of the weight range), and overall it tracks less well than the Islay.

Maneuverability. The boat is still a joy to paddle for practicing edging, bow rudders and draw strokes. With the low rocker it's all about edge of course - so it's a great way of developing edge control. The edge is stable, secure and predictable. With practice you can make tight fast turns; and under way it's just great fun to be able to put the boat exactly where you want it.
So my summary after three years of use: it suits my needs as a training boat for developing my forward stroke. Great for beginners and intermediates for developing boat control. Great as a rock-hopper and explorer where agility counts. Fast enough for any club outing. I'd recommend it for lakes and rivers - I wish I had more opportunity to try it on the sea again.
A boat with hidden potential
My first boat since returning to paddling 2 years ago. Owned for about 18 months. I'm an intermediate paddler (UK 3 star). I bought it new on the basis of reviews.
I use the boat for training on flat water and for club day-trips on the sea. I'm a sport-junky so it's seen a lot of use.
This boat is stable and confidence-inspiring, which was good for me at first as I came back into the sport. But it's not a beginner boat - it has some P&H design features which means it's capable of growing with you as you develop skills. In particular I'd mention:
1. Turning and manoeuvreing is amazing. Even on a moderate edge the stern comes round fast, skimming the water. Brilliant fun playing in rocks and caves - it keeps calling to you to make another turn;
2. This secondary stability gives you confidence and so helps develop technique;
3. I can cruise all day averaging 3.8 knots - so it's fast enough through the water for most situations. But it's not 'tracking on rails' - I had to re-learn technique to keep the keel in the water;
4. At 25 kilos and 14' it's no problem loading/ unloading single-handed.
I am 5' 10" and 68 kilos. I've added hip pads and extra foam to the thigh braces. It's now a snug fit, but still room enough to get legs in from a seated position. Venture now sell a low volume version of the boat which I think may have suited my size better.
It's not the cheapest of boats in this category. But what you get is good quality materials and fitting and of course the P&H design.
I'm thinking about buying a new boat now - but to be honest I struggle to think of a reason why I need one. Which I think says a lot for the Islay.
Just plain fun to paddle
This was my first sit in kayak , I have six more kayaks but they are all sit on tops. I did not know much about Venture Kayaks but I did some homework and decided to give it a try. I'm so glad I did. It's fast and fun. A joy to paddle.
Venture is the "price line"…
Venture is the "price line" of P&H, but you wouldn't know it. The plastic is tough and rigid and it has the same hatches and foot braces as my P&H boats. I find the thigh braces superior to those on my composite kayaks. The skeg system and seat are simpler than P&H models, but I consider that a plus.
The Venture's take appears to be a performance-oriented boat that tracks well and steps right along. The bow has generous volume to get you up and over the frothy stuff. In some ways, it reminds me of the Delphin without the rocker. Set it on edge and the ends come out, facilitating carved turns.
The design yields predictable results in that I find it clips right along on course and handles rougher water without breaking a sweat. You may want add hip pads and possibly raise the seating position for a tighter fit. The seat is low. This adds to stability but probably inhibits rolling ever so slightly. I feel like I have better leverage with a higher seat.
The Islay features a full complement of deck lines, including a paddle (rods?) holder. There is also a security bar. A waterproof deck pod (removable) keeps essentials within easy reach.
My one beef is with the backband. The seat braces have slots through which the backband straps pass. To keep them from pulling back through, Venture has doubled back the end of the strap and sewn it, creating a small loop. Into that, they insert an inch of plastic tubing (looks like it came from an aquarium air pump) and hold that in place with a zip tie. The intent is that filling the loop with the tube will prevent the strap from pulling back through the slot. Many a ship of design founders upon the rocks of reality.
On its maiden voyage, I turned into the wind and put a little extra effort into my torso turn and foot drive. It didn't take long before I felt the backband let go. Apparently, the pressure flattened the plastic tube enough to allow the strap to slip through the slot. My simple fix was to replace the skinny zip ties with three wider ones on each side, making it much harder to collapse the tube. So far, it's worked. But, I deduct points for design with insufficient margin of error.
This is one of those rare boats that will give experienced paddlers all they want but still takes care of more casual paddlers. If you're looking in the 14' range, the Islay merits a test drive.
I have owned canoes and…
I have owned canoes and double Kayaks, and this is my first modern solo kayak. It first felt a little tippy, but as I learned the adjustments to fit the foot braces and thigh braces, the tipsiness faded into stability. I first did an orientation paddle around the bay next to my house. It tracks really well and didn't need the skeg even when the wind changed directions. The Islay turns quickly when put on edge, yet tracks like it is on rails on a straight path. My second trip was out to an Island about a Kilometer offshore. The long waterline of the Islay translated into good speed, and I was able to make the crossing quickly and safely. Getting out of the Islay 14 was a breeze, when I headed for a sandy beach for lunch. The deck hatches kept all the water out of my stuff, although they were a bit hard to get back on. The Skeg works like a dream on a windy crossing, making corrections to course simple. I think Venture Kayaks has a winning design with this Kayak. although I never tried an Easky 15 this model replaced, I'm sure I would like it as well.
Rented three Venture Kayaks…
Rented three Venture Kayaks from MEC in Calgary. They were heavy and tough, but actually moved well in the water. The stability was fine. I found the compartments to not be sealed as well on one of the boats. For the price (rent and purchase) it is a reasonable choice.
I recently purchased the…
I recently purchased the ISLAY 14 made by VENTURE kayaks - division of P & H Sea Kayaks. Each and every time I take the kayak out on the water I am more impressed. The Islay tracks straight and true even into a head wind. It handles like a dream and I am working to develop good technique and expand my skills. The Islay comes equipped with a skeg and this is great when dealing with wind conditions - though I did paddle in a strong upwind without the skeg and the boat still handled very well.
This is not my first kayak so I am very aware of how responsive the ISLAY handles. She skips over waves and I did not experience taking on very much water from splashing even without a spray skirt. The quality of construction is phenomenal. Another plus is that I am able to lift and carry it with relative ease.
Whatever VENTURE did to engineer this product, they were highly successful! I LOOOOVE this kayak and am a very happy paddler!
A little on the reviewer first: I am biased towards P&H, Venture and…
A little on the reviewer first:
I am biased towards P&H, Venture and Valley kayaks which is why I use them in my instructional fleet and carry them in my Showroom.
My paddling background; full time, the sport and the equipment is my year round job and vice-versa I am ACA L4 Coastal Kayak and L4 White Water Instructor, Adapative Paddling Certified at The River Connection, Inc. (9 West Market St., Hyde Park, NY 12538; www.the-river-connection.com).
My Specs: I am 6', 189lbs, size 11 shoe, 33" inseam and 32 waist. I paddle with a very high angle style and usually use a Mitchell Black Magic 215cm, a Saltwood Reggie 215cm or Werner Cyprus 215cm paddle and sometimes a 36" single blade Mitchell Touring Special as my back up. My usual ride is a Cetus MV (17'7"x21.5") or an Aries 155 if I'm playing in the surf or pool.
Islay - Mfg. Information
Length 14'
Max. Width 23.75" (behind the cockpit)
Max Deck Height 13"
Volume 99gal.
Cockpit 31.5"x16.5" Inside Opening (30" from seat back to interior coaming edge, 19" seat width)
Weight 58lbs (including deck box) Rotomolded Polyethylene

Features:

Skeg bungee spring released P&H foil blade
Deck Box, Security Bar
Flip top cockpit interior adjustable seat back
Twist Lock Foot Rails
Full Perimeter lines, deck bungees and end toggles.
Paddler Weight Range = 121lbs - 286lbs.
Colors : Electric Blue, Sunbeam (yellow mango), Lava (tangerine orange), Emerald
Price: $1300 The River Connection eBay! Storefront
Performance Overview:
This is a busy kayak category, the 14' Day Touring Kayak, with all the big box store WS Tsunamis, Perception Carolinas/Essence, etc. that are primarily designed to be a stable polite/automatic tracking ride with bulkheads.
The Islay breaks from the common sedate mold with a design that inspires confidence in it's stability range but also is a hoot to play with! With a long waterline running clear back to the end of the stern and with a sharp rake to the bow makes the glide on this 14' is appreciable and appreciated on a longer day's paddle. On an even keel tracking is very polite but does not feel as if it is cemented to the track you are on. With just a slight shift in body weight to heel the kayak into a skidding turn it comes around very sharply allowing you to turn on your pursuers and score while at Dodge-Sponge (yes, serious stuff this kayaking). Some of it's mobility can bee seen, especially in the aft portion of the hull, derived from the P&H Delphin and Aries. The Swedeform and greater volume amidships not only gives a very confident range of secondary stability but allows for the stems to break free when heeled up. In windier conditions there is the P&H Foil Skeg that spring deploys with the release of a up haul cord on deck left and aft of the cockpit.
The interior outfitting uses the Twist Lock Footbraces that can be adjusted from the seat. Fore/Aft adjustable thigh braces can be fine tuned (on land) to the paddlers leg length.
A security bar (lock point) is riveted in so as to keep your gear yours when cartopping.
The deck box is removable and makes for a very convenient day hatch for quite a few small items
The Flip Top back rest can be either in low mode which will not inhibit the use of a sprayskirt or if you are just hanging out on the water fishing or reading then it can be set to full Barca-Lounger mode. The backbend tension is adjusted by way of a forward ratchet seen on the left thigh brace.
At $1300 USD the Islay provides for a day touring kayak that doesn't feel as if you are parting the waters to make way and allows for a greater range of skills to develop, with confidence, rather than falling into the Beginners Boat - Multiple Upgrade Purchase scenario. For many that don't want or need the speed performance that a 17'+ hull would provide this could be an extremely fun and effective answer for the day to weekend overnighter kayaker.