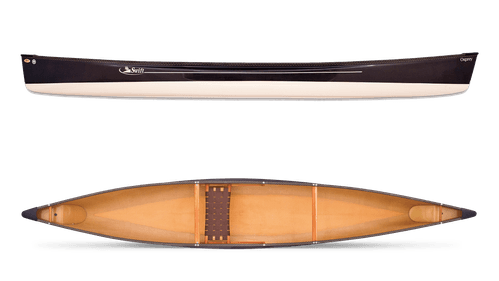 Osprey Options
Osprey Description
The Osprey draws on the lessons learned from our highly acclaimed tandem, the Dumoine. Through skillful manipulation of the shape, the Osprey's heavily rockered, asymmetrical hull provides exceptional maneuverability yet remarkable tracking, while its high prismatic coefficient assures fast traveling. The uniquely sculpted, flared hull keeps water out, yet permits proper strokes and easy paddling.
*This model no longer stocked in stores, but available by special order
Osprey Specs and Features
Structure: Rigid / Hard Shell
Seating Configuration: Solo
Ideal Paddler Size: Average Adult, Larger Adult
Skill Level: Beginner, Intermediate
Ideal Paddler Size: Average Adult, Larger Adult
Skill Level: Beginner, Intermediate
Additional Attributes
Read reviews for the Osprey by Swift Canoe & Kayak as submitted by your fellow paddlers. All of the reviews are created and written by paddlers like you, so be sure to submit your own review and be part of the community!
First I'll talk about the…
First I'll talk about the performance of the boat and then talk about the experience of buying it. The boat itself will do anything you ask of it. The only time I have ever had any problems controlling it, is in extreme wind conditions with no extra weight in the boat (weather cocking).
The Osprey is extremely responsive and paddles effortlessly. I can paddle this boat for hours with no shoulder fatigue and discomfort. The reason being that the rolled in sides give me a different ergonomic paddling stroke. The boat has no problems in bigger waves. The initial stability is along the lines of a Kipawa and Winisk, so it is twitchy. Secondary stability is excellent, I can set the boat down to the gunnies. For extra speed on those solo trips I use a 230 kayak paddle, the boat really moves.
Now onto the buying experience. The boat was purchased in 2008, it was a two-tone red. The boat I initial took possession of did have a couple of unacceptable flaws for me. They were having a lot of problems with two-tone gel coat boats back then. They built 4 boats before they put together the one I have now and it took 2 years to do it (2010). I kept the first boat they built til they got me the one I have now. Bill Sr. called me himself to tell me the problems they were having and to be patient and that they would deliver. I am very happy to say they did indeed deliver. A Canadian owned company instilled with the old ways of doing business, where your word is your bond and delivering great products with great people.
I bought my Swift Osprey at…
I bought my Swift Osprey at the beginning of 2011 with recreational paddling in mind (specifically, paddling alongside my friends rec kayaks ranging from 12 to 14 feet). I should also mention that I wanted to paddle this boat from a seated position (I'm a little past kneeling for long stretches). Right away, I had the sensation that the seat height put the center of gravity higher than I would like. I didn't swamp the boat, but had a few close calls. Also noted that when the wind gabbed the boat it was almost impossible to recover steering. I tried paddling with my kayak paddle (it's a 230cm) and that change resulted in a very positive influence on my ability to hold a course. I as still a little unhappy with the seat height. I spoke with Swift (an excellent staff, by the way) and ended up buying the kayak seat. This change brought the center of gravity down and really increased my level of control. I paddled this configuration for the remainder of 2011. Paddling into the wind (I got lots of experience doing this on Adirondack lakes), I found that as long as you point the nose into the wind and don't let the bow wander, paddling is quite easy and the boat moves along at an excellent clip, keeping up with the above mentioned kayaks. This year, after gaining some experience with the boat, I decided to go back to the canoe seat (changing from one seat to the other is also a really easy process (2 screws on the rear thwart, slide one seat out and the new one on). I kept the longer spacers that came with the kayak seat, which resulted in the canoe seat sitting 2" lower than the stock position, and right now I'm pretty happy with that, but I think for a long trip I'll probably go with the kayak seat to take advantage of the lumbar support.
It is a pretty dry boat, in that when it meets a wave head on, the bow rises over it, and even when it slaps down on the back side of the wave, water doesn't seem to enter the boat. Also, like most canoes, this one handles better with a bit of weight added, so I've been designated as the gear hauler for day trips, and I don't mind a bit.
If you have seen this boat up close you know that it is really beautiful, and the craftsmanship in construction is flawless. All in all, I'm very pleased with the purchase, the boat, and with Swift.
I have been paddling an…
I have been paddling an Expedition Kevlar Osprey for about 6 years now. She is currently outfitted with Aluminum Gunnels and a minicell saddle which is 9" off the floor. I just got back from running the Saranac River from Saranac Lake to Lake Champlain 60+ miles of river, quiet to class VI, with a couple of lakes in there for good measure. We portaged anything class III or higher. I go 190 lbs and carry roughly 70 lbs of gear. I kneel all the time and use a variety of paddle techniques including Marathon (switch) J stroking and Slalom/Freestyle.
The Osprey is the only solo tripper I'd care to take on that sort of trip. She is lively and maneuverable in the class II+ rapids while still being efficient on the lakes. She is dry in waves and supremely stable (at least when I am on my knees, which I always am). The Expedition kevlar layup has stood up to some serious abuse with only gel coat repairs required. I love this boat. She is the one that goes on almost all of my trips.
So why only an 8?
She is efficient, not fast. Below her hull speed (somewhere around 4 mph) she cruises effortlessly. Good luck pushing her faster. She is not the boat I would use to keep up with Marathon canoes or fast kayaks. She can be an absolute bear in following seas as she really wants to broach. In lighter conditions that is manageable. In heavy conditions - like we encountered on Chesuncook in October 2009 - it was not. I'll add that she was not the only boat having trouble in those conditions. Personally, I would prefer more rocker in the stern.
So I'll give her an 8. But remind you that she is my go-to-boat for almost any tripping.
I've had my Osprey kevlar for…
I've had my Osprey kevlar for two years now and have yet to take it on an extended solo trip. But I have paddled many miles with my K9 companion a few pounds of gear. The sliding seat allows me to trim the boat according to load conditions. The aluminum trim completes this low maintenance setup. My Osprey weights about 35 pounds and is a delight to carry around on one shoulder, on my head or to portage in traditional fashion.
It is a marvelous canoe to paddle with no load in calm conditions. When the wind and the waves pick up, I prefer to have it loaded up with a bit of weight, as the wind will carry easily and require much more paddling effort.
Having owned and loved my Kipewa for over 10 years, I knew the Osprey would deliver on Swifts' promise of:
"...exceptional maneuverability yet remarkable tracking, while it's high prismatic coefficient assures fast traveling. The uniquely sculpted, flared hull keeps water out, yet permits proper strokes and easy paddling" (from the catalog).
I recommend this boat to anyone looking for a solid solo tripper...
I once had this fantastic…
I once had this fantastic trip where I guided a couple and I got to paddle the Osprey for a week. On the last day we were cruising across Canoe Lake with a major tailwind at the back and the little Osprey just flew across the water, cresting and launching over the whitecaps and I felt like I was on more of a surfboard than a canoe. In all of it my gear was dry, I was exhausted, my clients were behind me and I will never forget it. I love this boat!
This is a very well…
This is a very well constructed and efficient solo canoe. It turns on a dime with a very secure feel to it. Its speed is equivalent to the Bell Merlin II but it turns far more smoothly without the twitchiness of the Merlin. I appreciate the sliding seat for trim. Mine is in Kevlar expedition with ash trim and the wood work is very well done. All in all a very versatile solo canoe for tripping or freestyle.
The Osprey is an…
The Osprey is an exceptionally pleasant boat to paddle. Mine is fiberglass with ash trim and a sliding seat. Unlike one of the earlier posts, I don't find the weight to be a problem. I actually appreciate the heavier layup because it doesn't flex very much. However, most of my paddles are day paddles on local lakes, so portaging the extra ten pounds or so isn't something I'm concerned about.
The boat moves up to cruising speed quickly, and can be kept there quite easily. I paddled a 25-mile course the other day in around six hours, and I'm sure there are plenty of folks out there who are stronger paddlers than I am.
The maneuverability is superb. If you have a good assortment of strokes, it will do anything you ask it to. The boat tracks reasonably well if you have good mechanics on your forward stroke, meaning that you will want to keep your paddle shaft vertical. I don't find it to be particularly good for sit-and-switch paddling, but I don't think it was designed to be.
Initial stability was a bit low for me, but I weigh about 200 lbs. My wife and son, who both weigh around 130, didn't find it to be a problem. I found the factory setup to be fine when the water was smooth, but when the waves kicked up, I was much more comfortable kneeling. I wound up dropping the seat 1" and adding a foot brace, and am now much more comfortable when things get a bit rough.
Secondary stability is superb. The boat rolls smoothly over to the shoulder on the tumblehome, then firms right up.
I think the sliding seat works fairly well, although it would be nice if Swift added some sort of stop to keep it from moving once you get it where you want it. The seat tends to slip rearward when you are kneeling, and does the same thing if you are using a foot brace. Initially I used a couple of spring clamps on the seat rails, but eventually made a new rail with notches cut into it for the seat to drop into.
I think the boat is superb the way it come from the factory, but think it would be even better if Swift added a foot brace and something to keep the adjustable seat from sliding.
Mine is Expedition Kevlar…
Mine is Expedition Kevlar with ash and cherry trim and a sliding seat. It weighs 46 pounds. It's easy to manage the weight. As one reviewer noted, it's not a feather. On the other hand - this boat is indestructible and will "bring you home" from anything you may encounter; being built like a tank is one thing I like about it. You can get it down to 40 pounds by buying the lightweight Kevlar lay-up. This is a beautiful boat. I think its' one of the very best overall solo boats available....great for rivers, great for lakes, and great for freestyle. Big enough for napping. Big enough for the dog (I'm 180 pounds and the dog is 70 - the boat handles the weight easily but when she moves around you notice it). This boat has taken me through some very rough water - conditions that scared me a bit - and the boat was perfect. Great boat!
The Osprey is the Canadian…
The Osprey is the Canadian version of a contemporary American Solo Tripper. The Canadian perspective is quite noticeable. This is a big volume solo canoe. Esthetically the cut shoulder works ok. The big radius (about 3 or 4 inches at the deck) bow does not. As always, beauty is in the eye of the beholder. Much of my background is in neat, trim, much smaller volume boats that are the American solo trippers.
But on the water the Osprey takes a back seat to no one. The boat accelerates very quickly, faster than any other solo tripper I have paddled. The top end speed is right up there with the longer American boats like the Sawyer Shockwave and Wenonah boats. When paddled leaned ala Canadian Style the boat turns very well. It glides well and responds nicely to a J-stroke method, especially with a bent shaft paddle. It does not firm up when leaned as some of David Yost's designs do but is very comfortable, especially with just a little time in the boat. Secondary stability is very good. It is not a tender feeling boat even for the novice. Paddled flat the boat tracks like it is on rails. Even though the boat has differential rocker it tracks considerably straighter than the zero rockered Sawyer Shockwave, easily being able to take 9 or ten hits on one side before switching to the other to correct.
The boat utilizes a sliding seat and apparently needs it. One of my paddling partners tripped with one all last year and even with his gear split in fore and aft bags, the boat required relocating the seat to come up with the proper lines. Most American solos are not this sensitive.
My biggest complaint is weight. Here Swift has really missed the mark. The boat even in kevlar is heavy. Any serious solo tripper should be less than 40 pounds. To be in the middle 40's is just not needed. Solo boats do not have the weight in the bow a tandem does and do not need to be built this heavily. Wood trim was ok. But again the big decks just are excess weight in a solo tripper. My entire club trips in solo boats (a tandem did show up for a trip two years ago) and virtually no one is paddling solo boats heavier than the high 30 pound range, and there has not been one single hull failure or any damage that has required repair on any solo boat in our club in the last 5 years. If you can live with the weight and like the esthetics, you'll be impressed with the way it paddles.
I built a cedar strip of this…
I built a cedar strip of this model. I'm in love with it, it's fast, highly manoeuverable and takes some pretty big water. It's not a large volume canoe, but it will carry a fair amount of gear. It's asymetrical design gives it great tracking. A great solo canoe!