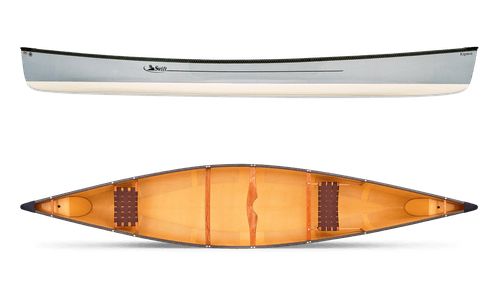 Kipawa Options
Kipawa Description
While the Kipawa offers unprecedented performance for experienced paddlers, it also provides a secure, big boat feeling for novices. It continues to be one of the most popular Swift canoes and is the perfect size for week-long tandem tripping. Few canoes can bring out the best in your paddling skills as well as the Kipawa.
*This model no longer stocked in stores, but available by special order
Read and submit reviews for the Kipawa.
Kipawa Specs and Features
Structure: Rigid / Hard Shell
Seating Configuration: Tandem
Ideal Paddler Size: Average Adult, Larger Adult
Skill Level: Beginner, Intermediate
Ideal Paddler Size: Average Adult, Larger Adult
Skill Level: Beginner, Intermediate
Additional Attributes
Contour Seats
Contour Yoke
Read reviews for the Kipawa by Swift Canoe & Kayak as submitted by your fellow paddlers. All of the reviews are created and written by paddlers like you, so be sure to submit your own review and be part of the community!
Fusion Kevlar 16'6" Kipawa
I picked up my Kipawa Fusion Kevlar canoe 3 years ago and primarily solo in it, although I always seem to have my Labrador for bow ballast just aft of the forward seat. Often the 5 year old granddaughter joins the dog and I. Regardless of who is with me, the Kipawa is a breeze to trim with the slider seat. The canoe is fairly fast, handles exceptionally when trimmed properly. I own three canoes but the Kipawa seems to be my go-to as it is easily light enough for me to load and unload alone. Using the Kipawa primarily to solo, I placed permanent kneeling pads forward of the gluteal thwart and find I can go for hours in this position in spite of my 63 years. The entire boat has been custom finished by Swift Canoe in beautiful cherry wood which adds some additional weight, however this is negligible and still easily manageable. The cherry decks, gunwales, yoke, thwart and seats regularly illicit comments from people at the put-in. It is truly a beautiful canoe
Many have commented on the initial stability of the Kipawa and I have to admit that a bit more care must be taken when settling in to the canoe with little or no ballast is present however once moving the initial stability changes and becomes more settled. The secondary stability is excellent and I tend to tuck into an off-center position and heal the boat over somewhat, some refer to as Canadian style. This reduces my wetted area and makes for less drag and more efficient handling with less expenditure of energy.
I would have to give the 16'6" Fusion Kevlar Kipawa a 9 and would recommend it to anyone with intermediate paddling skills as a great boat for tripping or solo.
I built a cedar strip Kiwawa…
I built a cedar strip Kiwawa in 1998. I still love that canoe. Either it has gotten heavier, or I've gotten weaker in the ensuing years. (I know the answer to that...). So that my wife and I can continue to take trips that involve portages, we purchased a Kevlar Fusion with carbon-kevlar gunnels. The weight is wonderful. The boat paddles very much like its cedar-strip older fleet mate. I bought another Swift with confidence.
My one minor quibble is the way the ends of the yoke are mitered to fit with the carbon-kevlar gunnels and seat hangers. I can see that these tapered ends are going to be a weak spot that fails prematurely... hopefully not in the middle of a wilderness trip. This is a structural design flaw in an otherwise beautiful canoe.
We have had our beautiful…
We have had our beautiful Swift Kipawa for at least ten years, and it still performs perfectly. It's probably most at home on lakes, where it tracks smoothly and steadily. The front webbed seat slides for optimum positioning depending on the load. We have had three adults and a dog in this canoe and there is plenty of room, although two plus a passenger is probably more comfortable. The original crossbar was beautifully carved wood, but it rotted at the joints (our fault) and had to be replaced with a not-so-pretty one.
We have used it on river trips but it's a bit delicate to be crashing into rocks and logs, so I prefer lakes or smooth rivers with this one. A beauty.
This is a fun, responsive,…
This is a fun, responsive, and beautiful canoe. Quality built in. Bought this to replace an Old Town Discovery. That was a great canoe for when the kids were young and we needed stability. This canoe is for the big kids who want to go fast and steady.
I have had the Kipawa for 2…
I have had the Kipawa for 2 years now and feel I can now comment on the boats performance. Ours is the Gold Fusion layup with aluminum trim, wood seats and yoke. Sliding bow seat is great for trimming the canoe, contour of the seats make for a comfortable kneeling or sitting paddle.
The boats initial stability when empty of gear has a twitchy feel, when the canoe is not being paddled this is quiet apparent. Once the boat starts moving the initial stability changes and becomes more solid. Secondary stability is great. The canoe is a dream to paddle with or without a load, glides with little effort, tracks and turns very well. In rough water this boat cuts the waves, does not bob up and down, has a very reassuring feel and dry ride.
The quality of the canoe is great, we have had no problems. I would give the canoe a 9 or 10 if the twitchy feel when not moving was not so apparent, a little more stability there would help when I am fishing.
Have had our two tone Kipawa…
Have had our two tone Kipawa since 2004. Learned how to paddle in a Muskoka 16. This boat is not for the beginner. The initial stability is low, having said that secondary stability is high. However, give this boat the respect it needs. Beginner paddlers will appreciate this boat after paddling a recreation boat for 2 or 3 years. This boat turns well, in fact it does everything well, but not great with the exception of handling rough water whether it is loaded or not. This boat is faster in rough water than calm for what ever reason. We know this from timing our runs and paddling with other trippers stroke for stroke.
The weight of the boat is 61 lbs. in expedition kevlar. Not a light weight by any means and no where near what the stated weight is. I believe all canoe companies are playing the weight game to drive sales. Sliding seats to trim the boat are nice, we put pads on the sides in the front to help cushion the boss' knees and I also added a custom made closed cell foam pad to the carrying thwart for portaging, what a difference, in fact I think swift now has them available after seeing mine. The boats prior to 03' I believe are better. There was a mold change done that winter that affected the handling of the boat. We test paddled a 92' in the fall of 03' and it was definitely faster on flat water than our boat. I discovered a couple of years ago that the older boats are narrower at and below the waterline and this would account for the differences in the boats.
As far a using the boat solo, it is ok for short trips, I would never take it tripping though, it is just too big and cumbersome. My solo boat is being picked up the first or second week of May. If you want a boat for everything the Mattawa is a better all around boat, I have used one of those on a few trips also. The paddling mechanics between the Kippawa and Mattawa are the same and are the same with as the Shearwater also. This is why I went with the Osprey for a solo boat, a lot less strain on the shoulder, the paddling mechanics are different with this boat. By the way the Bell Magic and Merlin boats paddling mechanics are also the same as the other boats mentioned above. The bigger solo boats are intended to glide and be a little more user friendly. Heads up on the Osprey solo also. There has been a design change on this boat, so all the new ones this year are a little different than the old ones, if I remember correctly the sides come in a little bit to make paddling easier. I live on Lake St. Clair by the way and do not work for Swift. Just happen to enjoy some of the boats they make. Happy paddling.
I bought my Kipawa in 2004…
I bought my Kipawa in 2004 and I love it. I had read about the stability and to be honest the initial stability, or lack of stability, did throw me at first. However, it did not take long on the water to move past that feeling of instability.
Last fall I was on a five day trip with a friend who fell as we were breaking camp and severely dislocated his shoulder. So suddenly, I was paddling solo. The first lake we had to cross was approximately 5 miles long and into a moderate wind. I had no problems keeping it on line and we moved along quickly as the canoe easily glided across the water.
The last lake was another story; directly into a strong wind with at least 2 foot rollers and white caps. To be honest I was more than a little nervous as I had never paddled alone in conditions that bad. I have to tell you, my Kipawa handled unbelievably; stable, reasonably easy to keep it tracking properly and most importantly moving forward.
My buddy gives me a lot of credit for getting him out of there but the truth is my Kipawa made it possible. I know for sure I could never have done it with the old aluminum canoe we use to take on our trips.
I really liked this canoe before; now I have complete confidence that my Kipawa is a safe, stable and easy to handle canoe. Which is a good feeling as I look forward to future wilderness trips with my new grandson.
I've paddled my kevlar Kipawa…
I've paddled my kevlar Kipawa for ... is it 18 years now? Aluminum trim and plastic seat make it a no maintenance boat. Ok I do rinse off the mud before storing it... I've paddled it solo, tandem and toured it tandem for week long trips and I can say, if you are going to own a single canoe in your lifetime, this boat will satisfy 95% of your paddling needs. From the Outaouais River around Montreal, to the Georgian Bay passing through Alogonquin, this canoe has seen good times and scary times. But I have always pulled through high and dry with my Kipawa.
I was new to canoe touring…
I was new to canoe touring when I bought my Kipawa two years ago. I have the basic Boy Scout/Canoeing Merit Badge background - i.e. I knew the strokes and could handle a boat in flat water competently. My boating experience was with the usual Grummans and kin, with limited distance and portaging experience.
I was interested in an alternative to my usual bicycle touring. My intent was to find a tandem so I could take company along for day paddles, but with cargo capacity and the ability to handle rough water if it occurred. I found a year old demo/rental Kipawa in fiberglass. It had a star crack, which the dealer fixed nicely.
This boat does have good secondary stability, but I learned early on not to get complacent about it handling rough water (wind chop situation). We didn't melt, but I also found out that ziplocks are not adequate protection for your camera in full immersion.
Two adult men with a weekend worth of gear only reduces the freeboard about an inch! It handles very nicely with two in the boat. My total experience with rapids is five sets at class-I-or-less. I was able to control it fairly well but I'm still learning the tricks. Speaking of rapids, this is my last fiberglass boat. Scratched plastic I can deal with, but I'm concerned that if I hit a rock it will be duct tape time. Like with a good touring bicycle, I'll carry a little extra weight for more reliability.
I can't compare the speed of this boat with other contemporary designs. I will say that it's faster than the recreational canoes I've used before, and it cruises nicely with a good bow paddler. It takes about 10 strokes to get it up to speed.
I've learned to handle this boat solo, but it's not an ideal situation. I DO NOT kneel, even on its comfortable kneeling thwart. It doesn't take long for my middle aged cyclist's knees to start hurting, and cycling is still my first love so I'm taking no chances on the health of my knees. I only go solo on calmer days, sit in the stern and do sit & switch. (The angled seats and asymmetric hull preclude using it backwards from the bow seat.)
I have spent time on my technique, always feathering the paddle and cutting far under the boat to minimize the need for hard J action (I have very long arms). A solo boat is in my near future, probably a touring kayak. I may put a third seat in the Kipawa as well, for solo use or when bringing grandchildren along. The woven seats are very comfortable. I spent 3+ hours on the seat during a day paddle, and didn't notice until afterwards that I was getting a little sore. (An off-boat break and stretch probably would have helped.)
The fit & finish of this boat are generally good. The gel coat in the corners, where the float compartments meet the hull, are crazing a bit, but that's probably typical for fiberglass. The thwarts and gunwales are well made and securely fastened. Being a glass boat (53#) with a very comfortable portaging yolk, it is carryable short distances. My day-to-day put in requires a short solo carry.
In all, the boat meets my needs and I'm satisfied with it.
Love this boat and I am not a…
Love this boat and I am not a Swift rep. Or a Langford rep for that matter. I have owned tandems by Mad River, Bell, Novacraft and Bluewater. This is truly one of my favorites. It is efficient, has very high secondary stability and carries a good load. I paddle mine with my children who are excellent bow paddlers and they love the nimbleness of this boat. It does not have a flattened bottom like the Langfords or my Wenonah Spirit, but has a nicely rounded arch with considerable flare throughout. You can tuck into the corner and paddle Canadian style but my Mattawa was better for solo at shorter length. This is not a beginner's boat as the initial stability is low but it is a blast to paddle and develop good skills.
Bought my glass Kipawa and…
Bought my glass Kipawa and have never regretted it. With me being 210 and my girlfriend at 120, the bow slider makes this boat good for the two of us. The kneeling thwart is great for soloing this boat, and I have done as much solo paddling in it as I have tandem. The diff. rocker makes turning this boat seem like it's a foot shorter. This boat is versatile and I feel that it was a good choice for my first non-aluminum canoe. Next boat, a solo.
We bought our Kipawa last…
We bought our Kipawa last Summer 2003 from Swift Canoe in Gravenhurst to replace a Langford Nahanni we had only had for a year, see review for Nahanni. We have already taken it on several trips weekend and week long and love it. It paddles great, even better than the Langford and so far the service we recieved from Swift has been excellent. The Kipawa is equiped with cherrywood interior, sliding bow seat and yoke, with aluminum gunwales and the stated weight of 48lbs is right on for the expedition kevlar. The only comment I have is there is a little flex in the bottom of the boat, which I have been told is normal. This probably helps should we go over a rock or dead head by accident by flexing rather than cracking. So far I have nothing but good to say about this canoe.
I have had my expedition…
I have had my expedition grade kevlar Kipawa canoe for about 1.5 years and use it mostly for solo paddling. I waited until now to post a review as I felt any shortcomings were due to my lack of paddling skills and was correct. The canoe is fairly fast, turns well when trimmed properly and is light enough for me to get on and off my vehicle alone. I am a fairly big guy and could benefit from the kneeling thwart being a lttle more forward (closer to the center) of the canoe than it is. When I use the kneeling thwart, the bow is out of the water quite a bit. When loaded with gear in the bow (40 pounds or greater) the problem goes away. I recommend that anyone interested in paddling solo with a canoe this big (16.5 feet) take lessons if they haven't already. The lessons have dramatically improved my ability to control the Kipawa in windy conditions. The skills I have learned have changed my perception of the Kipawa from a good canoe to a great canoe.
When tandem paddling, the Kipawa is fast. Two strong paddlers with bent shaft paddles can really move. Beginner paddlers should know that the Kipawa has lower initial stabiility and great secondary stability, so it feels tippy to anyone that is used to a flat bottom canoe.
What I like most is the versatility of the Kipawa, I can solo it or use for tandem paddling and still have plenty of room for gear. A lttle nice fact about the Kipawa is the carrying yoke, it is contoured well (very comfortable)and perfectly placed so that when you carry the canoe it is balanced.
I have been out several times…
I have been out several times with my ultr light weight kevlar. It is so light I can get it off my car by myself, which is necessary because my children are not big enough to help.
I have found the canoe to be very fast compared to all of the rentals I paddle near. In fact a month ago I passed two adults paddling as hard as they could with my 5 year old in the front going up river. They were a little frustrated.
The boat seems to be just what I wanted; light, responsive and beter than average speed
I bought my ultralite kevlar…
I bought my ultralite kevlar Kipawa in 1993 and am very happy with it. John Winters has done a great job balancing design features resulting in an efficient canoe for the Canadian Shield Country. I was bothered by the inadequate "decks" and carrying thwarts in each end. To correct this I modified the factory arrangement.First I cut out snug-fitting deck patterns from light cardboard then scroll-sawed the decks from ext. plywood. A comfortable handhold slot and two holes for a rope loop (for cartop tie-down)were provided. After the new decks were sanded, stained and sealed they were a good match for the cherry yoke and seats.The local hardware store supplied identical stainless bolts to fasten the new decks under the gunwales. Pics on request.
I built a cedar strip Kipawa…
I built a cedar strip Kipawa in 1998. I've taken three week long trips with it since. It is a wonderful tripping design. Initial stability is a little tender when the canoe is empty. It settles down very nicely when loaded for tripping. It tracks well. Turning is aided greatly by bow paddler input. The differential rocker, with more bow rocker, responds well to bow strokes (posts, draws, and rudders). It is a little broad to paddle solo in a sit 'n switch style. It paddles well from the kneeling thwart when leaned in a Canadian cruising solo style. My next boat will be a pure solo day tripper. Too often when I want to paddle my partners don't.
I tried Kipawa models in…
I tried Kipawa models in Kevlar and in glass, along with its big brother the Quetico, seeing if I could persuade myself to buy. But I found them not fast; they require a lot of energy to get up to and maintain speed; and if you are looking for any kind of glide, forget it. I believe that front rocker acts as a sort of brake, once you stop paddling. Years ago, when the Swift company was making Sawyers, I bought an X-17 from them, and it is from several years with the X-17 that I measure the Kip and Quetico.
I have a Swift Kipawa…
I have a Swift Kipawa SuperLight Kevlar, with ash trim and cherry decks, weighing in around 46lbs. I paddle primarily Northern lakes, at times with a small child (or two), sometimes with another adult in the bow, and frequently solo. I paddle interior trips of several days duration, as well as day trips.
The Kipawa is the only boat I've paddled that seems to handle everything well. Last Sept. crossing Grand Lake in Eastern Algonquin Park (Ontario), loaded with 2 men and gear for interior camping (approx. 450 lbs.), the Kipawa handled 2' waves and stayed dry and in control. Later the same trip, while solo paddling an empty boat, I paddled from a creek directly into 35-40mph winds and white-caps on Stratton Lake. The Kipawa behaved almost like a solo boat, and I never doubted I could just point it towards my camp and go.
In Algonquin Park, my primary destination these days, a boat not only needs to paddle strainght and quickly across lakes, but must also wind through creeks with a foot or less of water, numerous beaver dams, and switchbacks every 100'. Any boat must not only track well, but also turn easily. Few boats do both. John Winter's designs incorporate more rocker than most, with the expected turning ability, yet are efficient and quick, and track well.
An amazing all-around performer for the 1-boat paddler.
In a perfect world, I'd own (at least) 4 canoes:
An 18' Wenonah Sundowner in kevlar for tandem flatwater tripping
A Swift Dumoine for tandem river tripping
A Wenonah Prism for solo flatwater tripping
A Swift Osprey for river paddling and day trips

The Kipawa is my latest boat,…
The Kipawa is my latest boat, purchased this spring for my tandem tripping needs. Dry, light-weight & maneuverable, I think it'll become an ideal craft for me... but I'll let you know once I finish my first trip (3 - 9 August 1999) into the Lady Evelyn River area north of Temagami, Ontario, Canada.
Construction quality: Pretty darned good; the kevlar and epoxy layup looks very well done and the trimwork (anodized gunwales, plastic "decks", thwarts & seats were all solidly and neatly applied. The removable kneeling thwart (laminated cherry) could have had better quality wood in it - too many small knots for my liking, and the hardware which makes it removable seems to squeak from time to time, but aside from that I've no complaints. The seats (laminated cherry wood, compound- shaped framing with nylon webbing. Sliding bow seat) are the most comfortable and durable on any of the 7 canoes I've owned to date. The folks at Swift advertises this as a 49 lb canoe, but mine weighed in at 54 lbs.
To date I've used it on at least 20 day/evening sole paddles and 4 tandem ones, and find it quite good in the class 2 rapids and flat water I've tried in the Ottawa, Ontario, Canada area where we live. I've only tried it with a healthy load once (the day I trialed it prior to laying down my hard-earned cash!) and was quite impressed with its stability and general responsiveness. Again, though, I'll be able to provide a come complete report upon returning from my first trip in her.
If you wish additional info on my Kipawa, please feel free to contact me at the address above. Good paddling!
Update:
With a 7-day trip in the Kipawa now behind me, I'm happy to report that the boat handled as well as I had expected she would. Crossing Lady Evelyn's eastern section during some of the highest waves I've yet to encounter on a canoe trip - with the exception of a 10-day trip I undertook along New Brunswick's Northumberland Straits back in 1982 - were confidently undertaken. (Mind you, my bowman may take omberance with that statement, as he got quite wet from the water that shipped over the bow from time to time when the odd out-of-sequence or especially nasty wave hit us!)
Additionally, I had the opportunity to do some class 2 rapids along the Mattawa this summer, which the Kipawa handled without the slightest hesitation.
I've never babied any of my boats, and the Kipawa held up quite well to the rigours of the 7-day trip into an area known for having jagged rocks. Upon returning from the trip I washed the hull down and waxed her; there were some pretty good scratches, but none seemed to have penetrated the gelcoat. I am consider putting on a kevlar bang-strip on the ends following next season, but for the time being, she's fine, as is.
The Kipawa is an excellent, all-around tandem tripper. I'm planning a 4-day solo trip into Algonquin Prov. Park for next spring, and will report on how well she handles under that configuration.