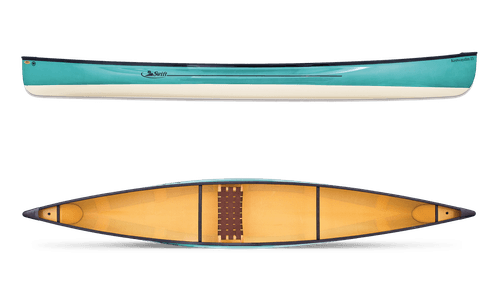 Keewaydin 15 Options
Keewaydin 15 Description
The Keewaydin 15 offers an unparalleled balance of comfort and performance. The comfort comes from its shallow arch hull and moderate width, making it a stable solo for sit down paddlers. The performance lies in its enhanced tumblehome and mid-range waterline, making it ultra-responsive when leaned or heeled.
Whether you're headed deep into the backcountry or around the cottage, the Keewaydin 15 will put you at ease, freeing you up to enjoy the beauty around you.
Read and submit reviews for the Keewaydin 15.
Keewaydin 15 Specs and Features
Structure: Rigid / Hard Shell
Seating Configuration: Solo
Ideal Paddler Size: Average Adult, Larger Adult
Skill Level: Beginner, Intermediate
Ideal Paddler Size: Average Adult, Larger Adult
Skill Level: Beginner, Intermediate
Read reviews for the Keewaydin 15 by Swift Canoe & Kayak as submitted by your fellow paddlers. All of the reviews are created and written by paddlers like you, so be sure to submit your own review and be part of the community!
Almost a 5
I have been paddling this boat for 4 years now at least 50 days a year. I have the flax fusion ( I don't know if they even offer that now) and love the feel of this boat in almost every respect. Not as fast as a Magic but a little more well rounded overall. Like others, I could do without the sliding seat. For me the flex translated into noise and since I use it for photography it was not helpful on a large lake at dawn. After a couple seasons I replaced it with a fixed seat just a bit higher and angled down. But overall, I love this boat. It is not perfect but it works so well for me that I can't imagine anything better.
Updated review
As I mentioned in my first review [July 19, 2016], I was not happy with the cherry slider seat because it flexed too much. I took the boat to a canoe shop and had them remove the sliding rails and fabricate aluminum hangers and rivet them to the inwales. We hung the original seat a little higher and dropped the front edge and inch. Now the seat flexes very little, feels great and the canoe is a bit lighter.
On the down side, I have a new negative to report, though it is a lot easier to fix than the seat. I discovered by accident (I flipped in high wind and choppy waves) that the flotation tanks had taken on water! I didn't discover this until this morning when I went to use the boat again and heard some sloshing when I picked up the canoe. I removed the plugs and there were several ounces (probably a cup at least) in each flotation tank, a bit more in the rear one. The reason for this is poor sealing of the screw-in plugs. Swift apparently just drills a hole in the tank and threads the plug directly into the kevlar! But these plastic plugs are made to thread into a female part installed on the hull, not threaded straight into thin kevlar. This is really a very poorly finished detail in an otherwise amazingly well-made boat. Now that the kevlar on the edge of the holes got wet, it has become frayed and fuzzy, which may further damage the seal. The easiest way to fix it is to apply silicone sealant and screw the plugs back in. A permanent solution would be to install the female part, if I had it, or just close the hole with fiberglass. I understand that there is a concern that this kind of tank can separate from the hull by expanding air inside due to drastic temperature changes and that is why most canoes have breather holes, but this system with the threaded plug is very poor.
The Keewaydin 15 is one of…
The Keewaydin 15 is one of the best solo canoes I have ever paddled. I bought mine used a couple of months ago and have been paddling it at least twice per week since then.
It is the kevlar fusion layup with aluminum gunwales, cherry thwarts, cherry sliding seat (which is my only complaint)and color-matching skid plates. Weight is supposed to be in the mid 30s, and it feels like it, but I haven't weighed it. It is a Dave Yost design with the usual Yost bubble-sided tumblehome and excellent manners.
Performance:
The Keewaydin 15 strikes an amazing balance between stability, speed, straight tracking and maneuverability. I can't get over how well it does everything! Turning and side slipping are effortless, while still tracking straight with normal correction strokes. The speed is amazing considering how stable it is. It is as fast as a Hemlock Kestrel, Blackhawk Zephyr or even a longer Blackhawk, such as the Starship.
Swift quality:
I am extremely impressed by the overall quality and attention to detail and the use of state-of-the-art materials and techniques. Swift is probably the most advanced large canoe and kayak manufacturer. Fit and finish is top notch. The aluminum gunwales are riveted from the inside and don't show on the outside, giving it a super clean look. The selection of materials, finishes and colors is huge.
The not-so-good:
My only gripe is with the seat. I don't need a sliding seat, but when you buy used, you don't have much of a choice. The sliding seat flexes too much for my taste (full disclosure: I weigh about 225 lbs.). The seat is beautifully-made, laminated cherry with wide, brown nylon webbing. But it flexes a lot when I sit on it and so do the long cherry rails it slides on. I would also like it to be a little higher. I am in the process of making modifications to it and, if that doesn't work, scrapping it altogether and rigging a fixed seat.
But this is really a minor problem. It would have given it a ten otherwise.
I highly recommend this boat. Too bad they have very few dealers in the U.S., most of them clustered in NY.
While I am admittedly blown…
While I am admittedly blown away by the product, in this case my new Keewaydin 15 pack canoe, I really can't say enough good things about the people I encountered at Swift. The level of customer service and the individual attention and expert advice I was given throughout researching and buying this boat have been nothing short of fantastic. It's obvious that everyone at Swift has customer satisfaction and customer happiness as their number one priority. I wish I knew her name, but first there was the young woman at the Gravenhurst store whose knowledge and patience were greatly appreciated as she walked me through the options available to a kayaker who wanted to graduate to a solo pack canoe for interior camping. I then followed her advice to visit the Algonquin store for a demo paddle. Rarely have I happened upon a business whose staff are so professional, friendly, knowledgeable, and happy. On my first visit there, Brian expertly ran through my options and his recommendations, understanding that I was looking for a boat with the familiar stability and comfort of a kayak but the gear capacity and portaging ease of a canoe.
After wisely advising me to take a Keewaydin 15 for a spin, Brian then spent more time reviewing all the options and features available. It didn't take long for me to make a decision, and Brian drew up a quote that was exactly what we had discussed, and I placed my order. The boat was ready on the date specified on the order, and when I went to pick it up Brian, Skip and Chris all went above and beyond to make sure I was completely happy with my purchase. Knowing this was my first canoe, they patiently explained its features, offered useful tips and advice, and took time to show me things like how best to get it on and off my shoulders for carrying and how best to get in and out of the boat at a dock or beach.
After a couple of hours spent paddling my new boat on Oxtongue Lake, these three gentlemen then spent even more time with me, helping me load the boat on the roof of my vehicle and again offering tips and advice, this time around safely and efficiently loading and unloading the boat. Everyone at Swift was an absolute pleasure to deal with, and they all made it clear that their number one goal was making sure I was happy and excited and educated about my new purchase. My being happy seemed to be all they were concerned with, and it showed in their exceptional customer service.
As for the boat itself, I can't wait to take it on a backcountry camping trip, and to reap the benefits of a pack canoe over a sea kayak for gear hauling and portaging. But already, even just based on an inaugural test paddle, the boat has exceeded my expectations. It is incredibly easy to lift for car-top loading / unloading or for a portage carry. It is easy to enter and exit for someone more used to kayaks than canoes.
Its initial and secondary stability make it feel and paddle more like a kayak, responding nimbly and moving quickly under a double-bladed kayak paddle, even in a river current or a wind-driven chop. A couple of times I had to remind myself I was actually in a canoe and not a kayak. On returning to the car from my first outing, ready to load it up and take it home, the Swift staff asked me what I thought, to which I replied "I feel like I've been cheating on my wife, I love this boat so much."