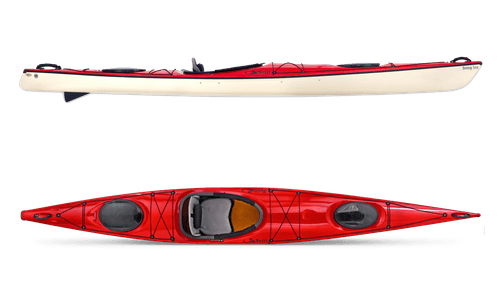 Bering Sea Options
This Product Has Been Discontinued
Bering Sea Description
The Bering Sea, with the extra waterline length, gains more speed than the Saranac. It's volume above the waterline gives it increased security in rougher conditions and even more room for gear. Yet, the Bering Sea offers a low profile to the wind, with a forward-raked design and unique mini-transom, sure to appeal to the sophisticated paddler.
Read and submit reviews for the Bering Sea.
Bering Sea Specs and Features
Structure: Rigid / Hard Shell
Cockpit Type: Sit Inside
Seating Configuration: Solo
Ideal Paddler Size: Average Adult, Larger Adult
Skill Level: Intermediate, Advanced
Ideal Paddler Size: Average Adult, Larger Adult
Skill Level: Intermediate, Advanced
Additional Attributes
Contour Rubber Handles
Stainless Steel Security Bar
High Back Seat with Lumbar Support
Perimeter Deck Lines
Comfort Side Pads
Adjustable Foot Braces
Read reviews for the Bering Sea by Swift Canoe & Kayak as submitted by your fellow paddlers. All of the reviews are created and written by paddlers like you, so be sure to submit your own review and be part of the community!
Found an older Bering Sea on…
Found an older Bering Sea on craigslist and was in the market for a shorter touring yak ( I have a 19 ft. Current Designs Extreme that I love ). After some quick research I went and checked it out and took it home. Very well pleased with this kayak! Comfortable, good speed , plenty of storage space ( This one has the fiberglass rectangle lids ) and a skeg that operates fine. Low weight and the shorter length while still maintaining decent speed and glide was what I was after and this is exactly what I was looking for. Shame they quit making them. Also lucked out and the seller had a carbon fiber Swift paddle that is a great paddle I find I like it as well as my Werner. Bottom line is I think these are great light weight touring kayaks and excellent stability and speed for all day paddling and overnight trips while keeping just enough narrow beam to lean turn okay and not be either too tipsy or too stable. The longer waterline ( hardly any rocker ) lets this model maintain good speed and glide. I find I never need the skeg unless windy and it tracks excellent. Great kayak if you run into one do yourself a favor and snatch it up!
Followup on an earlier…
Followup on an earlier review. Now my 5th season paddling the bering sea and still loving it. (Despite cheating and trying other kayaks) My concern with stiff hatch covers has been resolved by replacing the stock Sealect Design Classic hatch cover with their $$$ Performance hatch cover which remains more pliable in cooler temperatures. Boat handling and performance remain a joy to paddle both loaded (315#total) and unloaded (195#). I would say that the stock seat position actually favours the fully loaded boat. I did have one minor build quality issue which Swift promptly addressed while providing a loaner boat during repairs.. Still fiddling a bit with the seat outfitting by cutting the low back seat lower, and adding hip wings to the seat pad.
I am getting ready to retire…
I am getting ready to retire so I wanted a very lightweight 15-16 foot kayak. The Bearing Sea was one of 2 kayaks on my list. I read other reviews and after purchasing a used kayak from someone who gave it a poor review I gave it a maiden voyage a year ago last August.
I took the kayak to an area that was only three feet deep so I could put it through the ringer. When I put my skirt on the boat almost tipped into the water even though I had weights in the boat to stabilize it. I decided to move the seat forward and the foot braces back so the center of gravity changed. What a difference. The boat was like a rock. I have been out in 3-4 foot swells and did not need my paddle to brace. The kayak has been on Long Island Sound and the Great South Bay and even in rough water the boat is stable.
The kayak does not get a 10 due to the finicky skeg and the stiff rubber hatch covers. The covers must be sprayed every month with 303 to soften them enough to make them pliable and fit over the hatches. The seat is very comfortable and I like it. I must oil the skeg mechanism every time I use it so it works. I use only marine grade oil. The skeg is made of plastic and i wish they used the one that Impex used in there kayaks. But if you want a light weight kayak with good speed and stability and can put up with a little extra maintenance then this is a great boat for you. One other note do not use steel reinforced straps with built in locks since they caused an indention on the top of the kayak(which I had to fix). The fusion material is very stiff but is denotable.
I bought this kayak therefore it must be perfect, right? The truth is…
I bought this kayak therefore it must be perfect, right?
The truth is that this kayak was an acceptable collection of compromises that best dealt with my main goals for buying another boat. These being light weight < 45#, efficient glide, day long paddling comfort, skeg, reasonable touring speed, and room for occasional multi-day trips. (I have a 17' 22" wide boat that fails at everything above except for its speed and carrying capacity).
My personal biases prevent me from spending thousands on a boat made overseas (think warranty...), this really reduced my selection, and was further compounded by the recent closures of many quality NA manufacturers. I am 5'10" 195# which affected the paddling negatively on some other potential boats. Swift won the battle over CD and QCC due to location. The Bering Sea won over the Saranac for its John Winters design. You can not match its overall stability in rough conditions or cruiser wakes. Inital/final stability is very similar to Valley Kayaks. YMMV.
My boat (Kevlar, gel-coat hull, skeg) has 42# actual wieght making it 25# lighter for loading before/after trips. yeah!!! I can portage easily without a cart. The higher deck allows me greater comfort on longer paddles, plus the safety of easier self-rescues. (Much easier tucking feet back in with higher deck). Note that I opted for the cockpit without knee pads which maximizes this opening and facilitates an easier carry of the kayak. My knees brace nicely on the padded upper deck as-is. Cockpit combing does the job despite its minimalist looks.
Low back seat is comfortable enough. I find the "low" seat bordering on too high as it is, but there is no interference so it stays until replaced with a back band.
Skeg operation is absolutely perfect & smooth! Controls are placed close but out of way behind hip. No issues maintaining course with 1/4 winds, stationary or moving.
Kayak is swede shape (cockpit back from center), unloaded the boat tends to be stern heavy with a very noticeable drag at higher paddle speeds. This can be offset by loading heavier items in the bow.
The boat does have a very efficient glide at typical touring speeds despite its pudgy waterline entry. Note that majority of overall boat length is in the water accounting for its reasonable speed. I paddle inland lakes so do not need the extreme bow/stern undercut of the typical kayak. Hull still rises above wind waves 3' without crashing through.
Hatch covers are a "sport hatch" which I prefer over composite covers for watertight seal. Only complaint is that Swift uses a plasticy no-name cover that does not appear as substantial as VCP rubber covers or even Kajak sport covers. Long term watertightness remains a concern.
Tilting the hull for turns is weird. It responds very well to subtle leans but tends to ignore further exaggeration of the lean. The response to subtle leans is great for photography while still moving. No issues navigating winding marsh lands at speed.
Exterior finish is flawless. Interior finish is barely acceptable where the deck/hull are joined, but no structural issues. Bulkheads were well sealed, no leaks.
Overall recommendation is to go try one. I remained pleased overall.
The weight and length makes…
The weight and length makes this an exceptional boat for sea kayaking. It is one of the few sea kayaks that one can easily lift off and onto a car and the launch site with ease. It carries a hefty load inside, handles extremely well but you must know the secret for stability. Since it is so lightweight and designed to carry all that weight, it needs about 15-20 pounds of ballast (sand in a waterproof bag) front and back for stable paddling. Makes all the difference in the world. I learned the hard (wet) way once, and the company tipped me off to the secret. Never had a problem since.
I fell in love with a…
I fell in love with a Barracuda cloth Swift Bering Sea and bought it for that and its light weight. Before the Bering Sea, I had a QCC with a rudder, but the Bering Sea came with a skeg and I thought what the heck, why not. So, from the beginning, I loved the fact that I could easily carry the Bering Sea and put it on my car by myself. The skeg was another story, I never found that it was easy to paddle with the skeg; infact, in touch conditions I never wanted it down.
Now come the real negatives. First, the Barracuda cloth: while it looks sharp, forget it if you damage it. I had an accident and poked a quarter size hole in the prow. Once the clear gel coat is off, just touching the aluminized Kevlar takes off all the aluminum. I paid to professionally repair the damage, but you can see the repair. Also, the clear coat scratches easily. In terms of handling, I find I have always struggled with this yak and never felt comfortable in it. My QCC handled great in choppy water, wind and wake from powerboats, but the Bering Sea has not. Last year I dumped it 2 times and had to be rescued - not fun. I am getting rid of mine ASAP.
I first reviewed this kayak…
I first reviewed this kayak three years ago after I had the boat for 3 months. Since then I continue to find this an outstanding kayak...stable and efficient with its relatively long waterline length. My boat weighs in at around 51 pounds, but the newer models are in the low to mid 40 pound range. I use my kayak for day trips, but it does have room for camping gear. A great boat!
The Swift Bering Sea is a…
The Swift Bering Sea is a well kept secret! I was looking for a kayak for my 180 pound, 5'10" body that was under 16 feet long (so it would fit in my garage), under 24" wide, and weighed less that 50 pounds (so I would not ruin my back while loading it on the car), and was an efficient boat to paddle. The Bering Sea met all of these criteria.
With a waterline length of 15'2" and a soft chine hull, the Bering Sea is faster than many 17 footers. While the initial stability is a bit 'twitchy' the Bering Sea has reasonable secondary.
The skeg version is just 43 pounds in the Kevlar Fusion layup. I couldn't pass up an older used model that was a little heavier with fibreglass hatch covers and a rudder weighing in at 52 pounds. Although I had planned on buying a skeg equipped model, my boat has a Seal Line Smart Trac rudder system. The rudder is a short blade that has very little drag and is nicely controlled with separate foot pegs and rudder pedals. As a beginner kayaker, the rudder gives this boat great maneuverability. I have been paddling this boat for the past 3 months and I have no regrets!
This is a great North American made kayak that should be on any serious kayaker's short list.
For a couple years I was…
For a couple years I was quite happy paddling my Enlightened T-16 thermoformed plastic boat. It was stable, tracked well, a little hard to turn but acceptable, hauled a freight load of camping gear well, and made me smile every time I paddled it. It just cruised right along with easy strokes and was a good first touring kayak for me. The paddler I sold it to is saying pretty much the same thing about it.
What I wanted next was something a little more nimble, a little faster, perhaps less stable but more playful. So I went on the boards here and asked for advice, and got plenty of choices. I took time off for the on water demo days this spring and talked with dealers and builders. I narrowed my choices down to the Eddyline Fathom and the Swift Bering Sea. Either one would fill my needs quite well. At the end of the day I wound up buying the Swift Bering Sea.
There isn't just "one thing" that I find outstanding about this kayak. It just is what it is. A comfortable, reasonably fast, reasonably maneuverable kayak that is well made, pretty as can be, and makes me smile every time I look at it on the rack or on the truck or on the water. It's just a purely delightful boat that I'm enjoying immensely. I've done several day trips and two weekend camping trips and have no problem stuffing my 200 pounds and another 70 pounds of gear into the Bering. The work "cavernous" comes to mind, it just seems to always take "just one more thing" through those oversized hatch openings. I do think the 30 pounds of water and the two soft sided coolers with beer and ice were a bit over the top, but I had a good trip anyway.
The hardest thing I've paddled so far is a 2 mile crossing with 3 foot breaking waves on my left rear quarter and a steady wind pushing the boat around when I was on the crest of a wave. The boat wanted to slide down the wave face sideways into the trough. That was the first time I was absolutely thankful I got the rudder. Without it the boat required diligent steering with every other stroke. Once I put the rudder down everything settled down to a good ride. The hatches stay dry in normal use and the seat is very comfy now that I've cut about 3 inches off the top of the backrest.
The manufacturer has been easy to work with and willing to spend extra time helping me decide if this was the right boat, and not trying to push something off on me and he has followed up to see how I'm liking it. So, there's no "gosh, gee whiz this is the best boat out there" kind of review. Just a satisfied customer who wouldn't hesitate to buy another John Winters design and I certainly won't hesitate to buy another Swift. This is the third Swift I've owned over 6 years and all three have been beautiful boats and very pleasant to paddle.
Since I was interested in a…
Since I was interested in a kayak primarily for open water with occasional weekend camping trips I knew I wanted an efficient high-volume touring kayak. Because I had to lift the kayak to the top of the carriers on my van I insisted on a maximum weight of 50 lbs. Those criteria led me to these ideal specifications for my touring kayak:
Length - 15' 17', typical touring kayak length
Width - Less than 24" for better efficiency
Weight - 50 lbs maximum for easy lifting and portaging
Cost - Less than $2000 for budgetary reasons
Capacity - 185 lbs + Camping Gear (I weigh 185 lbs)
Volume - 11 Cu Ft Minimum for Camping Gear Space
Tracking Aid - Skeg Aesthetics, Personal Preference

Trying on the Kayaks
Dimensions, specifications and theories are one thing but how a kayak fits and feels in the water is another. To get a better handle on fit and feel I tried on many kayaks at outdoor shows and local dealers. Some of them I tried on 2 or 3 times.

Bering Sea Observations
The 16.5" wide cockpit fits me well and I found the optional high back seat to be much more comfortable than the standard touring seat. The 14" deck height results in generous foot room. The built in thigh support fit me like a glove. The large bulkhead storage areas can be readily accessed with the oversized rectangular hatch covers. The easy to lift weight of 47 lbs is achieved with Kevlar reinforced fiberglass and an ABS nose cone which protects the bow from damage. The amount of skeg engagement is precisely set with a sliding control knob to the right of the cockpit. The flared hull improves secondary stability and the long waterline relative to the overall length makes it easier to paddle at cruising speeds. A co-worker told me that he was very satisfied with a Swift warrantee claim and the owner, Bill Swift, makes regular visits to the Swift dealers.

Bering Sea Paddling Feel
The Swift Bering Sea glides through the water with a smooth forgiving stability. It tracks well and yet, with a little lean, turns easily. The skeg is effective in minimizing weathercocking in cross winds. Its wonderful gliding characteristics, great tracking, good efficiency, smooth forgiving stability and comfortable cockpit combine to make it very easy to paddle for long distances. The Swift Bering Sea is a winner!