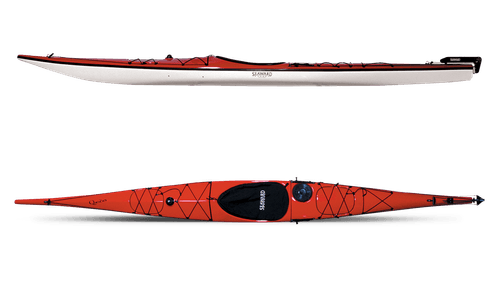 Quest X3 Options
Quest X3 Description
X3 = eXtra 3rd hatch, conveniently located just behind the cockpit with a separate bulkhead, allows safe, dry storage for all the small items you need on a day's paddle or a week's excursion. Flares, marine radio, lunch or sweater all fit neatly together in one easily accessible compartment. Seaward's Quest X3 is a nimble performer in surf, wind or severe waves. With its low deck profile, recessed deck fittings, long waterline, and over 184 liters of storage space the Quest X3 will easily take you on those expeditions you have only dreamt of... until now!
Read and submit reviews for the Quest X3.
Quest X3 Specs and Features
Structure: Rigid / Hard Shell
Cockpit Type: Sit Inside
Seating Configuration: Solo
Ideal Paddler Size: Average Adult, Larger Adult
Skill Level: Intermediate, Advanced
Ideal Paddler Size: Average Adult, Larger Adult
Skill Level: Intermediate, Advanced
Read reviews for the Quest X3 by Seaward Kayaks as submitted by your fellow paddlers. All of the reviews are created and written by paddlers like you, so be sure to submit your own review and be part of the community!
Strong, fast real-world touring boat
2 years ago we were planning a trip 108nm from Port Hardy BC around the northern tip of Vancouver island via Cape Scott up Quatsino Sound to Coal Harbor. Because lingering out there on the coast is a risky business we needed fast boats so when the weather and tides were right we could pound-out the miles. I have been paddling a Necky Arluk 1.9 for about 15 years and really like the speed and seaworthyness of that design but I wanted more capacity for gear and water.
I started looking around and found a used Seaward Quest X3. The overall dimensions looked good and after paddling it for a few days I knew it was going to work great. So far no disappointments. Good deck height and foot room, the seat is not perfect but with some modifications I made it work. The use boat that I bought had some cracks in the material that bond the hatches and coamings to the deck. I used a dremel to cut out the old material and re-bonded the coamings, sanded the areas super smooth and the results were strong and water tight. That is the great thing about fiberglass boats, there is always a way to bring them back to 100%. I did not like the criss-cross bungy system that held the hatches. I was not confident that they would survive a surf landing. I replaced these with some spectra cord and a side release buckle. The solution worked great and there was no way they would get blasted off under pressure.
The boat has fantastic storage capacity, Its really nice to get all the gear below decks and have a smooth deck profile. I think it is much safer to have everything below deck. Good, strong rudder system hung on a mini transom. I like the long ski-shaped bow for beach landings. The boat has a slight "V" section and good rocker. Slightly twitchy stability empty but loaded it is a rock. This is a very fast boat and we were able to make 30 to 40 mile days which gave us time to hang out for bad weather and explore the coast more.
I would recommend this boat. Seaward appears to build a great product based on my experience with this used Quest X3. The hull is light and strong vacuum bag glass and the deck is hand laid. Recessed deck fitting and recessed low-profile hatch covers. Bulk heads are super strong and glassed in place. Great foot peddle rudder system, rudder will kick up over rear deck, skid plate at transom keel. You will not go wrong with this design.
Paddle-on lads
I am 1900 miles into a 7,500…
I am 1900 miles into a 7,500 mile kayak expedition. I am paddling the Seaward Quest X3. This quality crafted kayak has been amazing. I have taken it through lakes, river, the Gulf of Mexico, the Atlantic Ocean and the ICW. The streamline nature of the kayak has allowed me to cover good miles each day.
The details are in the craftsmanship. The foot pedals have gas pedal rudder control while the base of the pedal allows for bracing or pushing hard strokes. The hatches are solid. My kayak flipped onto its side the other day. There was water in the cockpit, but the contents in the hatches were bone dry. It is attributed to a quality design.
My kayak is loaded with gear, but moves quite well. When it is empty, it flies. I am 6'4", 270 athletic pounds and this kayak is pure quality. I fully recommend this kayak or any others Seaward Kayaks makes. Dollar for dollar, you will be hard pressed to find a better built kayak.