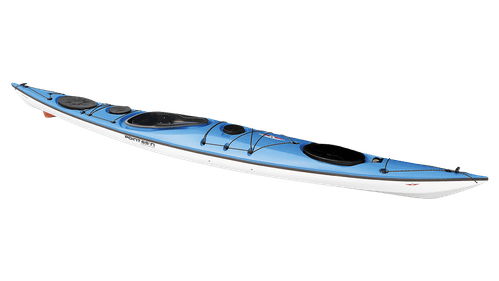 Whisky 16 Options
This Product Has Been Discontinued
Whisky 16 Description
The Whisky 16 is an agile touring kayak developed by Nigel Foster. A spirited playboat for coastal waters, the Whisky 16, with its fuller bow and stern shape to reduce plunging, is designed with rough water, surf and current in mind, and for exciting coastal touring near the impact zones. On gentler waters, here is a comfortable easily maneuvered and stable craft to inspire confidence. It is an ideal boat in which to develop skills. With capacity for day trips, yet spacious enough for a few days of self-contained expedition paddling, the Whisky 16 comes into its own for exploring narrow passages and negotiating awkward corners where nimble turning is a delight.
Whisky 16 Specs and Features
Structure: Rigid / Hard Shell
Cockpit Type: Sit Inside
Seating Configuration: Solo
Ideal Paddler Size: Average Adult, Larger Adult
Skill Level: Intermediate, Advanced
Ideal Paddler Size: Average Adult, Larger Adult
Skill Level: Intermediate, Advanced
Read reviews for the Whisky 16 by Point 65 Sweden as submitted by your fellow paddlers. All of the reviews are created and written by paddlers like you, so be sure to submit your own review and be part of the community!
This is my first kayak and I…
This is my first kayak and I dare say I jumped right into things!
I bought it from a local dealer who was forthright with the cosmetic damage right away. I can do some fibreglass work so no big deal. My first attempt at a roll was unsuccessful, so I proceeded with a wet exit. I got more than I bargained for as I pulled the coaming halfway off and cut myself multiple times on sharp fibreglass edges.
The Point65 guys were good about this and offered me a demo boat to keep if I kept and fixed my orange boat on my own dime. The catch was I had to drive 8 hours each way to get the demo. There was no option to ship this to me even though their boat came apart.
I made the drive and found a demo boat in pretty awful shape. Having some fibreglass experience I layered three layers of mat with some epoxy to stiffen the chines. Some surface gel work later I had a serviceable boat. Other reviews here noted how thin the hull was and I figure there was maybe two layers of glass in them.
I beefed up my orange boat as well while I was at it, due to the cracking sounds if you run a thumb down the side. The build quality on these boats is poor. Check out a Current Designs boat and its night and day.
The design of the Whisky is interesting. Turns on a dime, easy to edge and hold, surfs with no effort. The flat bottom rockered hull gives a lot of bow slap. So much that I regularly get wet on most paddles in any amount of chop if I'm into the wind.
I'm giving this boat a 5 due to the build and the slap. Fun factor is a 9.
I am 5'10 and 175 and I have tons of room left.
I have owned an XO16 for…
I have owned an XO16 for years and I wanted a play boat to add to my quiver. I bought a Gulf Stream and sold it because the cockpit was uncomfortable for me. My wife knew I really wanted to try out a Whiskey and she tracked a demo one down and it was brought up to Maryland. Took it out for a test paddle and I was sold.
My one complaint about the Whiskey is the location of the skeg control box. It bothered me where it pressed against my thigh near the knee. I bought some foam to pad around it bit after paddling it a few times I stopped noticing it. I just have a skeg. No optional rudder because it does not need one.
The kayak does make a slapping sound when going over swells due to the design. But the ease of catching a wave in this kayak is incredible. It holds an edge really well and has excellent manoeuvrability.
I use an Immersion Research neoprene spray deck and have no issues with leakage as mentioned in another review.
I love this boat for short day trips and playing in the river and waves. It is an excellent design. I wish there was a dealer on the central east coast that stocked Point 65 composite kayaks. It is a pain to track them down to test them out.
Just picked up my Whisky 16…
Just picked up my Whisky 16 after demo-ing one last fall for 3 days and taking a few day trips in a borrowed boat, and I am very excited. Had ordered it in March. I had been looking at Hurricane Kakays Cat 5, a Necky Looksha Elite, and I Necky Eliza composite. Price wise, it fell in the middle of the 2 Necky boats, came with a compass, and the seat is much more comfy than the Neckys. I do own a Necky boat already- so the seat thing is already an issue with me lol. The Cat 5 is more of a flat water boat and does not have a front bulkhead or storage for extended trips.
Footpegs are easily adjusted and feel secure. Will report back if that is not the case when I use the (optional) rudder. They did an incredible job putting this boat together!!!
I have the fiberglass layup, in a turquoise green color and it has a deep sheen and nice gel coat. I like the little hatch in the front, and the fact that it is so fun to paddle. I used it with my AB Carbon Surge, also new, and my old BB Journey.
This is my first skeg boat, but I don't thing I will need rudder much, unless things get dicey. It IS a little wobbly on the get-go, but very solid on secondary stabilty. I believe it is 57 lbs. My other boat is rotomold and about the same weight, but bulkier, so it seems harder to load than the Whisky.
THIS BOAT CAN TURN ON A DIME!
I got a really good deal with a carbon fiber paddle and Ultra- Lite Spray skirt as a package with my boat. Being a female, loading and unloading are always a concern, but I was able to get it on the car and get it home in one piece and unload it pretty easily.
It is my third decent boat, and I am very happy I got it. Will report back if any of this changes.
This boat is very bitter…
This boat is very bitter sweet. When I read the first review of the Whisky 16 from Canoe and Kayak magazine, where they tested out a few "play" sea kayaks on the Skooks wave, I was very intrigued by this progressive hull design. It looked like a Nigel Foster Legend and a Dagger Mamba made a baby. After seeing this original review I searched the internet trying to find more information on the boat as well as some non bias review to give me a good idea of what others thought of the boat. Everything I heard about the boat was very positive with the one down side being the slap that occurs when going into waves due to the flat hull and increased bow volume.
So as a sea kayak dealer I got a hold of the local rep who was kind enough to let me borrow a Whisky for a while. (By the way everyone I have dealt with so far from Point 65 has been helpful and professional.)
After selling and paddling Nigels kayaks that were produced by Seaward, I was expecting a similar sort of heavy duty flawless lay-up, and when I saw the boat I was a little bit disappointed. The gel coat was thin and when you press on the boat hard it tends to make crackly noises and flex. Even with that I was still very anxious to paddle it. The first night I took it out on flat water on a local river by my house.
The first thing I noticed was the skeg box right in the side of me knee. Which is a deal breaker for me if I'm getting serious about a boat. The second thing that bummed me out was the triangle shaped cockpit tended to let a lot of water in under my spray deck when I was on a hard edge. (This can be easily fixed by a little foam and a Snap Dragon Lip Lock Skirt.)
Other then those three issues the boat preformed flawlessly. It edges like a dream with a very solid secondary. It responds well to bow rudders, sweeps, etc. I felt like I could run gates in this boat!
The next couple of weeks I was able to paddle it on the American River is Sacramento Ca. Here we paddle up stream against the current and play in eddy lines, surf standing waves, practice rolls in rapids, etc. Again besides those few deal breakers the boat has been awesome. It's fast while climbing shelves due to the planing hull, it holds a beautiful line while crossing currents due to the hard chine, it turns on a dime in eddy lines. The hull design was everything I hoped it would be but unfortunately the lay-up leaves a lot to be desired. I will say that I had no leaks in any of the hatches. But it was like paddling a open canoe on the river. You try to be really clean with your lines because otherwise you get a cockpit full of water.
Each time after I leave the river I take the boat home and put it on saw horses and check for cracks. So far I have done a bit of gel coat repair due to the thin coating, but I haven't had any spider cracks.
So here is my conclusion:
I love the boat and the only reason I write this review is because all I read about the boat led me to believe it was something that it was not. This is a great boat for rock gardens unless there is the chance of hitting a rock if you know what I mean. I will say that it is a total joy to paddle and I really hope Point 65 gets the bugs worked out and gives this boat the lay-up it deserves. If they do I will be the very first one to lay down the bucks and paddle a Whisky 16.
Boat Specs: 16' x 22", 57 lbs. (fiberglass layup) The Whisky looks and…
Boat Specs: 16' x 22", 57 lbs. (fiberglass layup)
The Whisky looks and paddles fresh. Unlike so many "new models" coming out these days, it is the result of some creative design work and is far from being a retread of other models already in production.
The most "gimmicky" thing about this kayak is the 6 x 6 inch round "whisky hatch" just in front of the cockpit. I put flares, binoculars, sunglasses, and sunscreen in mine -- and still had plenty of room for a handful of energy bars. The hatch doesn't interfere with my knees at all and is easier to access than a knee tube or underdeck bag -- not a bad gimmick!
After paddling the boat for 2 days while guiding a trip in the Great Wass Archipelago in Downeast Maine, in everything from a dead calm to rock gardens to 4.5 foot swells to confused seas off "Red Head," I'd say this boat is a winner. It is now unequivocally my boat of choice for all kinds of guiding, as wells as for surf play, and rough water work.
The layup (mine is the standard fiberglass) is of excellent quality if on the slightly heavy side, the hatches (3 plus the whisky hatch) are tight, the deck lines are adequate. The seat works well and provides good thigh support. Excellent thigh bracing is provided by the keyhole cockpit and the contour of the deck in front of the cockpit. Even without added foam, the fit is comfortable and secure.
The hull is slightly rockered with hard chines and the shallowest of shallow arches underneath. The bow and stern are slightly upswept and the boat carries a fair amount of volume in both bow and stern. The somewhat unconventional appearance really works well in the water. Even without putting the boat on edge, a couple quick sweep strokes turns the boat 180 degrees. Dropping the skeg just an inch or so keeps it on course in most conditions. It's a solid boat in rough conditions, and is a blast to paddle in rock gardens or along a rugged, irregular shoreline.
Initial stability is a little loose but the secondary stability kicks in very quickly. Easily leaned and probably the most solid boat I have paddled when on edge. Overall provides a very secure ride in varying conditions.
The Whisky will probably fit a range of paddler sizes from small to medium large.
The Whisky doesn't have the glide or top end speed of a svelte 18-footer, and that's really the only way it falls short of being "the perfect boat." Unless you are racing, primarily paddling flat water, or trying to keep up with ultra-fit paddlers in svelte 18-footers, you'll be having so much fun in the Whisky you won't be worried that someone might be going half a knot faster than you are.
(Disclaimer -- I run small kayak retail shop in Maine and sell a variety of makes and models of sea kayaks, including (recently) the Whisky 16.)