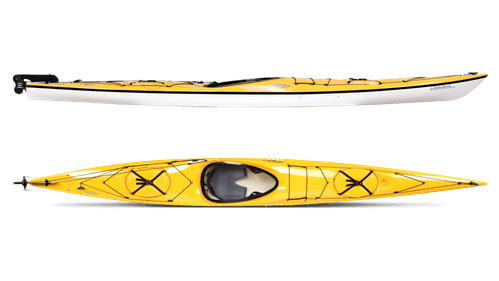 Looksha Elite Options
This Product Has Been Discontinued
Looksha Elite Description
An outstanding sea touring, expedition kayak with excellent tracking, performance, glide and overall handling characteristics. The Looksha Elite is the kayak to get you there. This kayak has bow and stern hatches with bulkheads for a combined storage capacity of more than 200 Liters (can hold up to thirteen 15-liter dry bags!), yet its responsiveness is unparalleled. In addition to a rudder for better control, the SmartTrack™ foot pedals with toe control allow for more efficiency during your stroke.
Read and submit reviews for the Looksha Elite.
Looksha Elite Specs and Features
Structure: Rigid / Hard Shell
Cockpit Type: Sit Inside
Seating Configuration: Solo
Ideal Paddler Size: Average Adult, Larger Adult
Skill Level: Beginner, Intermediate
Ideal Paddler Size: Average Adult, Larger Adult
Skill Level: Beginner, Intermediate
Read reviews for the Looksha Elite by Necky Kayak as submitted by your fellow paddlers. All of the reviews are created and written by paddlers like you, so be sure to submit your own review and be part of the community!
Fantastic boat with a lot of…
Fantastic boat with a lot of storage. I have had this kayak for about 3 years now. My primary purpose for the kayak is multi-day expeditions, although short expeditions, typically 3 days max. This kayak has tons of storage. I use to have another sea kayak that was 6 inches longer then this one and it had less storage. The Looksha elite is a bit wider and taller then normal kayaks to allow for more storage capacity. I don't consider myself to be a pro paddler by any means but I am seasoned. Been kayaking for over 8 years now. I am 5'8" tall and around 180lbs and the Looksha Elite fits me very well. The kayak tracks true with the help of the rudder. Rudder pedals are the pivot kinds where you push on them with your toes instead of with your whole foot. I've kayaked through 3 foot swells with ease.
This is a great kayak! Very…
This is a great kayak! Very fast but also has enough rocker to make it playful as well. I am 5'8" and 175lbs and this boat fits me really good. I started in this boat, a little over a year ago, as an experienced beginner. Since then I have learned a whole lot. Hopefully this summer I will master my roll and learn to surf. Also, for a kayak that won 2010's "Best New Sea Kayak" award in Canoe and Kayak Magazine, I'm not sure why it hasn't been reviewed, or isn't even listed as one of Necky's boats any where on paddling.com.