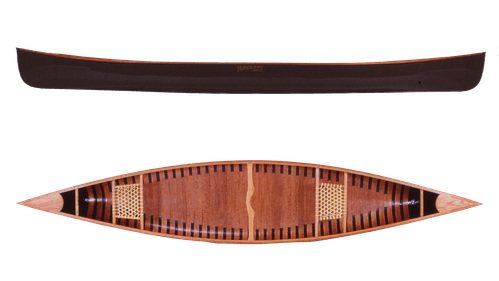 Loon 16 Options
Loon 16 Description
The Navarro Loon, designed by Bob Foote, is the perfect canoe for day outings or wilderness trips. Easy to paddle on a leisurely afternoon, it can also handle an extended trip with plenty of room. Adding a center yoke seat makes it an ideal family canoe. Loons have a shallow V-hull to reduce drag compared to full-keel boats, tracking in a straighter line than rounded bottom designs. The 16' Loon has a light rocker to improve maneuverability and slightly flared sides to lessen spray. The 17' has a straight keel and straight sides.
Loon 16 Specs and Features
Structure: Rigid / Hard Shell
Seating Configuration: Tandem, 3+
Ideal Paddler Size: Smaller Adult/Child, Average Adult
Skill Level: Beginner, Intermediate
Ideal Paddler Size: Smaller Adult/Child, Average Adult
Skill Level: Beginner, Intermediate
Read reviews for the Loon 16 by Navarro Canoe Co. as submitted by your fellow paddlers. All of the reviews are created and written by paddlers like you, so be sure to submit your own review and be part of the community!
I have an older Loon 16 and…
I have an older Loon 16 and it is an absolute gem. Apart from the stunning aesthetics of the wood rib and fiberglass pattern, the gorgeous ash rails & thwarts and the walnut front and rear decks, this boat paddles like a dream. It tracks extremely well, takes waves like a champ and is very stable. The slight rocker makes turning easy and there is plenty of freeboard and stability when loaded. I taught my son the basic canoe strokes with him at the helm this summer and he's hooked. The Loon made him a canoeist for life by his own declaration. These are heirloom boats and he'll inherit it, but in the meantime we're enjoying the heck out of it!
For those who don't know,…
For those who don't know, Navarro is back in business and they still make the Loon 16. Mine is many years old. It has been on the bays & lagoons of Southern California, multi-week excursions through the Boundry Waters, and on lake & rivers in between. There are 3 negatives, in my opinion; they're slightly heavier than some similar canoes, they should be stored out of the sun (like most everything), and they require a tiny bit of upkeep. Looking at each: Maintenance - once a year or twice if used heavily, wash it well, use a good marine wax on the gel coat, and use Watco Danish Oil - Natural -on the wood. Watco contains both oil & laquer. It penetrates and protects the wood, while giving it a rich and deep golden color. You canoe will look amazing, from the Oak to the Cherry wood ribs. IMHO, Navarro canoes are works of art. Sun - Gel coats will fade in strong UV light. I use 303 Protectant on mine or use a good, UV rated marine wax. I've stored mine out in the sun with a cover to keep out the leaves & critters in Southern California. Looks great. It really doesn't take much time to wax a canoe. Weight - The bad, is yes, a few extra pounds, but there's also a good. Along with Bob Foote's excellent design, that little extra weight helps keep momentum in a wind and resists waves that affect similar sized canoes that are lighter. If your portaging a lot, and long distances without wheels, it's a factor. I'm lazy, so for those long portage trips I bring my wheels. The positives: Balance. many vessels are highly specific, such a great for expeditions, or white water. For me, I prefer a more versatile canoe. For example, if I was only doing expeditions, I'd choose a Winonah or similar. I sure wouldn't choose the Loon or the Winonah for white water. But I do more than just expeditions. My Loon 16 was perfect for my GF, my Golden Retriever and me for 2 weeks trips at BWCA. It's great on the lakes and I'm comforatble on rivers up to a 2+, if it's not too rocky. At 16' it's reasonably maneuverable, and it tracks straight. It's not a turn carver, like a more specialized canoe would be. The canoe runs pretty dry with just a little flare, the initial rocker is medium to me, secondary is stable. It's very stable and dry when loaded down. Beginners will do fine, and will quickly become intermediates. Experts may want a more specialized canoe, for each specific water they're paddling, but they won't complain if they can have only one canoe and like differing water types. Lastly, these are craftsman built and look like it. I've had rangers and strangers come over to take photos. You get a beautiful, versatile, easy handling canoe that will last, with just a couple hours of elbow grease each year. For the record, I do not work for, nor am I affiliated with Navarro canoes. They wouldn't know me from Adam. I just respect the beauty and functionality combined that is missing in so many things, today.
I purchased my 16 foot…
I purchased my 16 foot Navarro Loon seventeen years ago. I have used it on several trips in the Boundary waters of Minnesota with my sons. The last several years my wife and I paddle it around a lake we have property on. It is stable and easy to handle. I just restored it and it looks almost like new. It is still beautiful after all these years.
I have a Kevlar Loon 16 that…
I have a Kevlar Loon 16 that I bought used. Truly beautiful canoe--a friend says it's like paddling fine cabinetry. The canoe is excellent in a variety of moving water conditions, including swells and wind chop on a big river. The hull is reasonably fast for a 16-foot canoe, but slow compared to 17 and 18 foot canoes. I particularly like its lightness for carrying to and from the river and portages. Having come from owning Royalex trippers, I find it a little fussy to have to baby the canoe to minimize scratches, but I'm learning to take the little bit of extra care.
I bought this beautiful Loon…
I bought this beautiful Loon as an engagement gift for my wife over 10 years ago. It has been a wonderful flatwater canoe, responsive, stable, and tracks well even in heavy wind. We use it to conduct Naturalist tours of the Upper Newport Bay in California, although it also got heavy use when we lived in Virginia on lakes and broad rivers. It was a treat to learn that it was designed by Bob Foote, who was one of our early whitewater canoe coaches. After all these years it still gets admiring looks when it is on the water.
Navarro Canoe Co. 16' Loon,…
Navarro Canoe Co. 16' Loon, 15-years old, paddled in Northern California with both my sons and also attached a trolling motor. The canoe is a joy. The canoe is also always the most beautiful on the water. An excellent canoe
I have owned my Loon 16' for…
I have owned my Loon 16' for over ten years. No other 16' fiberglass canoe is faster or better in maintaining a strait line in high winds. It is not a canoe for beginners. It is not high in initial stability and in waves over three foot you better be kneeling to paddle unless you are carrying a good amount of gear. I have dumped when paddling with granddaughters trying to turn in 3' waves. We were sitting with no weight in the bottom of the canoe. I have soloed long trips on rivers like the Upper Missouri in 30-40mph headwinds and driving rain and had no problems with keeping my canoe on track.
This canoe carries up to about 900 pounds of people and gear with plenty of freeboard, and does not take on water easily in high waves. Upkeep requires storing the canoe out of the sun and twice a year I oil the gunwales, yolk, and cane seats, and treat the fiberglass and poly interior coat with a silicone UV protection for boats. The cedar cross pieces on the interior of the canoe make it one of the most visual pleasing canoes on the market.
I love my Loon 16'!
P.S.: Better hang on to your Navarro canoe if you own one as it appears Navarro has gone out of business.
I've owned a couple of canoes…
I've owned a couple of canoes now, this Loon 16 for the past 15 years. The only mild complaint I have is, as with all wood/fiberglass/gel boats, the maintenance required to keep that wonderful appearance. The hull will scratch on the rocks, and fade in the sun. It's best to keep it covered, in the garage when not in use.
Overall, this boat has been a joy to own. My wife and I take it on lakes, and Class II rivers here in Northern Calif. and even after all these years, it's still the prettiest boat in the water.
I actually bought this…
I actually bought this canoe--in red--over ten years ago as an engagement gift for my beloved. We paddle it now on the Upper Newport Bay in California, and it is, and always has been, a dream to paddle. There is actually one other Loon stored at the Newport Aquatic Center! I will always recommend it to anyone who wants a great flatwater boat.
I love my Loon 16 but I would…
I love my Loon 16 but I would not buy another one. The company appears to be out of business. They don't answer their phone or respond to my email requests. I am trying to track down a center seat. Any ideas?
I've owned three 16'…
I've owned three 16' fiberglass Navarro Loons at different times in the last 10 years. I keep finding ones that have been slightly mistreated. I clean them up and repair them as needed, paddle them for a year or two then pass them on to a good home. For a tandem, California winter, flatwater boat the Loon can't be beat. Sleek, fast and stunningly beautiful it is a joy to paddle and see. It's extremely dry, holds a ton of gear and performs well in all flatwater conditions. It can even be paddled solo very pleasurably if there isn't too much wind. You'll never find anyone who has ever paddled this canoe with anything bad to say about it. When I've only got room for one canoe in my life, it's always this one.
I purchased this "Eggplant"…
I purchased this "Eggplant" colored beauty about 5 years ago. I have yet to find a prettier, more classic, and well-mannered vessel manufactured by any other company for the price. I also own a Merimack that was my Father's, but the Loon is the one I enjoy the most. Great for fly-fishing or lake trips with Mom & child; & even in high winds, this baby stays nice and dry. I HIGHLY suggest this model. -Now, if I could only get it back from my buddy who borrowed it last season ;P
Bought a 16ft. Kevlar Loon…
Bought a 16ft. Kevlar Loon this summer. She did well paddling AND sailing on lagoons, estuaries, rivers and in a 20 knot wind on Humboldt Bay. Dry boat even in abeam waves. I get lots of compliments on her classical appearance too. Love this boat.
We have never been…
We have never been disappointed by the performance. In flat water the boat tracks great, and in moving water it goes where you point it. It performs fantastic with lots of wieght for tripping and handles wind quite well. My wife and I have paddleded it for over fifty trips in the past four years and it still looks new. Once a year maintainance (oil wood and wax hull) really keeps the boat looking sharp. Of coarse we get lots of comments on the beautiful workmanship that went into the construction. Thanks Virgil!