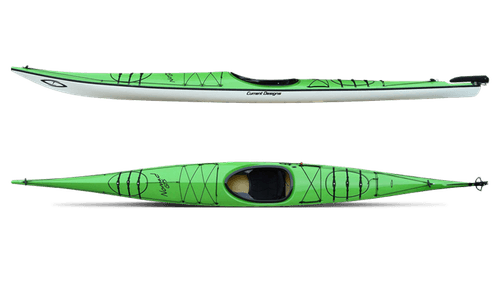 Nomad GTS Options
Nomad GTS Description
If you want efficiency and speed in an expedition touring kayak the Nomad is for you. The long slender waterline of the Nomad makes an extremely efficient hull and gives you a super fast open water boat. Very versatile, it slices through waves with ease, maneuvers beautifully, and allows the paddler to handle adverse conditions with confidence. This seaworthy design can handle expeditions, extended tours, or day trips in all conditions. Available in an optional High Volume (HV) model which adds 3/4" in depth allowing for a roomier cockpit.
Read and submit reviews for the Nomad GTS.
Nomad GTS Specs and Features
Structure: Rigid / Hard Shell
Cockpit Type: Sit Inside
Seating Configuration: Solo
Ideal Paddler Size: Average Adult, Larger Adult
Skill Level: Intermediate, Advanced
Ideal Paddler Size: Average Adult, Larger Adult
Skill Level: Intermediate, Advanced
Additional Attributes
Composite Seam
Current Designs Rudder
Sea-lect Designs Foot Brace
Composite Colors
Read reviews for the Nomad GTS by Current Designs Kayaks as submitted by your fellow paddlers. All of the reviews are created and written by paddlers like you, so be sure to submit your own review and be part of the community!
Excellent boat. Purchased it…
Excellent boat. Purchased it new in 2014 and have been very happy with the performance.
The smart rudder option should be the standard option and the base price raised to accommodate a toe steer rudder. But you won't need to use a rudder most of the time- this boat tracks beautifully. The base rudder works OK.
The standard seat back is not very comfortable for longer paddles. The optional adjustable seatback works WONDERFULLY and the spray skirt fits over the seatback when raised above the back of the cockpit. Well worth the small extra cost for the improvement in paddling comfort. Note to CD- put the adjustable seatback on all your North American boats.
My boat is the Kevlar high volume model. HV makes entry and exit easier (I'm 62 years old, 5'10" and weigh 190) and creates more wiggle room for my legs on longer paddles.
Fit and finish is excellent. Straight line speed is rewarding- a 12-14 mile flat water paddle is within easy reach on an afternoon paddle with modest paddling effort. I use a Werner bent shaft Kaliste paddle.
In short, this boat replaced my CD Oracle and is a nice step up for hauling more weight.
Nomad is the same as CD…
Nomad is the same as CD Extreme with a few changes like glass bulkheads and seating. Weights and hull / deck are the same so look there for reviews also. I have an Extreme which is a great kayak. Me at 6' 220 -225 the HV would be a bit more roomy
Very fast gear hauler. Took…
Very fast gear hauler. Took me awhile to get used to the rudder but I have learned to really appreciate it after having paddled rudderless boats for years. Mine is a Kevlar layup and has been tougher than I expected. The cockpit could be a little longer as I find it a bit difficult to get in and out of the boat but I think practice will provide a remedy for this. The trade off is it's a secure feeling with sprayskirt attached without a lot of room for water implosion. Traditional sweep or C rolling is difficult but doable due to the depth of the boat behind the cockpit. Forward finish roll is easy. Manufacturing quality is excellent.
love my Nomad- fast; large…
love my Nomad- fast; large storage. Handles waves well.