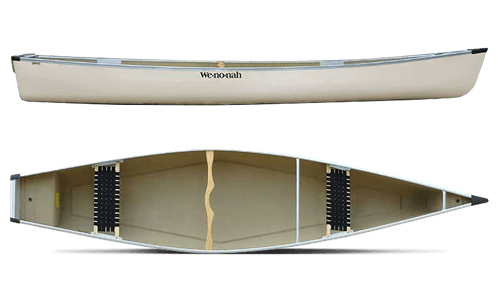 Backwater Options
Backwater Description
The Backwater square stern canoe is for sportsmen with motorized intentions. The rigid aluminum and wood mounting bracket makes for quick and easy addition of a small motor. Sized for two people and a load of gear, it works great for duck hunting shallow backwater marshes or float fishing rocky rivers. Super stable, the Backwater is a blast when coupled with the right sized motor. We recommend a small outboard in the 2-3hp range, or a trolling motor with at least 55lbs. of thrust to unlock this boats true potential. To off set the weight of the motor, place the battery or gas tank as far forward as possible.
Read and submit reviews for the Backwater.
Backwater Specs and Features
Structure: Rigid / Hard Shell
Seating Configuration: Tandem
Ideal Paddler Size: Average Adult
Skill Level: Beginner, Intermediate
Ideal Paddler Size: Average Adult
Skill Level: Beginner, Intermediate
Read reviews for the Backwater by Wenonah Canoe, Inc. as submitted by your fellow paddlers. All of the reviews are created and written by paddlers like you, so be sure to submit your own review and be part of the community!
This canoe is designed for…
This canoe is designed for carrying all types of loads quickly from place to place. The load can be a family outing for a picnic, a fishing trip with lots of gear, or hunting equipment. In addition, because of the canoe's width, it is inherently stable and very good for children to use while becoming comfortable canoeing. Designed for use with a motor, it still paddles well. I have used an older Royalex model for years on all sorts of water and in all reasonable conditions, paddling and with 2 1/2 and 3 1/2 h.p. gas motors without any difficulty. In my opinion, it was never designed to be used in more than Class 2 rapids but does quite well there. Although obviously not as fast as a narrower canoe, it responds to paddling inputs immediately and is maneuverable. This is a totally satisfactory general purpose canoe.