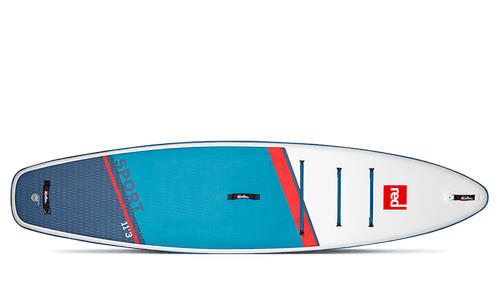 11'3" Sport Options
11'3" Sport Description
For paddlers who are looking for speed and performance, the 11'3" Sport inflatable SUP package offers a step up from the Ride family – available in a choice of colors….special edition (SE) purple or classic blue. Imagine how excited you'll feel unrolling your new board in anticipation of enjoying the open water.

At 32" wide, the 11'3" Sport SUP is the same width as the award winning 10'6" Ride board, making it stable no matter what your experience level. This board has been designed to deliver more speed and dynamic performance (although it's not a race board). The secret to its performance lies in its sleek shape, which has been crafted to cut through the water cleanly. The drawn-out nose section also gives the board more glide across the water, so you'll be able to reach higher speeds than with the Ride range.
Read and submit reviews for the 11'3" Sport.
11'3" Sport Specs and Features
Structure: Inflatable
Seating Configuration: Solo
Ideal Paddler Size: Average Adult
Skill Level: Intermediate
Ideal Paddler Size: Average Adult
Skill Level: Intermediate
Read reviews for the 11'3" Sport by Red Paddle Co. as submitted by your fellow paddlers. All of the reviews are created and written by paddlers like you, so be sure to submit your own review and be part of the community!
I purchased my Red Paddle…
I purchased my Red Paddle Co. 11'3" Sport MSL in May 2018; it is my fourth SUP, third inflatable. This was a major purchase for me so I did a ton of research before buying. This SUP had the most consistent and descriptive positive reviews so I went for it. I've used the SUP a dozen or so times so far and it has lived up to all the excellent reviews; it's stable, lightweight, the pump is amazing, and it tracks and glides beautifully. Of all the boards I own, this is the only one I feel comfortable taking my 50 pound Collie dog on; she can move around a bit and the board stays pretty still. This SUP is great on flat water and in wavy/choppy water as well; you can ride pretty good size swells without wobbling. The pump has a really cool feature that allows you to remove a plug when you get to 6 PSI which then makes pumping much easier from 7 PSI on. Admittedly, I usually use my electric SUP pump so that's another option with this SUP. The quality of construction of the board, pump, and roller backpack is the best I've seen; every aspect of this SUP and it's accessories has surpassed my expectations. I HIGHLY recommend this SUP and am already saving up for a Red Paddle Co. race or touring SUP to add to my "fleet".
Brilliant board excellent on…
Brilliant board excellent on flat water, very responsive on chop