---
A self-supported trip created by guest-paddler
---
Trip Overview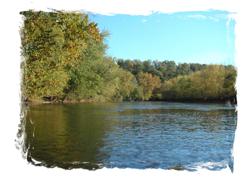 It was a beautiful fall afternoon and I was hoping for a quiet float to relax a bit and enjoy the changing colors. It was a little too early for maximum color change, but it was still a good trip.
I put in at the water trail access at the end of Fulling Mill Rd and headed down river toward Middletown and the Susquehanna. The river flows slowly (my GPS showed a speed of 1-2 mph without paddling) for most of this stretch.
I spotted several kingfishers along the way, skimming just above the surface of the water searching for an afternoon snack. And there was a great blue heron that played hopscotch down the river with me for half a mile or so.
After about an hour, I stopped at a gravelly spot for a stretch and a snack. As I sat in the shade munching on some trail mix, I watched a couple of kids fishing from a dock on the other side of the creek.
The water averaged 1-4 feet deep except for a couple of scratchy spots where I had to get out and let the boat float a few yards by itself until it was off of the rocks. There are not portages on this stretch since they removed the dam just above Middletown last year.
For an afternoon getaway to just relax and enjoy nature, you can't find too many places that are better, especially when it's only a ten-minute drive to either put-in or take-out. Just make sure you take along something to drink because there are no accommodations along the way.
Accommodations:
Nothing much; a convenience store about a half mile before you get to the put-in.
Fees:
PA Fish & Boat Commission boat regiatration or launch permit required for the Middletown ramp.
Directions:
Put in: From PA Rt 230, take Eisenhower Blvd for about 1 mile to Fulling Mill Rd. Turn right and follow Fulling Mill Rd until it's end at the creek. Park and put in.
Take out: From the put-in, backtrack to PA Rt 230, turn left and continue south to Middletown. Turn right onto Union St (PA Rt 441). Continue straight when Rt 441 turns left, go under railroad bridge to the PA Fish & Boat Commission boat launch ramp at the end of the street.

Launches:
There's room to park 3 or 4 cars at the put-in and there's a convenience store about a half mile before you get to the put-in, but other than that, nothing much at that end.
There's a concrete ramp and dock at the take-out and plenty of parking. Within Middletown, you'll find the usual mix of diners, resturants, stores, etc that you would expect in any small to medium sized town.

Resources:
"Keystone Canoeing" by Edward Gertler
Swatara Creek Water Trail map
Trip Details
Sport/Activity: Canoeing
Skill Level: Beginner
Water Type: River/Creek (Up to Class II)