---
A self-supported trip created by guest-paddler
---
Trip Overview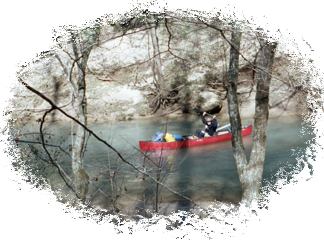 My trip to the Sipsey River Wilderness Area was an interesting one. I was visiting Alabama for a month on business and decided to do some paddling on one of my free weekends. It was a chance for me to try a different kind of paddling than I was used to out west. I was used to paddling larger open rivers like the Snake and Payette, but the Sipsey was much slower and more shallow with many more twists and turns. The 25,000-acre Sipsey River Wilderness Area, the largest in the state of Alabama was beautifully different, even if small by western standards. The hardwood forests and the narrow canyon were a new experience that I was looking forward to exploring. I'd done some research on the Internet, (www.alabamawhitwater.com) and I knew what flows to look for. I also knew that unlike many western rivers, the flows could increase or decrease very rapidly in this steep drainage, so timing was important. I was a little concerned about canoeing an unfamiliar river on my own but I'd done my homework, had good maps, and a GPS. Also the week before I had hiked along the river and thought I could handle it with no major problems.
I rented a canoe in Huntsville, strapped it to the rental car and drove down to the Borden Creek put-in at the end of Forest Road 208 on Friday night. Someone was dropping me off and picking me up so I didn't have to worry about a shuttle. I arrived late and decided to camp near the put-in then get an early start the next morning.
My concerns about doing the trip alone were alleviated when I saw many other solo paddlers putting in at the Borden Creek site. In fact I didn't see any other paddlers with two people to a boat. The flow was perfect. The weather was great too but it got a bit cold Friday night (35 degrees) and I only had the comforter from the hotel to keep me warm inside my backpack tent. I camped the first night with a couple of good ol' boys (actually younger than me) from Huntsville. I met one of the guys at an outdoors store while buying a map and he showed me where they were going to be and invited me down to their camp. It was fun to sit around the campfire and visit with local folks. One of my camp hosts showed me on the map where there was a 70-foot waterfall and I paddled up the river to it. Actually I could only go a little way in the boat due to a big logjam on the river. I beached the boat grabbed my pack and continued upstream on foot. The area is very popular and starting to show signs of heavy use. I saw several other hikers during my hike and paddled passed several more. Everyone was very friendly. I now know why Southerners are so famous for their hospitality.
After my hike and lunch I continued down river to the take-out at Cranal Road. This was an excellent day trip and it was a great chance to explore a river much different than what I was used to out west.
Accommodations:
"Primitive" Camping in Sipsey River Wilderness Area
Directions:
From Huntsville: Take SR-24 to US 31. Take US-31 thru Decatur to SR-24 Take SR-24 to SR-33 go South on SR 33. Turn right on Forest Road 208 and follow it to the put-in. Parking is limited at the Borden Creek Put-in.
Resources:
USGS Bee Branch Quad

USGS Grayson Quad

Trip Details
Trip Duration: 2-3 Day Trip
Sport/Activity: Canoeing
Skill Level: Beginner
Water Type: River/Creek (Up to Class II)