Trip Overview

If you're a Midwest kayaker, Pictured Rocks National Lakeshore has to appear on your top ten paddling wish list. The rugged Lake Superior shoreline has always been a draw for me and I finally had a chance to explore Pictured Rocks and Grand Island in the summer of 2008.
I will preface this report by saying we had perfect weather for our seven day trip. We arrived on August 15 and departed on August 21 and aside from one really windy day; we experienced no rain, clear blue skies and sunny conditions. We lucked out because Lake Superior can be nasty and the storms are legendary. Caution should be used when considering this trip and beginner paddlers should be aware of the potential dangers. The water was a lot warmer than expected but a wet or dry suit should be included when considering this trip. We were told by locals that the dates we picked were excellent because of the late summer temperatures and that we had missed peek black fly and mosquito season by two weeks. Throughout our trip we experienced mostly bug free camping, but we were prepared with plenty of deet for the worst Michigan had to offer from the two state birds of the Upper Peninsula.
Day 1 Our team of three (Lee, Kelly, Eric) departed from Toledo, Ohio for what I considered an easy 7 hour drive over the Mackinac Bridge and west to Munising Michigan. We had reserved our campsites along Pictured Rocks several months before and needed to be at the lakeshore ranger office by 6 p.m. to pay for our sites and pick up our back country camping permits. It should be noted that Pictured Rocks requires reservations and Grand Island sites are first-come-first-serve. In researching sites on Grand Island, there was no mention of a charge for the sites, but there is a drop box at Trout and Murray Bays asking for $2 per camper, per night for campsite use. We were glad to pay the $2 for such clean and scenic accommodations. When you make your reservations for Pictured Rocks, everything is done via mail and fax. The rangers will gladly answer questions over the phone and are very helpful. They do not have an online reservation system and I had to print the form from their website, list three possible itineraries and submit my credit card info for the backcountry passes. Several weeks after I submitted the form via mail, I was notified that our third possible itinerary was accepted. We would be paddling Pictured Rocks first and then circumnavigating Grand Island during the second half of our trip. While I was not required to list our Grand Island route on our itinerary, I did so as our informal float plan. I figured it couldn't hurt for the rangers to know where we were once we left the Pictured Rocks shoreline. The rangers also recorded that we'd have a vehicle parked at Sand Point for six nights. Our initial thought was that we'd paddle Grand Island first and then finish with Pictured Rocks. In the end our approved trip was ideal and would paddle them in the same order again.
We left the excellent visitor center and check-in location around 4 p.m. and stopped for a quick "last" meal at the A&W root beer stand before heading to Sand Point for our evening launch. Make sure you pick up the ship wreck map before leaving the visitor center. We missed a number of easily viewed wrecks because we did not do our research. Since our Pictured Rocks camping reservations did not start until the following day, we planned to paddle over to Trout Bay on Grand Island and camp our first night before heading back across the east channel to the Pictured Rocks shore the following morning. It is roughly four miles from Sand Point to Trout Bay and minus a little exploring we were able to make it to camp before dark and had our tents set by dusk. Along the south shore of Grand Island we were given a sneak peak at the sea caves and arches that would populate the rest of our trip. We also briefly hovered above a team of scuba divers exploring one of two marked wrecks in the east channel. The beach at Trout Bay is excellent and we found most of the campsites already taken, so we split the difference between two sites and bunked down for the night. The sunset was amazing as we conversed with an islander who was one of the few grandfathered residents of the island and we did not mind her barking dog when she relayed that a bear was spotted earlier in the evening. With a round of goodnights we all fell sound asleep on our soft sand mattresses listening to the rhythmic sound of the waves touching the beach only yards away.
Day 2 - Without setting an alarm, my internal clock and excitement meter went off at dawn and I was half-packed and midway through my breakfast before the sun registered 8 a.m. Our plan was to leave Trout Bay and head along Pictured Rocks while stopping to explore at Miner's and Mosquito Beaches. We initially planned to camp at Mosquito Beach but changed our plans at the ranger station to camp two nights at Chapel Beach and then daytrip to the Beaver Creek campsites. This plan worked well for us because it allowed us to not break camp after our first night at Chapel Beach and it allowed us some hiking time as well.
I won't be the first writer to expound on the beauty and magnitude of the colored cliffs of Pictured Rocks. Words and pictures can't quite capture the beauty and forces of nature that have shaped the geological aspect of the trip. Every color of the rainbow is leaching out of the rocks due to the mineral deposits and the wonderful striations have been formed by millennia and weather. The sheer cliffs reach nearly 400 ft. straight up from the water and while it's recommended you stay away from the immediate cliff faces due to falling rock, the colors, caves and arches draw you in and it's hard to stay at a distance.
Our first stop at Miner's Beach was a welcomed stretch of the legs and we explored the beach and creek spilling into Lake Superior. The turrets of Miner's Castle are well documented and today only one turret stands after the elements finally caused its demise in April of 2006.
After a quick stop we were back in our boats and heading east towards Mosquito Beach. A few paddle strokes quickly put our landing behind us and the shoreline quickly rose to towering heights. It should be noted that there are relatively few landing spots along Pictured Rocks. The beaches that are well marked on charts are the only landing stretches for several miles all along Pictured Rocks.
By the time we landed at Mosquito Beach it was lunch and time to stretch again. A kayak tour group landed just ahead of us and the beach was littered with kayaks. We had originally planned to camp at Mosquito Beach and then at Chapel Beach the following night, but since the two beaches are only 7 miles apart we altered our trip to stay two nights at Chapel when we checked in with the rangers. Staying at Chapel two nights saved us from having to tear down camp and we would have extra time to do some hiking to Chapel Falls and lake. We had heard through the grapevine that Mosquito Beach is apply named and a quick exploration of the campsites revealed that there is a marshy area near the campsites. This was another reason we were glad to shuffle to Chapel for two nights. After a quick snack I hiked back up the cool, clear and calf deep Mosquito Creek until the brush closed in around me and made exploring difficult. Our group did some more exploring along the shoreline before deciding to make the final stretch to our next camp at Chapel Beach.
By mid afternoon the sun was in full beam and the crystal clear waters sparkled with each paddle stroke as we closed on camp. The sites at Chapel were fairly numerous and spread out enough so that you didn't feel as though you were sharing sites with other campers. There were some hikers who had already claimed sites earlier in the day, so we claimed site #4, which turned out to be flat, clean and very accommodating. The bear pole was a stone's throw away and there was a clear creek that ran behind our site for cooking, cleaning and drinking purposes. A tree had been cut near the middle of the site and it made for a good seat and cooking table. Best of all there were two trees perfectly spaced for my hammock! The hike from the beach to the sites at Chapel is a good walk up a steep sandbar. I'm glad I packed two large carrying bags to haul gear from the boats. The park service had laid a rough cut stairway out of logs down to the beach, but your legs still got a work out fighting the sand up and down the hill. There is a pit toilet about 75 yards to the west from our site and it took some exploring to find them. Day two ended with me reclined in my hammock, a warm meal, conversation with my campmates and a stream cooled beverage. Lights out came quickly under a clear and starry night.
Day 3 - As planned, we breakfasted early and packed for the 7 mile paddle/day trip to Beaver Creek Beach. The weather was holding steady with full sun and clear paddling along the last portion of the cliff section of Pictured Rocks. When we launched you get an excellent water level view of Chapel Rock and its thick columns supporting a tabletop of rock with one lone pine tree perched above. The architecture of it all is hard to comprehend because Mother Nature is responsible for shaping this unusual and amazing structure. The wind and waves served as hammer and chisel during this centuries old project.
At Beaver Creek Beach the cliffs fall away to sand and this stretch is aptly named Twelve Mile Beach. When we landed you could easily see a white ribbon of sand extending beyond the horizon to the east. Along the way we encountered more sea caves to explore and we paddled past the former Grand Portal. This massive former sea arch was big enough for ships to pass through, but Mother Nature closed the arch long ago. Our day paddle also took us under the refreshing waters of Spray Falls. Cool water empties over a 200 ft. cliff and into Lake Superior, perfect for a kayaker looking for a refreshing dip. When we reached Beaver Creek Beach we lunched and explored the campsites. Again we were impressed with the clean and accessible sites, but we were glad we decided to stay another night at Chapel, we liked those sites better. While Lee decided to nap on the beach, Kelly and I went exploring down the trail to Beaver Lake. While our total hike mileage was less than two miles, the trail to Beaver Lake quickly rises from the shoreline and carries you up and over a few bluffs before dumping us into an amazing sight at the lake. This totally unpopulated 765 acre lake has to be home a few monster fish and is as rugged and backwoods as any lake I've seen. We explored the shoreline and wished we had a canoe and a couple of fishing poles. We returned from our hike to find Lee napping near the kayaks after having a run-in with a swarm of black flies during his swim.
We wanted to make it back to camp by late afternoon so we could do some more hiking, so we boarded our boats and made a beeline back to camp. After stowing our boats for the night we laced up our boots for the eight mile roundtrip hike to Chapel Falls. Like most of the trials on our trip the elevation increased swiftly after leaving the beach areas. We quickly found ourselves in thick forests of pine and hardwoods. The trail is well worn and easily followed and the falls. An overlook northeast of the falls provided a good perspective and a platform for photos. Dry weather slowed the flow over the lip of the falls, but it was still spectacular. The trail zigzagged right to the edge of the falls and we were able to hop on rocks as we crossed the river. With a bit of acrobatics we were able to get right to the lip of the falls. From the lip, the vertical perspective was impressive and it was a long 80ft drop to the bottom of the gorge. The falls fell to the river below and flowed through the thickly forested gorge and the trail continued along a bluff to the north and then slowly fell to the shore of Chapel Lake. This long finger lake was another example of pristine backwoods lakescape. The lake was sunken between two bluffs and this protection from the wind offered a mirror like quality to the opposite shoreline. We finished our hike drained from our day on the water and vertically challenging hike. Dinner was followed by one of the most refreshing skinny dipping experiences of my life. Even at dusk, the top few inches of Lake Superior still retained the heat from the afternoon sun. The top few inches mixed with the usually cool lower few feet made for a spectacular evening bath. The clear night and mild temperature was the perfect opportunity for two moons to show that evening, mine and the celestial one.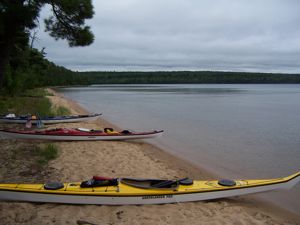 Day 4 - Following protocol, an early start found me rustling the bushes near our Chapel campsite for blueberries. This sweet treat could be found surrounding our site and along many of the trails throughout our trip. The berries were ripe, plump and added a fresh element to our dried and dehydrated meals. Oatmeal never tasted better!
Day four was also a big water day for us. We had planned to follow Pictured Rocks to the west and then cut across the east channel, near the East Channel Light, ending at Murray Bay on Grand Island. As the morning clicked away, the wind and waves continued to pick up. The blue skies from the day before had been replaced to the horizon with gray clouds and whitecaps. We knew we had about 15 miles of water ahead of us before pulling into Murray Bay. Our two choices were to follow Pictured Rocks while getting battered by a lee wind from the north while risking the reflection waves bouncing back at us from the cliffs. Our second choice was to cut a beeline to Trout Point on Grand Island, hoping that the island would eventually come to our rescue and block the wind. The second choice also eliminated the possibility of being battered by the reflective waves from the cliffs.
Launching into the teeth of an angry surf, we struggled to distance ourselves from the beach. This was going to be a wet run as we pointed our bows toward Trout Point. The wind would batter us from the north all morning as we surfed and braced our way over and between 4-6 ft swells. We had the lake to ourselves minus the one 35ft sail boat that passed us, heeled over and heading towards Grand Marais, a thumbs up from the captain indicated that we were OK and that we had a handle on our circumstances. Sea Kayaks never cease to amaze me when they are perform in those kinds of conditions. Our three boats crested swell-after-swell as we inched closer to the lee of Grand Island and her protection. The miles started to peel away stroke-by-stroke and I used every ounce of my hearty breakfast to power my blade through the water. We tried to stay close enough to each other but keeping on course and surfing the face of these swells made it difficult to say within earshot. We each fell into a rhythm with the waves so one would not get caught between breaking swells. My most white-knuckle moment came when I side-surfed my 17' boat down the face of a wave, while leaning and bracing into its face. A sigh of relief escaped my lungs as the wave rode out its path under my boat and I could regain my rhythm. Even an assisted rescue would have been difficult under these conditions.
Safely reaching Trout Point was a welcome respite. We were pounded by wind and waves for four hours and felt as though we covered as many vertical miles as we did linear miles. The rough part of our trip was completed but we still had six miles to go before we could put terra firma beneath our tents. Breakfast was burned away long ago and we all need to eat again, but we decided to try and make camp before calling it a day. We made it to the East Light and chatted for a moment with a beachcomber who said Murray Bay was right around the corner past Wick Point. We made it as far as Muskrat Point about a mile across from our Murray Bay campsite when the miles of the day caught up with our party. We had been strong all day until this final stretch when one of our members flirted with bonking and needed to get off the water. Getting out of the boat, snagging a snack and some water became a priority and my last memory of this stop was of my buddy lying motionless on the beach like he had been shot.
Our rest stop fueled our short crossing to our Murray Bay campsite. Landing at the beach we found a winding trail leading to a dry and flat site, surrounded by pine trees, blueberries and fully equipped with a picnic table. The Murray Bay sites are well maintained even though they are heavily used due to the easy access from Munising. Making camp had become routine and after unloading the boats, lunching and resting, it was time to explore! A late afternoon hike led us across the spit of land that connected Murray Bay to Trout Bay where we had camped our first night out. The wind was still coming from the northeast and the waves were crashing into the beach at Trout Bay. We found our earlier site and explored the other available sites for future reference. On the return trip we hooked to the north and up to the scenic overlook that let us look back and down upon Trout Bay and along a hazy Pictured Rocks to the east.
Dinner was well earned and we watched the gourmet in our group proceeded to pull fresh vegetables from his hatch. I believe the menu that night was quesadillas, as the rest of our party dined on the latest freeze dried delicacies we pulled from our dry bags. Throughout our entire trip his boat never ceased to have an endless supply of fresh meat, cheese and vegetables that appeared from a secret hatch. Our rough day ended next to a campfire and by popping some of the most delicious camp popcorn I've ever tasted.
Day 5 - The previous night the 140 ft. Coast Guard ice breaker tug named Katmai Bay had dropped anchor several hundred yards off shore. I was excited to pack and head out to explore near the ship. This was a gigantic old-school ship and according to the volunteer ranger we talked to that morning, seeing this ship anchor in Murray Bay was a rare sight. The Katmai Bay is stationed out of Sault Ste. Marie and its visit made for several cool photo ops as we kept our distance. The ranger was also very helpful in pointing out several sights we should look for on our trip out to our next camp at North Beach.
We left Murray Bay and headed north through a steady current along the west channel towards Gull Point. We were circumnavigating Grand Island clockwise and we lucked out that the weather hadn't shifted to a west. Wood Island was in the distance to our west and the cut-in at Echo Lake Creek quickly appeared. The western side of Grand Island is every bit as pretty as Pictured Rocks. The colors, formations, waterfalls, sea caves, and arches were just as interesting as anything we've seen on the trip.
This uninhabited and wild part of the island was rugged territory and there were minimal places to land. Maps do indicate there are camp sites at Gull Point, but we found they're only accessible to hikers. Accessing them from the water would be almost impossible. As we reached North Point we began to look for the North Point Light. Coming from the west, the light is almost impossible to locate. It wasn't until we were a half-mile past the light before we could look back over our shoulders and locate the light high on the cliff. Once we figured out where we were, we headed due south to the beach. North Beach is an amazing white sand beach that extends for more than a mile and is tucked between North Point and Northeast Point. The campsite was very primitive and isn't marked as an official site on maps. There are markers that direct you away from the beach, up an old logging road and back into the trees to a clearing that doubles as a site. We were the only visitors to North Beach on this trip and the sense of remoteness was amazing. We were all alone on the northern most point of the island and the only thing the separated us from Canada was several hundred miles of cold Lake Superior water.
After settling into our site, and rigging a ridiculously ingenious bear-proof food stash high in a tree, we laced up our hiking shoes and proceeded to hike many vertical feet up the old logging road. Our five mile hike took us past the private residence which is now the historic North Light and over to Gull Point. The campsites at Gull were great and the view was amazing. There are several rock ledges where benches have been constructed overlooking the steep drop-off to the water. Our hike swung back along the tree choked North Light Creek and a crumbling concrete bridge that has seen better days. Dinner was well deserved after a full day of activity and a final scrubbing in the cold waters at the beach was welcomed. We were all alone at this remote site and my final memory of this site were of the shooting stars that fired across the sky and one of my camp mates streaking naked along the beach at a full dead sprint, towel and soap in hand. I almost fell over seeing him blaze by in all his glory. Later that night, when asked why, he replied "because I could." I couldn't argue, because how many times do we get a mile of open sand to ourselves?
Day 6 - The winds had calmed down enough for us to do some exploring. The previous day the volunteer ranger told us to look for the moon rocks at North Beach. Our reply was "moon rocks?!?" She assured us we'd know them when we saw them. Our search pointed us towards the sea arch we missed the day before along North Point. This sea arch sat directly below the North Light and was large enough for several kayaks to explore. The neatest thing about this arch was that the elements had carved a second cave back into the rock. One at a time we could line our kayaks into the opening and into a larger room. Outside the cave, we started zigzagging the shallows long the cliffs near North Point. I slowly floated along, looking through the crystal clear water for something that resembled a moon rock. Eventually I floated over something that caused me to exclaim, eureka!
The moon rocks were perfectly cylindrical tubes that were carved into the solid rock lake floor. Like a gigantic mortar and pestle, wind and wave action had spun rocks and debris in these little depressions for centuries and eventually carved perfectly smooth 10-14 ft. deep tubes. The water height at the lip of the tubes was shallow enough to hop out and explore. We took turns diving and swimming to the bottom of a half dozen tubes. Most were at least six feet across and deep enough to disappear into. After reading a book on Indian lore, I found out that Chippewa tribes would hike out to North Beach and have great feasts by heating smooth round rocks in a fire and then tossing them into these tubes with lake water. The rocks would boil the water and the Indians would fill the holes with fish and vegetables. I'm assuming the lake levels were lower and the tubes were much smaller. There also may have been another set of these tubes that we did not discover?
Reluctantly we decided to leave the moon rocks behind and begin the long stretch down the east side of the island. The wind had shifted to the south and we were fighting a headwind all morning. Eagles soared overhead as we ducked in and out of the rock formations along the cliffs. We caught sight of several of these majestic birds throughout our trip, but this one seemed to be saying goodbye. Our last sight of him was way up in a cliff-edge tree, looking south towards home.
Again the colors and striations of Grand Island's eastern cliffs are amazing and just as spectacular as Pictured Rocks. I hated to leave their shadow when we reached Trout Bay for the second time. The headwind was still strong as we cut more than two miles across the mouth of the bay towards Trout Point. It had been several days since Trout Point was our saving grace on our long crossing from Chapel Beach. We shook hands with the point again and decided to spend our last night at a campsite we noticed on our first day crossing from the mainland. About a mile southwest of Trout Point on the southern tip of the island is a small sandy beach with shallows ideal for landing a kayak. There's a winding path up to a tidy campsite that includes a privy.
We ended this final 12 mile paddle mid-day and upon landing and lunching at water's edge, your author proceeded to be attacked by every biting fly on the island. Those little black vultures were even biting through my neoprene and my thick base layers. While my two paddling partners casually ate their lunch on a rock near our boats, I nearly had to submerge to my neck 25 yards offshore to escape their fury. Aside from a few bites on day one our group had survived pretty much unscathed. It wasn't until I pulled out my deet for the first time of the trip did the biting subside. I can still hear my buddies chuckling as I'm running up and down the beach flailing with my hat doubling as a fly swatter.
Like most sites on this trip, exploring was on the agenda. I went for a hike along the rocks and lakeshore towards Trout Point. I went until the shoreline met sheer rock and stopped my progress. Making my way back to camp, I joined Kelly for a short paddle out to the buoys that marked several ship wrecks in the east channel. Both buoys were a short distance from camp and I'm glad I brought my swim goggles for underwater viewing. We took turns hanging off each other's bow while dipping our heads into the chilly water looking for the outline of a ship. It didn't take long to make out the shadow of an ancient wooden vessel from long ago. At the second buoy we caught up to a glass bottom tour boat giving a history lesson as we took turns looking at the well preserved but broken hull of a flat bottom barge. We overheard the captain saying that the keel on this huge carrier was over 8ft thick!
As the sun started to set we regrouped on our lunch rock for a final meal under superior skies. No meal has tasted finer as I scavenged for my final pre-packed meal of the trip. Our gourmet chef shared what was left of his fresh vegetables and cheese and I finished the last of my bagged wine. Our desert was another round of campsite popcorn. I ended this evening by locating the most perfect spot near the water for my hammock and I bedded down for the night. I wanted to be near the water at dawn to see the sun rise. A chilly night guaranteed a clear morning and I wasn't disappointed as my eyelids lifted just as the sun emerged over Pictured Rocks in the distance; what an amazing sight.
Day 7 - The morning warmed as the sun climbed higher in the sky. Gearing up for our final crossing was difficult; nobody wanted to return to responsibility and normalcy at home. The fresh air, water and experiences renewed my spirit and only served to wet my appetite to return to Lake Superior. Loading the boats for the last time we pointed towards Sand Point on the mainland for our final three mile paddle. Bright, sunny skies greeted us as we landed on the beach at Sand Point. Fishermen were pulling their boats at the ramp, scattered swimmers were sunning at the beach and it was a struggle to pull the boats from the water for a last time. Mother Nature and Father Superior blessed us with excellent weather and friendship and I looked back and thanked them as we pulled onto the asphalt of reality towards home.

Lessons Learned from a week at sea. (No particular order)
You can never have enough carabineers; you will always need to clip into something. Whether it's stringing up a kitchen tarp, wet gear or bear proofing your campsite, by stringing up your food.
Always have plenty of extra line. We needed several dozen yards to rig our bear bags at several campsites. The line also comes in handy as a clothes line or rigging tarps.
Always talk to the locals. Local residents always know more than the guide books or online reports. If we did not talk to a volunteer ranger, we would have missed the incredibly cool moon rocks at North Bay on Grand Island.
After this trip I've now added some adhesive and stitching tools to repair neoprene after I sliced a hole in my spray skirt. Duct tape did not hold and I spent the last two days taking on unappreciated water in my then ventilated skirt.
Camping anywhere near sand means that sand will embed itself in any spare nook and cranny in your gear. Not that you have much control over this phenomenon, it's just a fact.
Camp stove popcorn is incredible. For a quick and easily pack-able camp snack, old fashioned popcorn and small container of oil was a welcome treat after being on the water all day.
A lesson re-learned is to always have an easily accessible snack. After a long crossing, a paddle mate started to bonk and needed a quick pick-me-up for the final leg.
Carry a spare digital camera battery. I've been awful close to missing some fantastic photos because I've scrimped on purchasing an extra battery.
Having large duffel, mesh or canvas bags to carry gear from the beach to camp is a godsend. It cuts down on trips back and forth to the beach.
Never underestimate a good skinny dip. It can refresh your soul and hygiene, especially when dipping in 50 degree water.
Wet naps or antibacterial wipes are a convenient and easily packable sanitary item and the disposed tissues ad a pleasant sent to your garbage.
With a little extra planning you can bring more fresh food and not as much pre-processed food. There are a lot of non-perishable items that are easily packable.
Outfitting:
Nigel Dennis Greenlander Pro, Impex Currituck, Eddyline Fathom
Fees:
Back country camping permits are $15 and Pictured Rocks campsites are $5 per person, per night. All reservations need to be confirmed ahead of time via mail or fax. More info can be found at
www.nps.gov/piro/planyourvisit/visitorcenters.htm
Keep in mind the Pictured Rocks and Grand Island are managed by separate agencies. Pictured Rocks is managed by the National Parks Service and Grand Island is managed by the US Forest Service. Camping at Grand Island is first-come-first-serve and there are boxes at Murray Bay and Trout Bay that ask for $2 per person. The fee isn't publicized very well and if you're at one end of the beach you may never see the boxes because they aren't marked well. $2 was nominal for the nice accommodations.

Directions:
I-75 north, cross the Mackinac Bridge. Head west on US-2, North on M-117. West on M-28 to Munising, MI. The visitor Center is easily found near the center of town.
Resources:
The visitor center mailed us info and maps upon our request. There is also a ton of info and maps online. There is also a great Hiawatha water trail map that I purchased at the visitor center. There is also a good website for the trail (www.hiawathawatertrail.org/).
Make sure you pick up the ship wreck map at the visitor center. We floated right over several easily identifiable wrecks because we didn't do our homework.

Trip Details
Trip Duration: Extended Trip
Sport/Activity: Kayaking
Skill Level: Advanced
Water Type: Flat/Sheltered Water, Open Water/Ocean