Trip Overview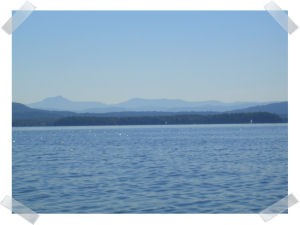 This is the lake where I kayak. My husband and I have 17' sea kayaks.
Lake Champlain is fantastic because depending on the weather, terrain, and/or time of day, you get an amazing range of water conditions - from glassy smooth (great sunset paddles!) to big waves (big north wind).
The lake is over 130 miles long, lending itself to a multitude of trip possibilities, including international options (the northern tip extends into Quebec). Lake Champlain contains roughly 80 islands, including an entire county in Vermont.
All that, plus the Champlain Valley is one of the most spectacularly beautiful places on the earth. Really.
Paddlers from anywhere should consider this gem when planning a paddling adventure.
Directions:
Access from a variety of places in upstate NE New York, Vermont and Quebec
Resources:
one website (out of many): http://www.lakechamplainregion.com/
Trip Details
Sport/Activity: Kayaking, Canoeing
Skill Level: Intermediate
Water Type: Flat/Sheltered Water