Trip Overview

We always seem to bring bad weather with us to inland bodies of water; Kerr Lake was no exception.
We decided to do a four day camping trip on Kerr Lake, packed up and headed to this large reservoir in southeastern Virginia. The major difference between Kerr Lake and the other areas that we've kayak camped in is that backcountry camping is not allowed at the lake. You can only camp at designated campsites run either by the states of VA or NC, or the Army Corps of Engineers, which administers the lake.
There are extensive unpopulated areas all around the lake, but with camping a no-go at any of them, Kerr Lake tends to foster a bit of "get-there-itis". You have to plan your entire day around getting to a particular campsite, so deciding to go off on a tangent and explore a cove for a few hours and then simply setting up camp in the cove because it got late is not an option. Campsites vary in complexity, but there are plenty of non-reservable, shoreside campsites at each location. We had no problem beaching our kayaks, walking to the attendant's station and getting a campsite.
Our trip started with a late arrival at Occoneechee State Park; we quickly found an empty campsite, got out our sleeping bags and got a few hours sleep before an early wakeup. The next morning we went to the park office and paid for our multi-day parking ($2 a day) next to boat ramp, built our boats and launched. A large, nasty weather system was moving into the Southeastern states and it was pushing high winds, tornadoes, and thunderstorms with it. NOAA weather radio had winds at 20-25 MPH with gusts to 35 MPH. Nevertheless, we pushed out from the protected cove where several fishermen were plying their lines and into the lake itself. The lake was fairly stirred up at this point, but the waves and wind were still within reason and we made good time creeping along the shoreline.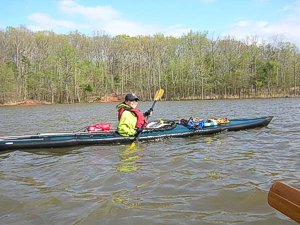 We had originally planned to make a short jaunt to Longwood Camp Ground, but we decided to do a longer paddle to Rudd's Creek instead. The wind and waves picked up significantly after about an hour until the lake looked like a Class II river. Water and waves raced in front of the waves as the wind gusted at the high end of the range predicted by the weather service. We averaged about 6 MPH during this time as the wind and waves were at our backs, but as the wind direction changed, paddling got to be a bit of a chore and we pulled into a cove and set up a temporary camp to let the wind subside somewhat.
With predictions for a thunderstorm later that day, we decided to push back out after about 2 hours in the cove and continued to Rudd's Creek. We were somewhat protected until we turned north to the campground; we got walloped by high winds being pushed in front of a large and obvious storm front. I actually had to switch from my Greenland paddle (Feathercraft Klatwa) to my regular paddle because the Klatwa didn't have enough surface area for the rudder strokes I had to do with the following seas. The lake became covered in whitecaps and we were shoved towards the campground at 7-8 MPH, making it a short, but difficult paddle because of the strong following seas. We landed at the Rudd's Creek boat ramp and walked about a .5 mile to the ranger station, rented our campground and set up. It rained all night, soaking all of our gear, but windy morning dried everything out quickly as we packed up our kayaks and headed for Ivy Point Camp Ground. The rangers at Rudd's Creek had told us that although Ivy Point was closed, we could still camp there in the camp grounds.
We pushed to Ivy Point with a strong 15-25MPH wind at our backs and landed at the flooded picnic area only to find after doing several miles of exploratory paddling that there were no longer any campgrounds or camping at Ivy Point. Of course, the wind picked up significantly on the way to Longwood, slowing us to no more than 2 MPH as we ground out the miles to get there. Once we crossed the main channel and made it into the arm of the lake that led to Longwood, we were sheltered from the wind and we had a great paddle to the campground, finishing up a nearly 20 mile day battling the wind.
Once again, our campsite was right next to the water and we built a large fire to warm up before making dinner. Although the nearest occupied pad was about 100 meters away, their playing of their television at exceptionally loud volume until 3 AM along with a 3:30 AM very loud dog walking, managed to disturb a beautiful area. This is the major drawback to kayak camping at Kerr; without backcountry camping, you're at the mercy of whoever is around you.
The next morning was beautiful, with barely a breath of wind, which transformed the lake into a placid, explorable body of water. We had a great paddle and explored a bit, turning back to Ivy Point before heading to cut our trip short in since severe thunderstorms were due to move in the next day. The paddle was sunny, beautiful, and uneventful as we did some sprints and 1 mile intervals in the boats to have some fun. We landed at the boat ramp, broke down the boats and had some great southern BBQ at Ely's on the way home.
Overall, Kerr was a great place to paddle despite the weather. We had planned to explore the NC side of the lake, but the incoming weather precluded paddling that arm. The main drawback if you're planning on camping is the requirement to use the developed campsites.

Outfitting:
Folbot Cooper, Feathercraft Wisper
Fees:
Yes.

Parking is $2 a day, $3 on weekends. Campsites are $15-20 per night.
Directions:
Here are the coordinates for the boat launch. Plug into GoogleEarth to navigate:
36.624439/-78.525693
Resources:
Check out the following links for detailed GPS or GoogleEarth tracks on the trip:

http://www.brkayak.com/Trips/KerrLake/Data/Kerrlake1.gdb

http://www.brkayak.com/Trips/KerrLake/Data/Kerrlake1.gpx

http://www.brkayak.com/Trips/KerrLake/Data/KerrLake1.kmz

Trip Details
Trip Duration: Extended Trip
Sport/Activity: Kayaking, Canoeing
Skill Level: Intermediate
Water Type: Flat/Sheltered Water