Trip Overview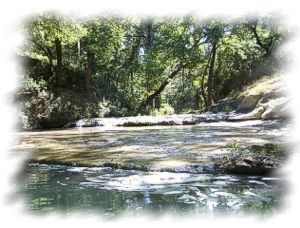 Deep in the heart of Texas is a unique region known as the "Hill Country." It is a limestone karst landscape of rugged, rocky, semi-arid hills and canyons covered with live oak, cedar, yucca and cactus. Underground caves are formed by the water that filters down through the limestone and empties into a subterranean reservoir called the Edward Aquifer. Some of this water is forced back up, becoming the springs which form the many beautiful hill country rivers. Rivers with names like Llano, Frio, Medina, San Marcos, Pedernales, and the Guadalupe.
The Guadalupe is 270 miles long, starting in the hills of Kerr County and ending in the Gulf of Mexico near Tivoli. In its upper reaches it is a fast moving fairly narrow stream. There are many high rocky bluffs on this portion, with overhanging ledge shelters, huge house size rocks scattered in and around the river bed; but the dominant feature is the huge, old bald cypress trees that line the bank all through the trip.
This trip took place on the upper Guad. It was 23 miles total, starting at the Bergman (Sultenfuss, FM3351) crossing (Most Texas river crossings have at least 2 and sometimes 3 different names) and ending at the Rebecca Creek Road crossing (one name, exception to the rule.)
I arrived at Bigfoot Canoe Campground Sunday afternoon so I'd have time to relax after my long drive from E. Texas and be able to get an early start Monday. Bigfoot Canoes is one of four outfitters on this stretch of river. They all offer shuttles, camping, tubing, rentals and float trips of various lengths. Bigfoot is located at mile 18 of the Bergman to Rebecca Rd. trip.
The shuttle went off without a hitch and by mid morning I was in the water. It was already a hot day, temp in the 90s, but the narrow river was well shaded by the overhanging cypress trees with their trailing Spanish moss, and there was a slight breeze in my face. I took a dip in the cold river before starting and this helped considerably. The water is very clean. It has a beautiful greenish tent that is characteristic of this river.
Also characteristic of the Guadalupe, especially this stretch, are the rapids. Fifty-five of them over the 23 miles. Most are classI-I+ with a few class II's going up to class III-IV as the water rises. Four are named rapids. The first one, the Rockpile, came up at mile one. The river flow was 90cfs which was just barely enough to get me through with out having to get out. I had already gone through 3 class ones at this point, but the roar of this one while still way downstream let me know it was a big one. It was easy to scout, I walked from rock to rock through the rapid checking out the different lines and settled on a chute like run on the left side with 2 medium sized boulders Id have to thread then a ledge drop followed by a long bouncy wave train. It was challenging, fun and rewarding when my sidelipping, drawing, and prying actually worked like I'd practiced. The canoe was loaded much more lightly than on previous trips and responded well to my paddle strokes. After exiting the rapid I paddled into an eddy and turned upstream so I could look at the rapid from the downstream view before I continued on.
Shortly below the Rockpile, on river left, a spring pours down from a height of about 20 feet into the river over a domelike formation of rounded rocky boulders. The water is crystal clear and looks like a lacy braided necklace as it splits into many different channels around the rocks and tree roots growing out of the formation. It makes a nice tinkling sound that can be heard from a distance downstream. Theres a really fine swimming hole in front of the waterfall with a rope swing, one of many rope swings all along the course of the river. Not for me though. I've seen too many rope swing accidents on you-tube.
Occasionally I'd pass steps that had been dug into the steep rocky banks, providing river access for homeowners and ranchers lucky enough to live out here. Most homes were well back from the river, it floods often and mightily. I saw one floating dock that was 40 up in a cypress tree.
In addition to the Cypress trees lining the bank were live oaks, sycamores, pecan trees, elms, massive cottonwoods, dwarf palmettos, and cedars atop the bluffs. The lush banks were a contrast to the dry, brown pastures up top.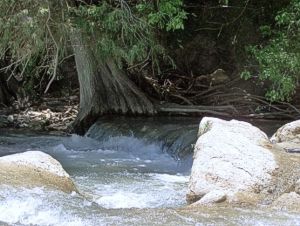 The river settled into a pattern of short quiet pools ending in quick, rocky rapids. At mile 3 I heard the loud roar of another big one. This was Dog Leg rapids. I stood up in the canoe to get a better look at the lines. On river right was the straight edge line of water that signified a ledge. Looking on down past the rapid I could tell it was a considerable drop. I parked between two limestone boulders in shallow water midstream leading into the rapid, letting the current hold the canoe against them while my gear my kept it weighted down onto the shallow river bed. The drop turned out to be a 4ft. horseshoe fall tight against the bank, in the shade of an overhanging cypress limb. Not enough water going over the top to keep the canoe from hanging up. Too bad. I would have run it I swear. My gear was secure and water proofed and there wasn't a lot of it. Instead I chose a route on the far left, a long curving chute with boulders to work around and a small drop at the end.
The next landmark was Edge Falls road at mile 3.5. This is a good put in and take out. I pulled into the bank on river right for a lunch of sausage, cheese, crackers, chocolate and fruit. A small, ancient tank truck with "potable water" printed on the side stopped on the bridge, dropped a hose in the water, turned on a loud gas powered pump and sucked water out of the river for a good quarter hour. The driver and I exchanged slight nods, mutually curious, but left it at that. Him just doing his job and probably wanting to be left alone, me just paddling down the river and definitely wanting to be left alone.
There are three tunnels to take under the Edge Falls road bridge. Go through on the left side of the right tunnel. As soon as you come out from under the bridge, slideslip left and you'll hit a nice downstream V that shoots you down a little riffle and around a bend. Then long green pools, quick twisty rapids, boulders, tall moss draped cypress, taller rocky bluffs. The river had widened now and the sun was directly overhead. To keep from getting too hot I took a dip in the swift cool water.
A little past mile 7, I passed an odd, thin, pockmarked boulder about 15 feet tall in the middle of a rocky riffle, and just past that a mushroom shaped house sized bolder. On my right was a bluff overhanging a rock shelter. A travertine spring runs out of a cave at the base of this bluff. These are familiar landmarks from a previous trip that tell me I'm close to Guadalupe River State Park.
Next the sounds of people having a good time swimming and hanging out. First a few scattered folks, then a few more and when I hit the main swimming hole the river was crammed with humanity. Yelling, screaming, laughing, crying, some with barking dogs.
Ill fitting swimwear over bulging flesh, constantly moving into my path as I threaded my way between live moving obstacles, trying not to bang into any little manic kids or soaking octagenarians. It's a quarter mile stretch that seemed to last forever. Finally they started to thin out, the last two people sitting in a chute that was the only floatable line in a rock garden rapid that I was leading the canoe through, that marks the end of the park. They were a couple of college-age kids who not only moved out of my way but held the canoe for me while I got back in, then lined me up for the trip down the chute and back into solitude and quiet.
About a mile below the park, just before a left hand bend, Honey Creek comes in from the right. This is a special creek. It is the star of the 2300 acre Honey Creek State Natural Area, adjacent to the Guadalupe River State Park. The creek is crystal clear and the spring fed water is much colder than the river it empties into. A small waterfall pours over a creekwide ledge just upstream of the mouth of the creek. This protected creek and its' bottomland is a remnant of how the Hill country used to be in the Indian days. It is only open to the public through a guided tour every Saturday morning, hosted by the State Park.
Back on the river I paddled past more overhanging ledges and heavily wooded banks. The rapids continued to come up every half mile or so, shallow and rocky. Never a dull moment on this trip. I begin to see more gravel bars that would make for fair camping spots. I also begin to see many more no trespassing signs on these gravel bars. These bars extended well out into the river away from the bank, and technically should be legal to camp on. But its not a good idea to push it, and local authorities will always side with the landowner.
At about mile 10 a low water crossing/dam blocks the river. It is a private road serving a large ranch that straddles the river. It is built onto the river bed, so the water has to go over it instead of under. On the right side is a chute that had just enough water to get me past.
Downstream from this crossing, on a high rocky bluff on river left, I saw 3 bighorn sheep, 2 ewes and a ram with 3/4 curled horns. Bighorns aren't native to this area, but are among some of the exotic species that local ranchers import. I hoped these weren't intended to be hunted. The last I saw of them, they were scrambling right up the face of a tall flat limestone outcropping.
Curry Creek enters on river left at about mile 11. It is a very wide creek here, like a river itself. I paddled up it about a half mile and saw wild hogs on both banks.
At mile 12, I made camp on a long gravel bar on river right that squeezed the river into a fast, deep, narrow channel between it and a rocky bluff. The streamside edge of the bar was bordered by a row of cypresses in a line so straight that it looked they had been planted that way by some meticulous gardener. The mosquitoes came out thick and biting a couple of hours before dark but I had some high deet content spray that took care of that. Once dark settled in I was treated to several shooting stars, the precursor to the Perseid meteor shower that would peak in just a few days.
During coffee the next morning, after the best night's sleep I'd had since I don't know when, a half dozen wild turkeys strutted through camp, not 10 feet from where I sat. My camera was at my feet and I was able to snap off a few pictures. Then it was break camp and head downstream.
The remaining 10 or so miles to the take out was much the same as the day before. The river widened out some and there were more road crossings, 4 to be exact, including the take out at Rebecca Creek Road. There were also more houses along the banks until mile 18 or so, then I was back into more remote country. And there were plenty of rapids, too many to mention. The last 2 named rapids are Mueller Falls at mile 20 and Rust Falls at mile 22.5, both class II+ at normal levels and III-IV at higher levels. Mueller Falls has a great ledge drop on the right side and a chute on the left, with plenty of big rocks in between. The river is narrow here between 2 steep heavily wooded banks. At Rust Falls the river is wide, shallow and bordered by pastureland. The right side of the falls is a ledge that extends across most of the river, the narrow channel on the right is a horseshoe ledge drop. After you come out of Rust Falls the river bends right and you drop over another nice rock garden rapid, then a quarter mile of flat water to the take out.
This river has just about everything you could want in a float trip. There are enough road crossings to customize the lengths of your float. The scenery is beautiful and the wildlife plentiful. There are campgrounds at mile 8, 16, 17, and 19 plus some gravel bars to camp on, just be careful not to trespass. Fishing and swimming are both great in this river. Ideal flows are said to be between 300 and 1000cfs, above that youd best know what youre doing. Like most Texas rivers, its a bony one, so bring a canoe that can handle banging into and dragging over rocks. If youre down in Texas and making a list of places to float, be sure and put the Upper Guadalupe somewhere near the top of your list.

Accommodations:
Bergheim Campground at start of trip- tent camping with water/elect, restrooms,RV hookups, showers, very nice place. Guadalupe Canoe rental, then Guadalupe Canoe Livery, both at US 281 bridge. Camping, water, elec., showers Guadalupe State Park at mile 8 tent camping, water, elec. RV hookups, showers Bigfoot Campground and canoe rental mile 18.5, primitive camping, very private and quiet.
Outfitting:
Old Town Guide 147
Fees:
Bergheim and Bigfoot campgrounds-$20 per nite for tent
Guadalupe Canoe Livery and Guadalupe Canoe: $5-$7 per night.

State Park has fees, not sure how much
Directions:
From Dallas- I-35 South to Hwy 290 at Austin, west on 290 to US Hwy 281, South on 281 about 30 miles to FM 311 at Spring Branch, Tx. Left on 311, cross Guadalupe River, take next left at Bigfoot Campground. Or you can stay on Hwy 281 going past FM 311 and there are two outfitters on the right just before you cross the Guadalupe
Resources:
"Texas Rivers and Rapids" by Nolen and Narramore

"Texas Whitewater" by Steve Daniel

Mapquest, Terraserver
southwestpaddler.com

Trip Details
Trip Duration: 2-3 Day Trip
Skill Level: Intermediate
Water Type: River/Creek (Up to Class II)