Trip Overview
Tortoise Reserve Gents Trip
Bladen County NC February 9-12, 2006 Great Coharie Creek, Black River, South River
Paddlers Topher, JSaults, ScottH, RichardH, Doc, DaveM, DavidH, Canoeswithduckheads, Brian, MikeL, MikeM Hosts DaveL, Mary Kay, Herb
Ill try to keep this one short, in hopes that others will tell the tale(s) in their own words and photographs. The Tortoise Reserve trip was planned as an alternative to a north Florida Duckheads gathering, which seemed a wonderful idea when we were all inebriated but a logistical nightmare when sober.
Topher rolled into my place at O-dark-thirty on Thursday morning and we were quickly on the road. The drive down was uneventful, though more pleasurable than usual thanks to Tophers I-pod music selections. Like having a personal DJ riding shotgun.
Arriving at the Tortoise Reserve we found Doc and DaveM already getting the nickel tour, and as we disgorged gear and tools and cross-loaded boats for Friday mornings paddle the rest of our crew drove in and did likewise, arriving in time for a turkey dinner courtesy of CWDH and friends.
While crossloading canoes I realized that we were going to come up one vessel short and, having told Topher that he didnt need to bring a canoe, that Id provide one for him, I took a look at the Tortoise Reserve boat rack for something especially memorable. And what could be more memorable than a leaky, battered and tattered 1974 Raddison Sportspal square stern.
Friday 2/10/06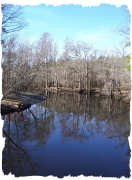 Great Coharie Creek at NC 903 to Black River at NC 411 in Clear Creek (6.7 miles)
This shuttle was different from the usual start of Tortoise Reserve paddling trip the sun was up, so we werent driving around Bladen County backroads in the pre-dawn hours stopping at each guardrail and culvert trying to find the put in and take out.
In fact we lucked out at both ends of the shuttle, as property owners came out to chat us up and invited us to use their access and off-road parking. Southern hospitality.
Launching onto Great Coharie Creek we entered the Black River a mile downstream at the confluence with Six Runs Creek. Both these tributaries deserve some paddling exploration on their own. Next trip.
Our fine flotilla continued down the Black, CWDH poling his favored old Explorer, Topher standing tall in his leaky Raddison standing tall in the bow, with the boat backwards so the square stern was riding high and out of the water Jsaults in the Tortoise Reserves Adventure 16 and the rest of our crew in the boats of their choice.
A lunch stop muckle up saw our first saturated surprise (I am apparently not permitted to claim just anything as a swim these days) as RichardH hoped out of the bow of Scotts canoe and did the dirty novice-bowman deed, that familiar trick of pulling the bow ashore so that the sternman is precariously and momentarily balanced on the twin points of the bow and stern stems. With familiar and predictable results. This would have been the perfect chance to dress someone in the spare clothes clown suit, but I had stupidly advised Scott to pack extra clothes in a dry bag. Rats.
Topher, seeing someone splashing about in the river, was overcome by a desire to demonstrate a new poling maneuver, the Royalex Cross. Poling the Prospector out into midstream he pulled an empty Freedom Solo over the gunwales crossways and climbed atop that shaky platform. Topher poled this canoe tower upstream I might add. He may be a posy sniffer, but he has a helluva sense of balance. And style.
Concluding our exploration of the upper Black (open, easy and suitable for paddlers of any skill level) we were soon at Clear Creek and fetching the upstream vehicles while our stay behind companions busied themselves by napping in the grass beside the canoes.
Back at the Tortoise Reserve a chili dinner (ScottH and RichardH) was followed by late night fireside revelry, broken by occasional night hikes to the old cemetery, the pond and down to the river.
The night hikes were likewise broken by scenic detours, as Tom would suddenly veer off into the brush and brambles, calling out Follow me. No one did, or would, despite Toms increasingly surly requests for companionship. One especially memorable off-road veer in search of an artesian spring concluded with the following dialogue:
Tom: Come on, the springs right here
Sane people: No, thanks anyway
Tom (from further into the brambles): Come on you guys, the springs right here
Sane people (now laughing): No, really, were fine
Tom (now deep in the tangled brush): COME ON, ITS RIGHT HERE
Sane people (now laughing and walking away): Did you find it?
Tom (now completely out of sight and entangled in the briars): I FOUND it. I just cant SEE it!
Sane people (now laughing too hard to walk any further: Gee, that sounds inviting, but no thanks
Tom: GET IN HERE NOW
Sane people (now rolling around in the dirt holding their sides): Ha ha ha ha ha
Friday nights walkies and fireside frivolity carry long into the night, as the weather forecast called for Rain starting at midnight, making for a good bedtime target. 3:00am, midnight, whatever.
Saturday 2/11/06
South River Melvins Bridge Rd (1502) to NC 701 (10.4 miles)
A slight shuttle detour as we deduced that the directions and road names in Fergusons Paddling Eastern North Carolina were specific to running shuttle on the east side of the river and we were launching from Melvins Bridge (AKA Boykin Bridge if coming from the east).
The put in here is an easy slide down a short hill, with ample roadside parking. Our take out was an even easier Wildlife Boating access on NC 701, promising at least a cushy take out after a long day of paddling in the rain.
And rain it did. Sometimes softly. Sometimes not so softly. A rainy day on a cypress river; there are few places Id rather be. This section also offered two intermediate bridge crossings, Green Sea Rd (1503) and Helltown Road (1528), allowing us to gauge our distance without Tophers constant demands to look at the map. That boy has a thing about maps.
This was not the easypeasy wide open river like the Black on Friday, but a smaller, twistier course with the occasional strainer and limbo log. Fortunately the high water level allowed for through-the-forest paddling detours around most obstacles, an interesting route finding and maneuvering challenge. Picking it apart.
One highlight of this trip was an outstandingly curious and completely fearless river otter, who followed us down river, circling each boat and swimming alongside nonchalantly a few feet away. Absolutely the closest and most charming interaction Ive ever had with an otter
Another highlight was a DaveM tumble off a strainer log, which of course I cant count as a swim, but have to accept as an aggressive strainer dismount. Oh! the terminology.
Fortunately Doc, sensing my frustration at not being allowed to count various immersions as swims, sprang to the rescue, flinging himself over the side of his canoe a few hundred yards before the take out. This selfless deed was such a generous gesture that Doc received a free pass from wearing the clown suit.
Another highlight was RichardHs boat design discussion with Topher. Richard, having paddled a Prospector on day one and the Adventure 16 on day two declared that he found them very similar. Maybe it was the fact that they both floated and had pointy ends.
An easy Wildlife Boater access and we were soon back at the Tortoise Reserve for dry clothes, a Lowcountry Boil (Richard and Topher) and DaveMs continuous servings of wings from the deep fryer.
There followed the now traditional night hikes, a not so traditional night drive around the newly cut fire roads in DaveLs Jeep (they dont make Jeeps like they used to luckily it was the clamp that holds the driveshaft in place, not the driveshaft itself), owls hooting, grey fox vocalizing, more night hikes and finally the realization that at 4:00am I was the last man standing.
Sunday mornings pack up was a lazy affair, with various gentlemen slowly gathering gear and wincing at loud noises, but by early afternoon we were on the road again and headed north, through snowy Virginia and into snowier Maryland.
Good trip fellas! Fridays trip got me the missing top section of the Black, but there is still almost 60 miles of the South I havent seen,plus almost 30 miles of Six Runs Creek and another 40 miles of Great Coharie Creek to explore. And the tidal sections of the lower Black. And Little Coharie. And thats just within an hours drive of the Tortoise Reserve.
Coastal North Carolina - So much blackwater to paddle.
Accommodations:
There are few facilities at the put in, take out or along any of these streams and rivers. Occasional Wildlife Boating Access areas (ramp and off-road parking) do exist near some bridge crossings.
Fees:
None
Directions:
Bladen County is roughly between Wilmington NC and Fayetteville NC, as close to a coastal plain wilderness as it gets between Virginia and Florida.
Launches:
There are upwards of 300 miles of blackwater streams and rivers within an hours drive of Bladen County and at least 50 access points.
Resources:
Paddling Eastern North Carolina by Paul Ferguson
Trip Details
Trip Duration: 2-3 Day Trip
Sport/Activity: Canoeing
Skill Level: Beginner
Water Type: River/Creek (Up to Class II)