Trip Overview

Big Rideau Lake - Murphy's Point Provincial Park
We visited Murphy's Point on a mid-summer weekday without advance reservations and found they had PLENTY of room. Murphy's Point is a peninsula in Big Rideau Lake, part of the Rideau Canal watertrail which we plan to paddle next summer.
The highlight of this park are the easy - beautiful - secluded paddle-in primitive campsites. From the boat launch, it's a mere 5-minute paddle to the closest site, and maybe an hour to the farthest one. We had an island all to ourselves! Just us, the mosquitoes and the loons!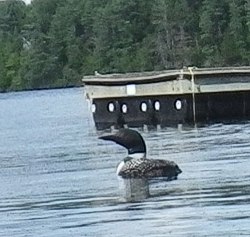 Paddling completely around the peninsula and back is an easy day trip. That was such a special day....A loon popped up about 6' from my kayak in a quiet cove and stayed there looking at us looking at it for a good 5 minutes. We also had a close encounter with a pair of blue herons -- one with a fish in its beak.
While powerboats are around Big Rideau Lake, they were few and far between. Hobbs Bay doesn't allow powerboats and provided an extra-special paddle experience for us. We arrived @ 10am and found glassy-still waters, waterlilies in bloom, and the most tranquil relaxing paddle you can imagine. There is a small day use beach area with kids splashing around in the shallows, but aside from that, it's all peace and tranquility.

Accommodations:
Standard camping facilities PLUS paddle-in campsites. There are 4 separate paddle-in areas with 2 to 4 sites per area. Areas range from a 5-minute paddle to close to an hour from boat ramp. Most sites provide docks which I find difficult to enter/exit my kayak without help. Bring mosquito head-nets and plan on hanging your food to keep it away from "aggressive raccoons". We didn't see any raccoons and had no problems, but we did hang our food well out of reach.
Fees:
Backcountry (paddle-in) sites are around $6 per person per night.
Directions:
Garmin GPS takes you to the park via a winding but well-graded gravel road (Lally I think). It really does go to the park despite your instincts to the contrary. The "front entrance" to the park is closer to Perth. This is one place I'd trust viewing a map rather than trusting your GPS only.
Contact:
Canadian Provincial Parks.
Resources:
We found the park while checking out facilities along the Rideau Canal.
Trip Details
Skill Level: Beginner
Water Type: Flat/Sheltered Water